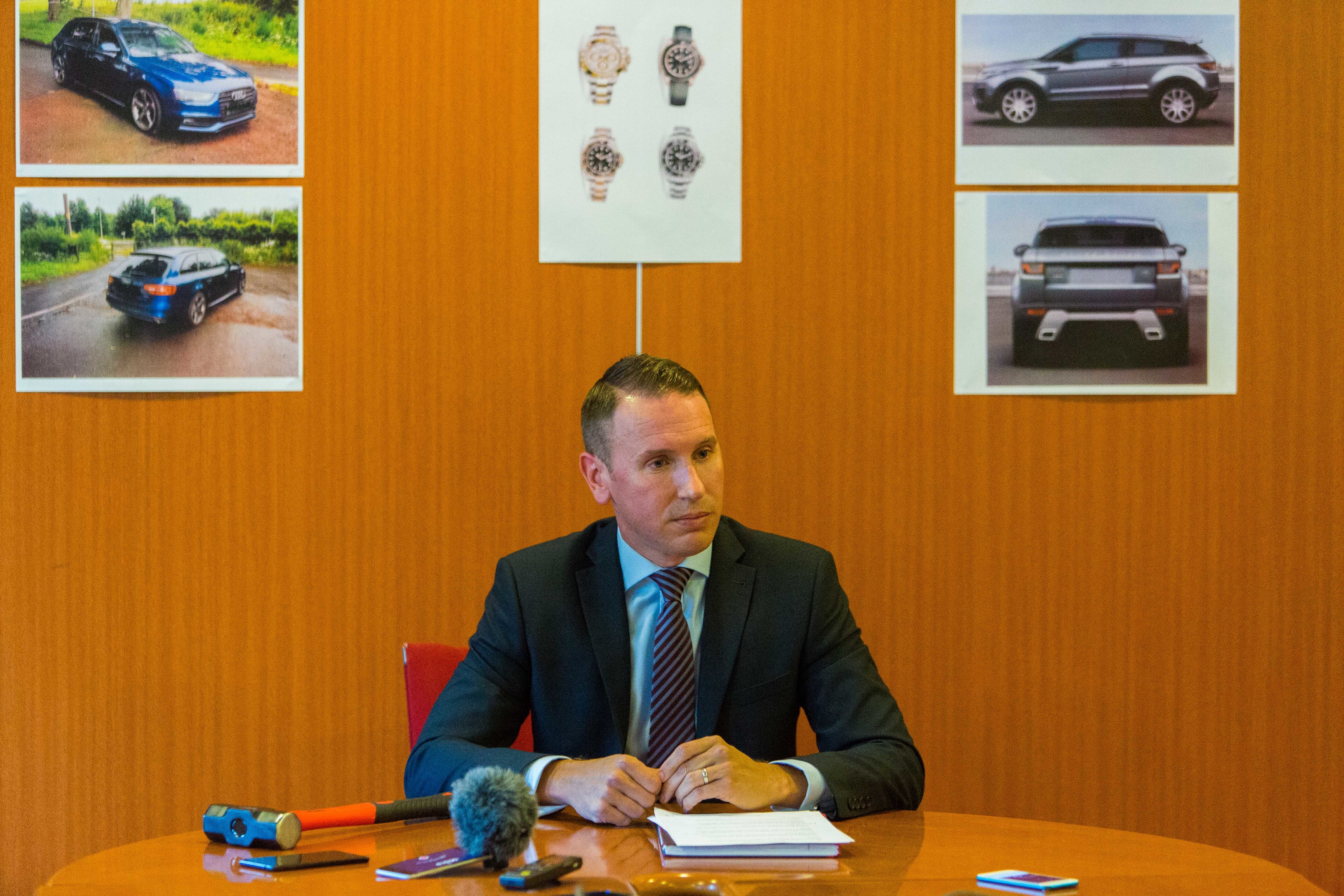 Cars used in a £500K jewellery heist at Gleneagles were stolen weeks in advance from locations in the south of England, detectives have revealed.
Armed raiders targeted the world famous Auchterarder hotel last week and made off with a high value haul of more than 50 Rolex watches.
Now, Police Scotland has rolled out its search for the gang across the country.
Ten days into the investigation, Detective Chief Inspector Andy Patrick said that a blue Audi getaway car, which was found abandoned near the hotel, had been stolen from Kent just days before.
And a second car, a grey Range Rover Evoque, was found burnt out at a graveyard in Glasgow. DCI Patrick said it was stolen from an address in London in May.
For the first time, investigators have confirmed that firearms were used in the robbery. Witnesses said they saw one of the gang point a shotgun at a member of staff at the front door and told him to "back off".
It is understood the men were also armed with machetes. A large sledgehammer was used to smash open a display case at the jewellery store.
DCI Patrick said three men dressed in black were seen on CCTV holding up staff at gunpoint.
"This was a particularly alarming crime," he said. "Three men made off with excess of 50 watches worth £500K from the Mappin and Webb store.
"We are looking to trace the three men, but we believe they may have had assistance from others.
"They are described as wearing dark clothing, dark hats and had their faces partially covered."
He said: "During the robbery, a firearm was presented at staff. Thankfully no shots were fired and no one was injured."
DCI Patrick said both the Audi and the Range Rover had cloned number plates.
"I would appeal to anyone who may have information regarding the theft of these vehicles to come forward," he said.
Officers have been trawling through CCTV footage from inside and outside the hotel, as well as from roadside units along the A9.
The gang entered the hotel at around 11am on Tuesday, June 27.
Firearms officers, dog search teams and a helicopter were deployed to the scene. They patrolled in the area around Gleneagles railway station and at the bottom of Station Road, where the Audi was found abandoned.
Sledgehammer could hold key to inquiry
A sledgehammer used to smash open jewellery store display cabinets could hold the key to the investigation.
Through CCTV footage of the robbery, detectives have been able to pinpoint the exact type of hammer brandished during the heist.
They have urged anyone who may have sold the tool to the gang to come forward.
Images of the type of watches stolen have also been released.
Detective Chief Inspector Andy Patrick said: "The hammer was an Am-Tech 4lb sledge hammer with a fibre glass shaft.
"I would appeal to anyone who knows where this item was purchased to contact us."
He said: "This type of hammer can be widely purchased at a variety of locations. What I am really appealing for is anyone who may have seen someone with the hammer to come forward.
"Or perhaps someone has information about the hammer being sold in a manner which could appear suspicious."
He added: "I would also appeal to anyone who is offered the watches for sale to get in touch, particularly jewellery stores, pawn brokers and shopkeepers."
Police know the serial numbers of each watch taken, meaning they may be difficult to sell in the UK.
DCI Patrick said there were also difficulties establishing what accents the gang members had.
"At Gleneagles, there were a lot of people and witnesses of different nationalities and their interpretations of accents can vary widely," he said.
Staff and hotel guests affected by the robbery have been offered counselling and support. "This would have been a very terrifying experience," said DCI Patrick.
He added: "I think 10 days into the investigation, we have achieved a lot. This is a nationwide inquiry now, linked to London, Kent and the west coast of Scotland.
"I would describe this as an organised crime, with a level of pre-planning."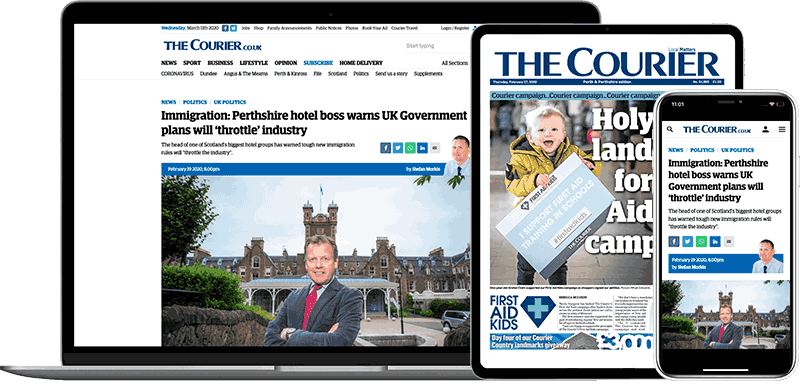 Help support quality local journalism … become a digital subscriber to The Courier
For as little as £5.99 a month you can access all of our content, including Premium articles.
Subscribe