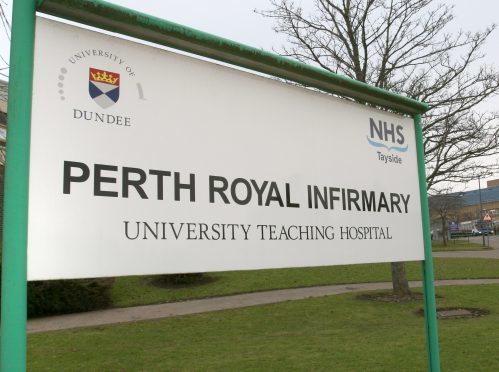 A nursing team has been axed as part of a health care shake-up, The Courier can reveal.
The dedicated workforce providing palliative and end-of-life care in the community, based at the £4million Cornhill Macmillan Centre in Perth, are being replaced by district nurses.
It follows a review of care across the Perth and Kinross patch, although bosses at the Perth and Kinross Health Care Social Care Partnership – an organisation led by NHS Tayside and council chiefs – has insisted it is not a cost-saving measure.
Three members of the Marie Curie Fast Track service were based at the centre, part of the Perth Royal Infirmary site, offering help and support to terminally ill patients.
A source close to the centre said: "The way the nurses have been treated, after all the work they have put in, is disgraceful.
"There had been rumours for a while, but they all found out in a conference call with management."
It is understood the staff are being offered support by HR bosses and have been encouraged to apply for other posts within the charity.
Local MSP Murdo Fraser said: "Good end of life care is incredibly important, not just for the patient but for their friends and relatives."
He said: "I would hope that the decision… in the best interests of patients and that standards remain high. Ultimately, as a result of this move, three nurses have lost their positions within the unit and I would hope that their skills are retained rather than lost."
The fast track team were employed by Marie Curie, although the centre has been funded 50/50 between Macmillan and NHS Tayside.
The service was original scheduled to end in March 2018, although staff were aware the contract could be ended at any time.
A spokeswoman for the Perth and Kinross Health and Social Care Partnership said: "Following a redesign of district nursing services in Perth and Kinross, a service which provides support at home for end of life patients in the community is now being delivered by the district nursing service in Perth and Kinross.
"This service, which was formerly run by Marie Curie Fast Track Service, will now be provided by the district nursing teams.
"Patient care will not be affected by this change as the same care and support continues to be provided by our dedicated district nursing teams."
She added: "This change was part of a redesign of district nursing services in Perth and Kinross to make the best use of resources available to provide flexible, sustainable care for our patients now, and in the future.
"The district nursing service continues to work closely with the Marie Curie Nursing Service delivering the ongoing planned Nursing Service by Marie Curie."
A Marie Curie spokesperson added: "Marie Curie will continue to work closely with NHS Tayside to deliver care and support to families locally through the overnight Nursing Service.
"From November, the service will be locally coordinated to deliver tailored care and support."
The service is coordinated by Marie Curie with charity staff working closely with NHS Tayside, particularly its district nurses.
Following publication of an earlier version of this story The Courier has been asked to make clear district nurses have replaced only the former three-person Marie Curie Fast Track team and will not take over the running of the centre. The team – employed by Marie Curie – was based at the Cornhill Macmillan Centre unit and provided end-of-life and palliative care in the community. This decision was taken by the Perth and Kinross Health Care Social Care Partnership, an organisation led by NHS Tayside and Perth and Kinross Council. There is no change to palliative services provided at Cornhill Macmillan Centre.