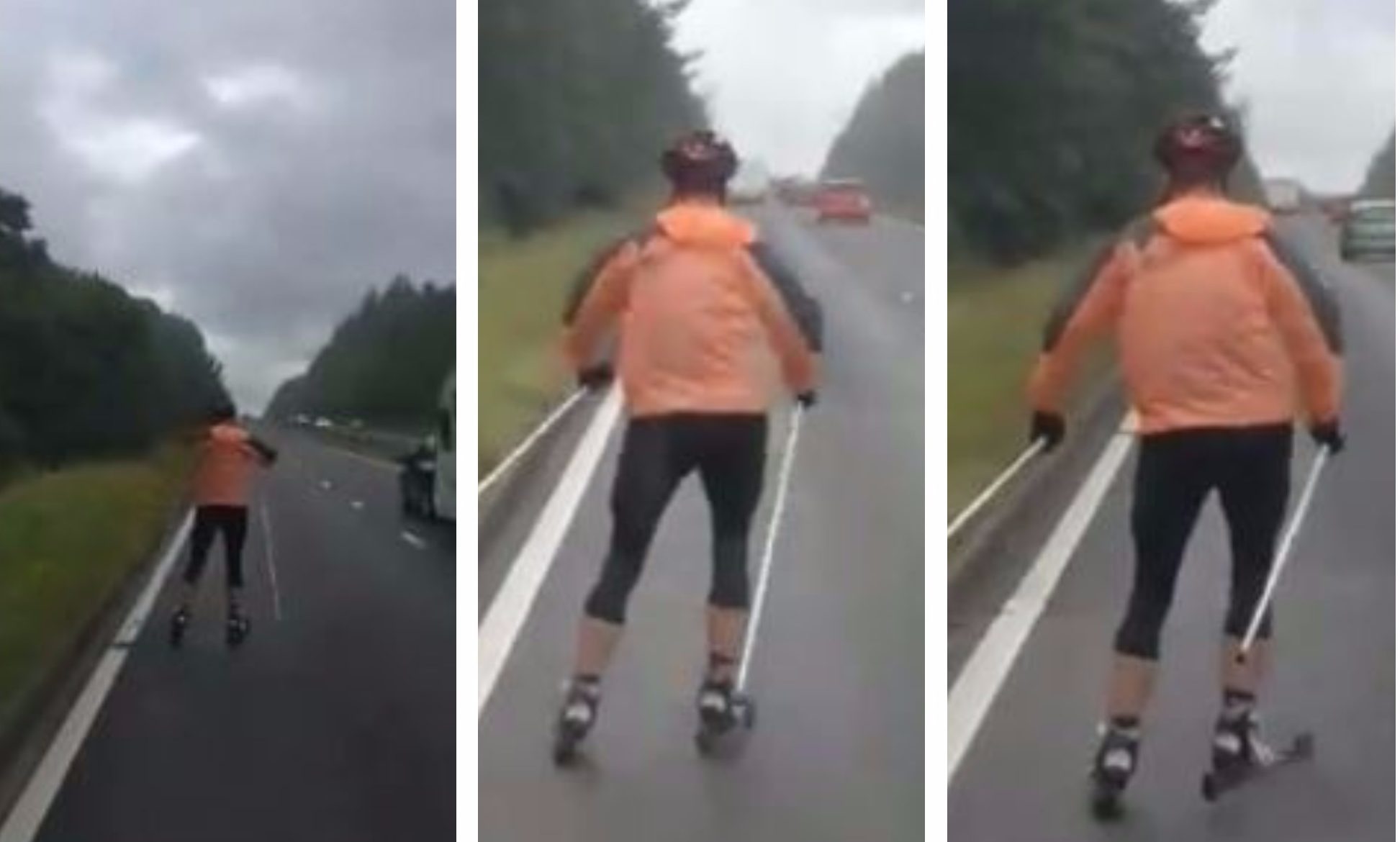 A roller skier attempting a world record caused traffic chaos in the Highlands today.
Former soldier Christopher Gouldsmith whipped up a social media storm from angry road users in his attempt to roller skate 824 miles from John O'Groats to Lands End – which took him along the busy A9.
Known as Goldie, the man from Hayscastle in Wales, even posted video of him being overtaken by vehicles and crossing the Kessock bridge at Inverness. He set off from John O'Groats on Tuesday.
He is powering his 15-day attempt by using ski poles and roller ski blades.
But road users were not happy.
Katie MacLeod wrote on the Highlands and Islands Weather Facebook:"It's an idiot on roller skates."
Laura MacIver added:"Surely there are better ways to raise money for charity than to cause havoc on the A9! It's already a nightmare road for accidents due to frustration, that's without an idiot on roller skis."
Matt Macgillivray wrote:"Probably get more sponsors if he promised to get off the A9 immediately," and Alan Swadel said:"could the neep not have gone the back road. Dafty."
Morag Foster simply said:"Should be removed and cautioned."
On his Just Giving Page, Mr Goulsmith said:"For those who don't know what roller skiing is, roller skiing is an off-snow equivalent to cross-country skiing. Obviously there is a lack of snow in the UK but this sport discpline is used as an awesome alternative training method to train all year round. The skiing techniques that are used are very simular to the on snow equivalent.
"With years of experience I have noticed that this is an amazing sport which is greatly unappreciated, therefore, I want to help promote it more by undergoing my challenge and also raising as much money as possible for these two charities close to my heart."
Mr Gouldsmith is raising money for The National Austic Society and Headway – and has so far had £765 pledged towards his £6000 target.
Headway provides rehabilitation and support programmes to survivors of brain injury, their families and carers. The charity is personally important to Mr Gouldsmith who lost his identical twin brother Jonathan following a head injury. Jonathan was knocked down and killed by a taxi in Llanelli while on leave from the army in April 2011. He was 24 years old.
At the end of his first day, he wrote on his Facebook:"Journey has been a mixed one. One broken pole tip, one fall (all well) and some battered wheels- these will be changed for tomorrow.
"Only managed to cover over 40+ miles and called it a day. Not what was planned but to be sensible and change the goal posts I decided it was best safer that way.
"The end of the 40 mile mark took it out of me when trying to keep your balance on rough, un-even ground saps energy is very draining and frustrating mentally. I was in a daze. Puking up whilst on the move I'd pushed on but wasn't with it. This carried on for 15 minutes.
"I have done a lot of endurance events and perfected my nutrition plan, this is a different ball game and does not work in the same way as them. Hard to judge considering the conditions etc."
Mr Gouldsmith recently led a team of Brits in a gruelling Arctic race, commonly recognised as the toughest Nordic Ski race in the World.
He took the first British team ever to complete in the Arctic Circle Race.
The race takes place over three days 65km north of the Arctic Circle, in Greenland. Competitors must complete a gruelling 160 kilometres in the mountainous and harsh icy terrain, often racing in temperatures down to minus 35 degrees Celsius.
Mr Gouldsmith, the founder and owner of Chris-Cross-Ski Fitness, had been training and advising the five strong team, comprising of himself and four British army officers. Training has included roller skiing, strength and conditioning work.
He is a cross country skiing coach.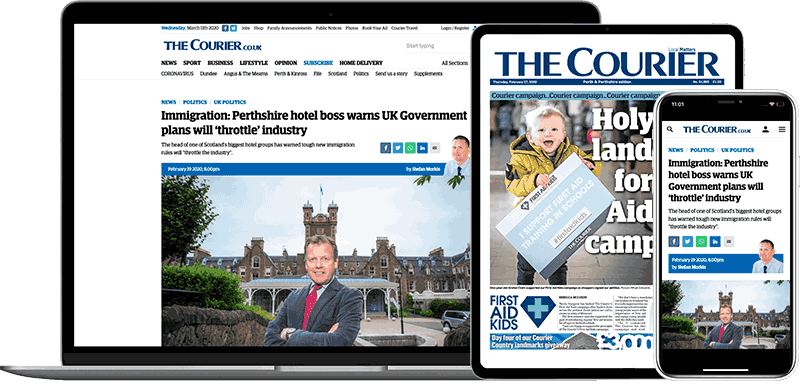 Help support quality local journalism … become a digital subscriber to The Courier
For as little as £5.99 a month you can access all of our content, including Premium articles.
Subscribe