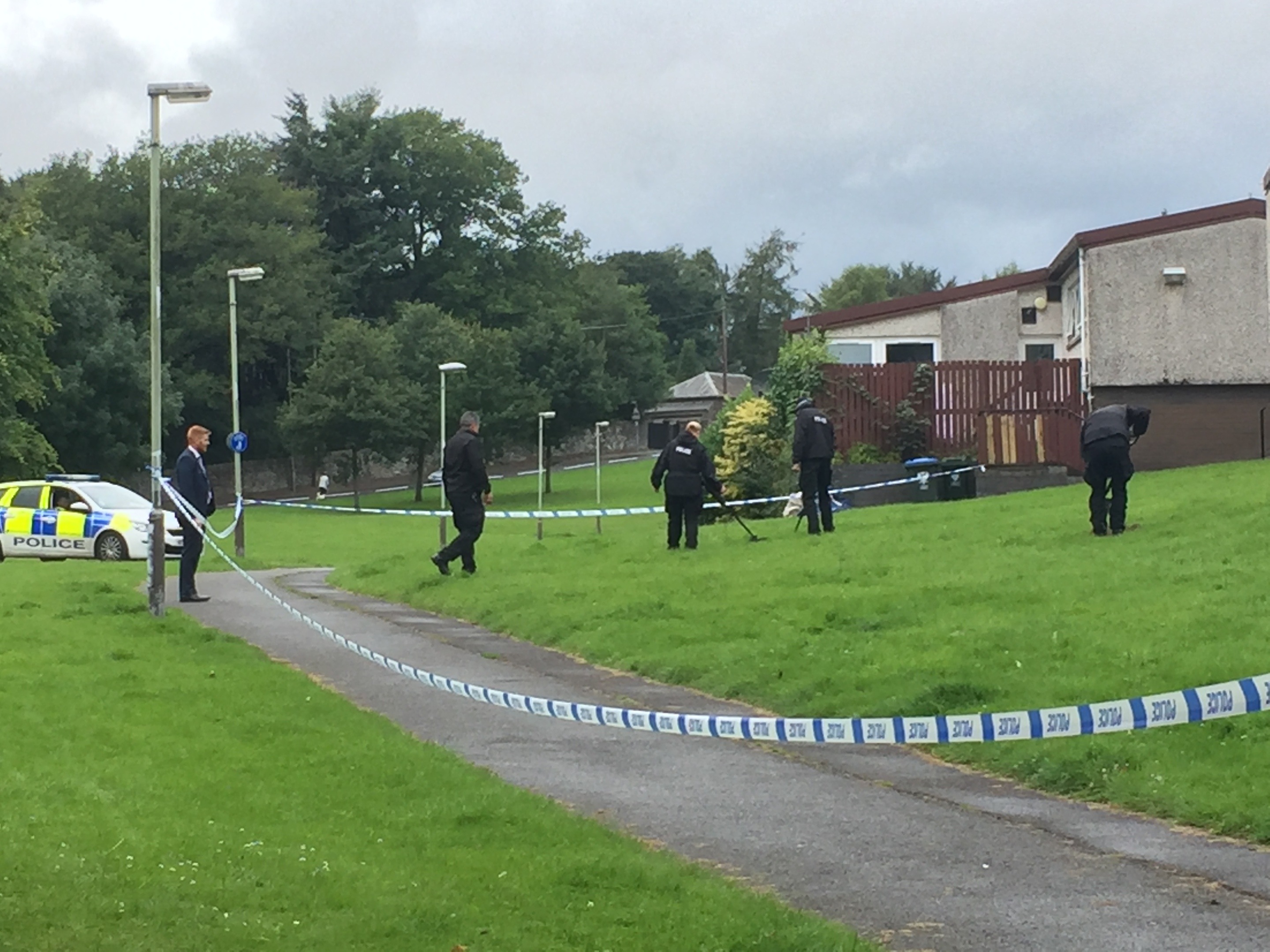 A manhunt has been launched after a dog walker was allegedly stabbed just yards from a school.
Police launched an investigation following what they described as a
"serious assault" near Rattray Primary School.
Locals say the 53-year-old victim had been walking his dog in the area on
Saturday night when he was attacked with a knife.
Yesterday police officers could be seen searching an area of grass with metal detectors and a shovel.
One resident, who did not want to be identified, described how she saw a man staggering from the scene clutching at his back.
"I heard screaming and looked out the window," she said. "The guy was walking away and standing like he had a sore back. I thought there had been a drunken fight – I didn't see any knife.
"When police came to my door this morning they told me someone had been stabbed. He'd been out walking his dog.
"I'm a wee bit worried by it, but I've got my dog (for protection)."
One of her neighbours said his daughter had seen someone running away from the scene.
"She was closing her bedroom window for the night and someone shouted they'd been stabbed," he said. "She also saw someone running away."
The community expressed their shock that the incident had occurred so close to their homes.
One woman said: "It's shocking being so close to where I stay.
"I've heard that a man was walking his dog and was stabbed, but the police are not giving much away."
A spokesman for Police Scotland said: "We can confirm that we have launched an investigation following a serious assault in Blairgowrie last night.
"The incident occurred at
approximately 11pm on Saturday August 5 on common ground located next to Rattray Primary School.
"As a result a 53-year-old male was taken to Ninewells hospital with serious but not life-threatening injuries," he added.
"There will be an ongoing police
presence in Blairgowrie over the course of the day and inquiries are continuing into the incident.
"Anyone with any information should call 101."