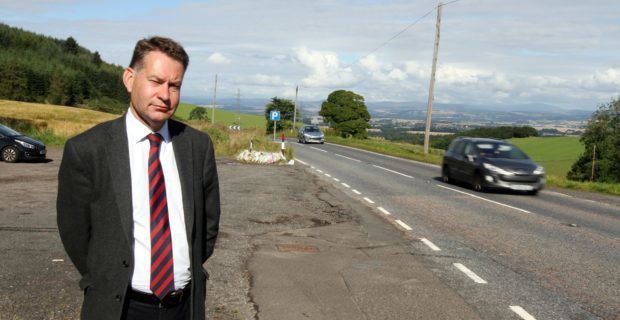 A fatal smash has triggered demands for extra road safety measures at an accident blackspot.
Residents are calling for improvements to the A923 Coupar Angus to Dundee route, at Tullybaccart.
It follows the tragic death of local teenager Billy Haggart, who died in hospital after the car he was a passenger in careered off the road in the early hours of Saturday, July 22.
The 18-year-old, from the Coupar Angus area, was described as "one in a million" by friends.
Now Mid-Scotland and Fife MSP Murdo Fraser is calling on council bosses to install blackspot signs at the crash scene.
He was approached by locals who said last month's crash was just one in a spate of collisions along the route.
The new signs could highlight accident statistics to motorists, urging them to take extra caution while negotiating the twisty thoroughfare.
Mr Fraser has written to Perth and Kinross Council Chief Executive Bernadette Malone and pressed her to take action.
"Just two weeks ago, this stretch of road witnessed a tragic accident where a young man lost his life," said Mr Fraser.
"Ensuring that motorists are aware of the dangers posed by this road is therefore incredibly important.
"The A923 has seen a number of incidents over the years and I believe it is time we had some proactive action to help increase driver awareness in order to reduce accidents."
He added: "Accident black spot signs can make a huge difference in improving road safety by amending driver behaviour and I have called on Perth and Kinross Council to investigate this."
The move was welcomed by residents who say the number of accidents along the route has become alarmingly high.
George Jamieson, 92, said: "People are just driving along this road way too fast.
"There's been about six accidents here in the last month.
"I had a woman at my door the other day whose car had ended up on its side."
He said: "I really don't know what they could do to slow cars down, but it would be good if they could come up with a plan soon, before there's another serious accident."
Another local said that the carriageway was upgraded recently in an attempt to put the brakes on motorists.
"It doesn't seem to have done any good," she said.
A local authority spokesman confirmed Mr Fraser's letter had been received and a response would be issued in due course.
"Work has previously taken place on the A923 Tullybaccart to improve road safety with the introduction of anti-skid surfacing and the upgrading of warning signs," he said.
"A Route Action Plan is scheduled for the A923 later this financial year, which will take forward any recommendations that are made."
Floral tributes were left at the scene of last month's tragedy by friends and relatives.
The council recently agreed to a package of measures at nearby Forfar Road, Coupar Angus, following the tragic death of two-year-old Harlow Edwards in October.