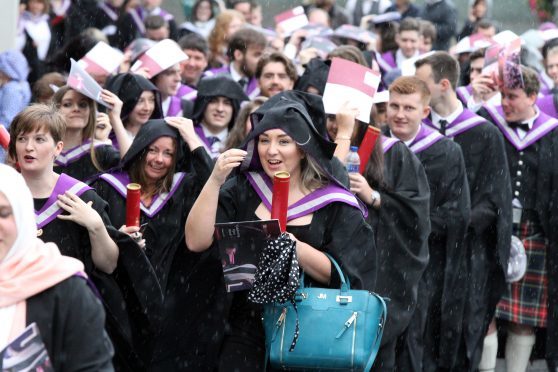 More than 300 Perth College UHI students were presented with their degrees, diplomas, certificates and awards before taking part in an academic procession through the centre of the city bringing  "town and gown" together.
Friends and family gathered in Perth Concert Hall on Thursday for the ceremony which was also broadcast live on the college website, allowing relatives around the world to watch.
Mel Young , chairman of sportscotland and co-founder of The Big Issue in Scotland, was keynote speaker.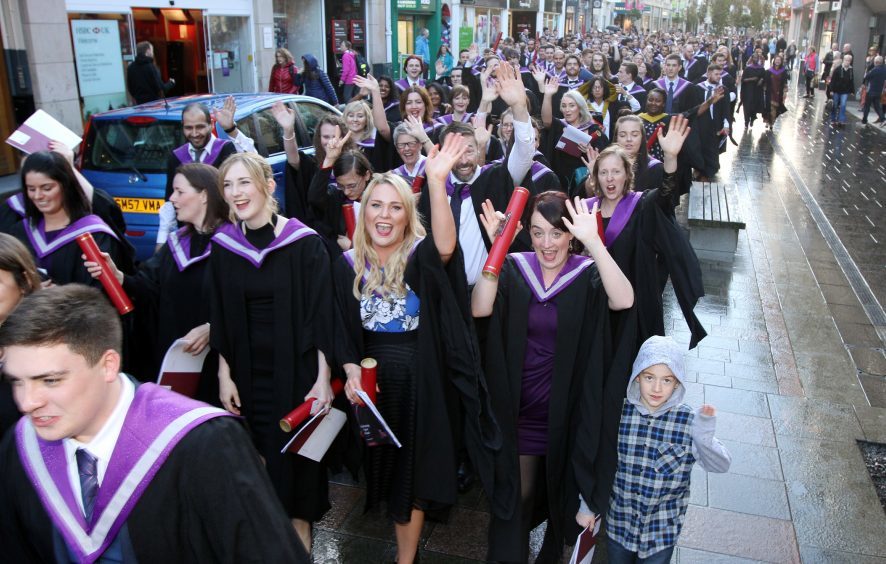 Dr Margaret Cook, Perth College UHI principal said: "It is a day which enables us all to celebrate our students' successes and to wish them well for the future.
"It marks the end of a very significant chapter in our student's lives and equips them to move on to future successes."
The ceremony was officially opened by Professor Clive Mulholland, principal and vice-chancellor, University of the Highlands and Islands.
Pamela Wilson, Perth College UHI vice principal academic and Martin Wright, former University of the Highlands and Islands director of marketing, communications and planning, were both presented with the vice-chancellor's medal. This accolade recognises the contributions by employees and former employees of the university or partner colleges and research institutions.
A number of graduates who won awards for exceptional achievement were honoured at the end of the ceremony when they were presented with special prizes for their efforts.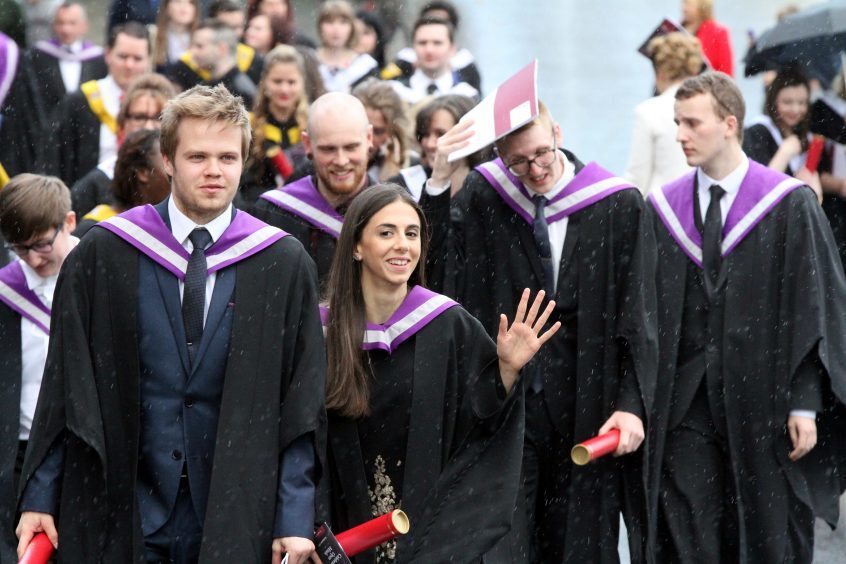 List of award winners and graduates –
Achievement Awards
Highlands and Islands Students' Association (HISA) Awards 2017 – Best Tutor Assessment Feedback
Frances Whittet, Personal Academic Tutor – HNC Care & Administrative Practice
UHI Skills and Employability Award
Frances Whittet, Personal Academic Tutor – HNC Care & Administrative Practice
The Eve Taylor HNC Beauty Therapy Student of the Year
Robyn Bicocchi, HNC Beauty Therapy
The Eve Taylor HND Beauty Therapy Student of the Year
Victoria Prior, HND Beauty Therapy
Ede & Ravenscroft Photography Award
Sarah Fahy, HND Hospitality Management
Ede & Ravenscroft Photography Award
Hannah Meldrum, BA Hospitality Management
Ede & Ravenscroft Prize
Todorka Rangelova, HNC Hospitality
Ede & Ravenscroft Prize
Alona Kilivnika, HND Hospitality Management
Ede & Ravenscroft Prize
Laura Anderson, HNC Administration & Information Technology
Institute of Hospitality Award
Cheska Garcia, HND Hospitality Management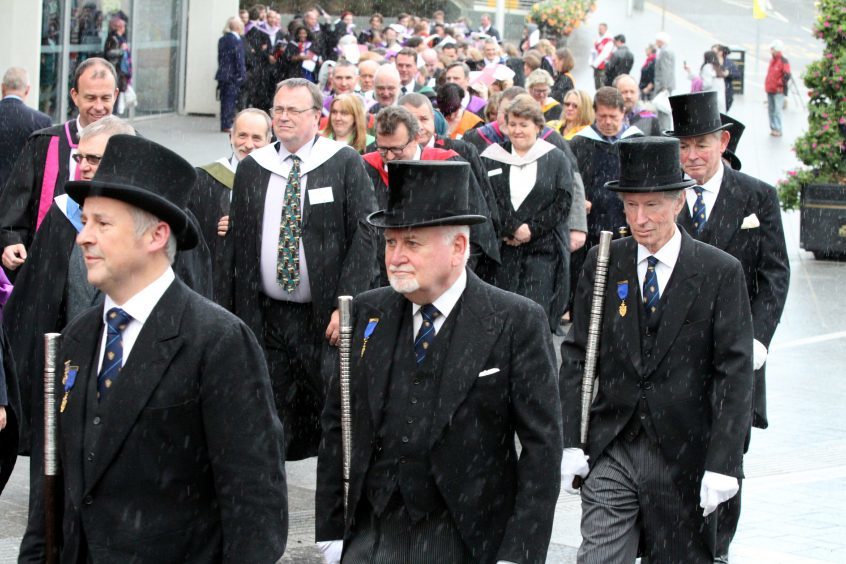 SQA Prize
Anna Maria Muchowska, HNC Hospitality
HNC Care and Administrative Practice Award
Pamela Anderson, HNC Care and Administrative Practice
HNC Care and Administrative Practice Award
Tamara Smyth, HNC Care and Administrative Practice
Visual Communications Graduate of the Year
Shona MacVicar, BA Hons Visual Communications and Design (First)
Perth College UHI Best Aircraft Engineering Student 2016-17
Jennifer Insley, BEng Hons Aircraft Engineering and Air Transport Operations (First)
Perth College UHI Best Engineering Student 2016-17
David Malcolm, BEng Hons Mechanical and Energy Engineering
E. Henderson Ltd BEng Aircraft Engineering Student Project 2016/17
Hasan Al'Abri, BEng Hons Aircraft Engineering and Air Transport Operations (First)
BA Hons Popular Music Student of the Year
Charlotte Bibby, BA Hons Popular Music (First)
BA Hons Music Business Student of the Year
Daniel Vescio, BA Hons Music Business (First)
Millmar Award For Excellence in Audio Engineering BSc Hons
David Brown, BSc Hons Audio Engineering (First)
Student Research of the Year Award 2017
Maryah Itani, BA Hons Music Business (Final year student)
University of the Highlands and Islands Undergraduate Student of the Year Award 2017 for Perth College UHI
Samuel Drane, BSc Hons Computing (First)
Perth College UHI Alumnus of the Year Award 2017
Scott MacGregor
Postgraduate Awards Conferred by the University of the Highlands and Islands
Master of Arts Health and Wellbeing (with Distinction)
Frances Ann Whittet, Perth
Master of Business Administration Aviation
Aneth Athea Binti Mat Som, Malaysia
Master of Business Administration Business Administration
Jeena Govindan, Perth
Hendrik Sander, Germany
Devinder Singh, India
Master of Science Interpretation:  Management and Practice (with Distinction)
Anne Mairi Anderson, Portknockie
Master of Science Interpretation:  Management and Practice
Joanna Alison Davies, Swansea
Master of Science Sustainable Mountain Development (with Distinction)
Matt Tweed, Ulverston
Sally Elizabeth Wier, USA
Master of Science Sustainable Mountain Development
Ian Edward Cornforth, Ayr
Karen Diane Muller, Elgin
Vera Petkantchin, Bulgaria
Master of Science Sustainable Rural Development
Ruth Elaine Dickinson, Alnwick
Post Graduate Diploma Air Transport Operations and Management
Samandeep Kaur, India
Jinal Habibkhan Nagori, India
Post Graduate Diploma Aviation
Zeenatu Ismaila, Tillicoultry
Post Graduate Diploma Business Administration
Hima Jose, India
Post Graduate Diploma Education (Primary English/Gaelic Pathway)
Sakinah Saleh Ahmad Safi, Edinburgh
Post Graduate Diploma Sustainable Mountain Development
Roberto Aquerreta, Spain
Post Graduate Diploma Interpretation – Management and Practice
Jennifer Sian Smith, Dartford
Post Graduate Certificate Air Transport Operations and Management
Vaishali Tuthika, India
Post Graduate Certificate Health Leadership and Management
Mustapha Marah, Glasgow
Post Graduate Certificate Human Resource Management
Laura Alice Hurlstone, Dundee
Post Graduate Certificate Music Composition for Film, TV and Media
Kayleigh Joanne Rebecca Mustard, Rattray
Post Graduate Certificate Sustainable Mountain Development (with Distinction)
Georgina Collins, Otley
Post Graduate Certificate Sustainable Mountain Development
Svenja Fox, Germany
Chartered Management Institute Diploma in Management and Leadership
William Inglis, Arbroath
Chartered Management Institute Strategic Management and Leadership
Ian Conway, Livingston
Michael Colin Knott, Roslin
Undergraduate Awards Conferred by the University of the Highlands and Islands
Bachelor of Arts with Honours Accounting and Finance
Elaine Jane Annan, Perth
Ho Wai Chu, Hong Kong
Conor Robert Dow, Bridge of Earn
Aksana Mitskevich, Perth
Debbie Pitcairn, Abernethy
Angelika Skwierczynska, Perth
Bachelor of Arts Accounting and Finance
Rebecca Jayne Angus, Perth
Shirin Shahrokhi-Moghaddam, Perth
Claire Swan, Bridge of Earn
Bachelor of Arts with Honours Applied Music (First)
Jacob William Hodge, Stewarton
Bachelor of Arts with Honours Applied Music
Gary Ross Graham, Motherwell
Fraser James Airlie MacPherson, Giffnock
Lauren McTear, Uddingston
Martin Reid, Bridge of Weir
Bachelor of Arts Applied Music
Ross David Barron, Lochwinnoch
Kristin Louise Malcolm, Glasgow
Bachelor of Arts with Honours Archaeology (First)
Kai Leonard Wallace, Lasswade
Bachelor of Arts with Honours Archaeology
David William George Martin, Prestonpans
Bachelor of Arts with Honours Business and Management (First)
Andrew Stewart, Perth
Bachelor of Arts with Honours Business and Management
Carolyn Adams, Kinross
Melissa Jane Findlay, Dundee
Karolina Urban, Perth
Bachelor of Arts Business and Management (with Distinction)
Hannah Mackle, Scone
Julia Ellen McKinlay, Rattray
Bachelor of Arts Business and Management
Hayley Adam, Perth
Nadia Angus, Perth
Petr Bacuvcik, Almondbank
Fiona Connelly, Perth
Deborah Fraser, Perth
Ashleigh Kaylor, Scone
Kerri Laurie, Perth
Vicky Rita Sophia Cupidon, Seychelles
Siobhan McArthur, Falkland
Elaine MacDonald, Bridge of Earn
Linda McKay, Abernethy
Jacquelyn Ann McQueen, Methven
Sandali Nimesha Ranasinghe Arachchige, Italy
Kirsty Richly, Perth
Suchini Dewmini Serasinghe, Italy
Tracy Elizabeth Stewart, Pitlochry
Ross Fraser Tavendale, Blairgowrie
Magdalena Agnieszka Turczynska, Perth
Jana Tuskova, Stornoway
Lucy Young, Sauchie
Bachelor of Arts with Honours Child and Youth Studies
Ashleigh Cotter, Penicuik
Karen Hay, Glencarse
Lyndsey Anne Johnstone, Perth
Michelle Millar, Perth
Jacqueline Munro, Perth
Bachelor of Arts Child and Youth Studies
Holly Archibald, Aberdeen
Nina Sarah Campbell, Kinross
Suzanne Cuthbert, Perth
Jade Dickson, Bridge of Earn
Hayley Anne Ferguson, Perth
Mhairi Gray, Kilmarnock
Ashley Halliday, Bonnybridge
Aimee Louise MacPhail, Helensburgh
Debbie MacAulay, Edinburgh
Claire Mochan, Pitlochry
Jennifer Ramsay, Blairgowrie
Lesley Rennie, Perth
Celine Schembri, Perth
Susan Taylor, Stirling
Bachelor of Arts Childhood Practice (with Distinction)
Stacey Ann Evelyn Marko, Wallyford
Bachelor of Arts Childhood Practice
Rachel Balfour, Perth
Nicola Ballantine, Errol
Fiona Boddy, Perth
Mhairi Margaret Charters, West Linton
Elaine Dalgity, Kirkcaldy
Lorna E Dempsey, Scone
Fiona Jane Ann Flood, Alyth
Lindsay Gilmore, Luncarty
Heather Goode, Haddington
Jade Maureen Hynd, Dunfermline
Kellyann Lindsay, Clackmannan
Marion McCallum, Bathgate
Jacqueline Wilson McPhee, Gordon
Yolanda Methven Pearson, Dunfermline
Linda Reid, Perth
Sarah Katharine Sharp, Perth
Cara Stevenson, Dunfermline
Bachelor of Arts Golf Management
Jemma Lee Chalmers, Broughty Ferry
Oliver Charles Williamson, Balerno
Bachelor of Arts with Honours Health Studies
Mariama Jobarteh, Edinburgh
Wendy Lindsay, Luncarty
Susan June Steen, Whitburn
Bachelor of Arts Health Studies (with Distinction)
Janice Fraser, Comrie
Bachelor of Arts Health Studies
Lorna Pattenden, Perth
Bachelor of Arts with Honours History and Politics
Lewis Cairns, Scone
Geoffrey Ian Foreman, Kinross
Euan Thomson, Aberfeldy
Bachelor of Arts History and Politics
Liam Babington, Rattray
Emily Simpson, Bridge of Earn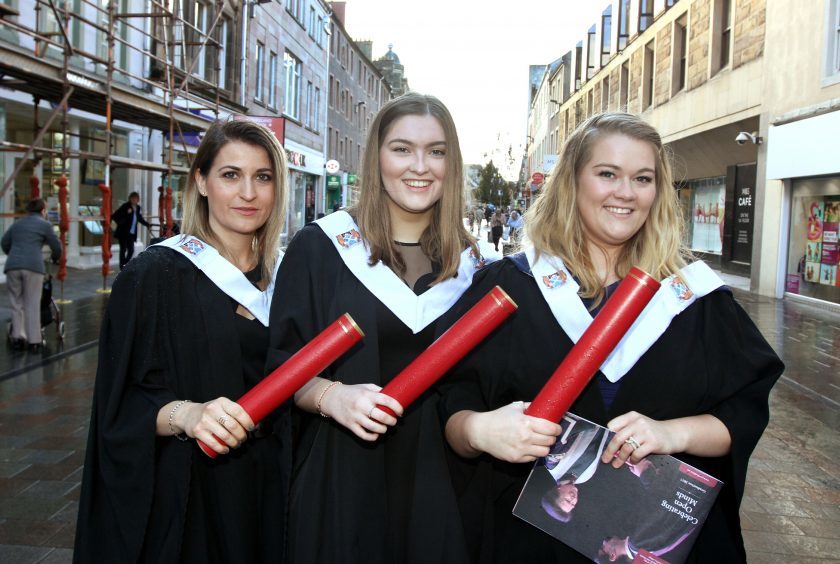 Bachelor of Arts with Honours Hospitality Management
Lauren Laing, Stirling
Nicola Letitia Rodger, Glasgow
Bradin Wilson, Crieff
Bachelor of Arts Hospitality Management
Iain Douglas Hugh Drummond, Newburgh
Daria Kandybowicz, Perth
Hannah Kelsey Meldrum, Ballinluig
Scott Alexander Smith, Montrose
Bachelor of Arts with Honours Music Business (First)
Lana Emmerson McMurtrie, Stranraer
Daniel James Vescio, France
Eilidh Lauren Wardrop, Dingwall
Bachelor of Arts with Honours Music Business
Leah Katarina Curtis, Esh Winning
Cahal Gallagher, Crawford
Juliet Jacobs, East Kilbride
Neall Johnston, Dunfermline
Imogen Sara Cain McEwan, Alford
Peter Verdes, Hungary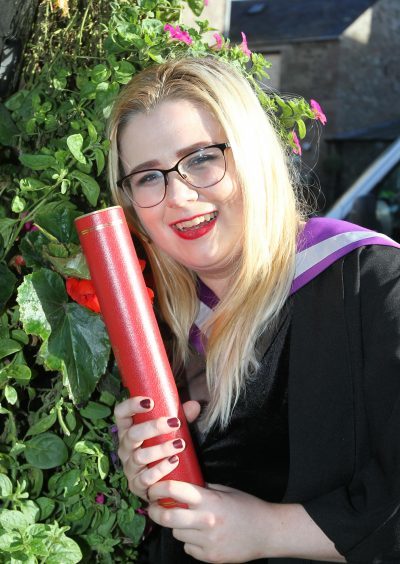 Bachelor of Arts Music Business
Julie Alana Auld, Alness
Sean Hood, Edinburgh
Thomas Charles Kinney-Nicol, Perth
Ali Sedgwick, Glasgow
Amy Louise Wilson, Carnoustie
Bachelor of Arts with Honours Popular Music (First)
Rowan Allam, Dundee
Charlotte Bibby, Brightons
Timothy James Henderson, Perth
Kieran O'Neill, Danestone
Drew Spark-Whitworth, Perth
Bachelor of Arts with Honours Popular Music
Jamie Martyn Bacon, Perth
Iona Brown, Perth
Craig Carrington-Porter, Perth
Alistair John Dick, Methil
Jade Edmond, Dunfermline
Neil Jonathan Ewen, Westhill
Cameron Gibb, Banchory
Conor Heafey, Perth
Ruth Alexis Jack, Perth
Danielle Law, Glenrothes
Catriona McGhie, Stranraer
Liam Anthony McLaughlin, Aberdeen
Kara Perkins, Perth
Martin Adam Runcie, Perth
Alistair David Stewart, Edinburgh
Elliot Jason Stradling, Fochabers
Martin William Tennant, Kelty
Harry Stewart Wilson, Perth
Bachelor of Arts Popular Music
Reece Allan, Dundee
Sean Bissett, Oban
John Bonnar, Glasgow
Gregor Christie, Perth
Louise Donnelly, Glasgow
Amie Louise Duffy, Doune
Georgia Gifford, Aberdeen
Alistair Gudgin, Dunfermline
Samantha Jane Hudson, Dundee
Connor Johnston Imrie, Thornton
Callum David Keys, Inverurie
Malcolm Derek Latto, Glenrothes
Axel Jacob Little, Perth
Andrew McGregor, Perth
Elizabeth McKay, Dumfries
Maria Mackay, Dundee
Douglas Alexander Rees, Auchterarder
Kyle Richardson, Arbroath
Iain Scott, Falkirk
Anna-Lotta Henriikka Vaskelainen, Finland
Matthew Alexander Walker, Kirkcaldy
Bachelor of Arts Scottish Cultural Studies
Colin Wilson, Glasgow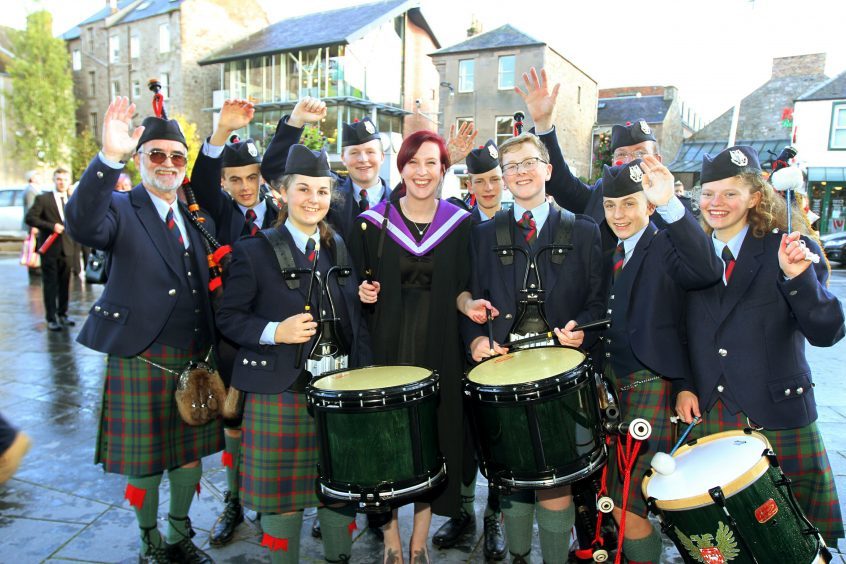 Bachelor of Arts with Honours Scottish History and Archaeology
Niall Hutchison, Lower Largo
Alasdair James Stuart, Burntisland
Bachelor of Arts with Honours Scottish History
Sam Baillie, Kirkcaldy
Gary Peter MacLachlan, Stirling
Morrison Caitlin McKay, Dundee
Tracy Shaw, Cupar
Bachelor of Arts with Honours Social Sciences (First)
Veronique Christiane Bezy, Perth
Matthew William Davidson, Perth
Bachelor of Arts with Honours Social Sciences
Wendy Ashley, Machrie
Emma Jane Beattie, Alva
Amy Donaldson, Blairgowrie
Simra Mahmood, Dunfermline
Sandra McCulloch, Crieff
Mark Laurence Shaw, Perth
Megan Ward, Perth
Bachelor of Arts Social Sciences
Kelly Hoggan, Perth
Rita Indrine, Dundee
Heather Mary McKee, Mawcarse
Michael Rankine, Perth
Alexander James Sinclair, Glasgow
Patricia Catherine Wood, Perth
Bachelor of Arts Sociology and Criminology
Conor Leslie, Blairgowrie
Bachelor of Arts with Honours Sociology and Politics (First)
Ashleigh Elizabeth Hamlyn, Stirling
Bachelor of Arts with Honours Sociology and Politics
Savannah Rain Gurule McKibbin, Glasgow
Marketa Pokorova, Perth
Bachelor of Arts with Honours Sports Management
Barry Davidson, Kinrossie
Eve Findlay, Falkirk
Bachelor of Arts Sports Management
Craig Anderson, Falkirk
Andrew Hans Anderson Milroy, Dumfries
Bachelor of Arts with Honours Visual Communication and Design (First)
Shona Jane MacVicar, North Connel
Bachelor of Arts with Honours Visual Communication and Design
Sabrena Hannah Craib, Dundee
Adam William Craik, Dundee
Ben Duguid, Perth
Leigh Laurence Mendoza, Perth
Bachelor of Arts Visual Communication and Design
Fiona Marie Carter, Dundee
Emma Violet Johnstone, Pitlochry
Karol Pruszak, Perth
Beth Catherine Reilly, Broughty Ferry
Bachelor of Engineering with Honours Aircraft Engineering (First)
Qasim Juma Al Haji, Oman
Ahmed Said Salim Al Kalbani, Oman
Mohamed Khalfan Zahir Al Shereqi, Oman
Hasan Nasser Sulaiyam Al'Abri, Oman
Bachelor of Engineering Aircraft Engineering (with Distinction)
Jay Graham Hall, Scone
Hussain Nazeem, Maldives
Gabriela Prisca, Romania
Andrew Stacey, Aberdeen
Bachelor of Engineering Aircraft Engineering
Veerendra Phani Kumar Jaiker, India
Praveen Pandiyan, India
Bachelor of Engineering with Honours Aircraft Engineering and Air Transport Operations First Class
Qasim Juma Al Haji, Oman
Ahmed Said Salim Al Kalbani, Oman
Mohamed Khalfan Zahir Al Shereqi, Oman
Hasan Nasser Sulaiyam Al'Abri, Oman
Jennifer Insley, Inverness
Bachelor of Engineering with Honours Aircraft Engineering and Air Transport Operations
Ali Said Al Marjabi, Oman
Wail Ali Khatim Al-Julandani, Oman
Peter Andrew Cocking, Gorebridge
Subhojyoti Das, India
Ali Fawad, County Louth
Fraser William Gillies, Campbeltown
Duncan Robert Graham, Crieff
Ben Marcus Joseph Jordan, Perth
Sangar Karim, Perth
Rory David MacVicar, Blairgowrie
Michael McIntosh, Birnam
Bachelor of Engineering with Honours Aircraft Engineering and Design First Class
Ahmed Darwish Al Balushi, Oman
Bachelor of Engineering with Honours Aircraft Engineering and Design
Robbie James Collington, Perth
Joseph Cunningham, Mid Calder
Shaun Patrick Gouvea, Kirkcaldy
Michael Adam Haworth, Crieff
John McCrudden, Manchester
Aaron Sharpe, Lossiemouth
Hugh Sturrock, Castle Douglas
Jiro Talplacido, Thurso
Benjamin Lynn Walter, Germany
Bachelor of Engineering Electrical and Electronic Engineering (with Distinction)
Qiya Ruan, China
Pan Xiao, China
Bachelor of Engineering Electrical and Electronic Engineering
Lei Chang, China
Zhenghao Chen, China
Libin Fan, China
Xinpeng Gu, China
Dongchang Guo, China
Meng Guo, China
Ruizhi Huang, China
Weihang Huang, China
Yijun Huang, China
Yingli Huang, China
Jinggang Li, China
Weiyi Li, China
Zhanyuan Liang, China
Chenyou Liu, China
Jian Liu, China
Xin Liu, China
Zheng Liu, China
Sicheng Long, China
Zhangqi Lu, China
Menglin Luo, China
Xin Mao, China
Wen Qui Qin, China
Yaozong Song, China
Pengwang Su, China
Xulong Tan, China
Baiqiang Wang, China
Haoyan Wang, China
Quijie Wei, China
Xin Wu, China
Yizhou Wu, China
Yicong Xiang, China
Bin Xie, China
Tianyi Xu, China
Wenhao Xu, China
Qinwen Yang, China
Fan Yi, China
Yishuang Zeng, China
Zhi Zhang, China
Yi Zou, China
Bachelor of Engineering with Honours Electrical and Energy Engineering
Jingwen Cai, China
Josh Castel, Perth
Junli Huang, China
Jinhua Li, China
Piotr Nowinski, Elgin
Gaojin Xiong, China
Bachelor of Engineering Electrical and Mechanical Engineering
Matthew Cameron, Inverness
Bachelor of Engineering with Honours Mechanical and Energy Engineering
Steven Ashcroft, Ellon
Yijian Lian, China
David Graeme Malcolm, Dundee
Paul Must, Perth
Calum Smith, Dundee
Boqian Tang, China
Bachelor of Engineering with Honours Mechanical Engineering
Cameron Walker, Kirriemuir
Bachelor of Science Air Traffic Management (with Distinction)
Gabriel Miguez, Lerwick
Bachelor of Science Air Traffic Management
Anthony Patrick Gibson, Inverness
Bachelor of Science with Honours Audio Engineering (First)
Adrien Bouillon, France
David Brown, Glasgow
Keith Alan Harvey, Dundee
Reo Levon, Forres
Seonad Lonie, Perth
Bachelor of Science with Honours Audio Engineering
Aled Morgan Bartley-Jones, Dundee
Jack Cameron, Alexandria
Andrew Ross Coghill, Inverness
Jordan James Fox, Blairgowrie
Gareth Moffitt, Glasgow
Alexandra Nichol, Glasgow
Dale Reilly, Coatbridge
Jason Rodgers, Tillicoultry
Petr Stark, Perth
David Charles MacKenzie Stewart, Saline
Bachelor of Science Audio Engineering
Michael Berry, Perth
Alexander Tristan Bicheno, Dunblane
Elijah Broghan Jay Carey, Dundee
Duncan James Morison, Edinburgh
Megan Elizabeth Park, Dyce
Calum Smith, Dundee
Bachelor of Science with Honours Computing (First)
John Alexander Cameron Borthwick, Stanley
Samuel James Drane, Blairgowrie
Ian Garland, Perth
Mathew Mayne, Perth
Bachelor of Science with Honours Computing
Douglas Shilliday, Glenfarg
Bachelor of Science Computing (with Distinction)
Krzysztof Bialy, Pitlochry
Bachelor of Science Computing
Mazhar Hussain Towab Ahmad, Perth
John Brannigan, Perth
Peter Joseph Cullen, Scone
John Clifford Dare, Perth
Daniel Giza, Pitlochry
John Thomas Kelly, Perth
Alexander Lamond, Edinburgh
Benjamin Moore, Netherlands
Owen Murphy, Abernethy
Bachelor of Science with Honours Environmental Science (First)
David McMillan, Dunblane
Bachelor of Science with Honours Environmental Science
Lauren Cameron, Perth
Alice Catherine Kenny, Kincardine
Nicola Kerr, Perth
Matthew James Stanley, Pitlochry
Bachelor of Science Environmental Science (with Distinction)
Katarzyna Szostak, Perth
Bachelor of Science General
Ryan Bryce, Edinburgh
Bachelor of Science Psychological Studies
Stuart Chisholm McMillan, Perth
Kenneth Scott Neil, Auchterarder
Bachelor of Science with Honours Psychology (First)
Monica Franco Sanchez, Perth
Bachelor of Science with Honours Psychology
Freddie Blackburn Shaw, Kendal
Carol Anne Carey, Perth
Elspeth Henderson, Gleneagles
Yussra Mumtaz, Kirkliston
Vikki Reid, Newburgh
Bachelor of Science Psychology
Emma Julia Balint, Hungary
Dina Scott, Perth
Bachelor of Science with Honours Social Sciences (First)
Cameron Barrie, Markinch
Bachelor of Science with Honours Sport and Fitness (First)
Jennifer Karen Hogg, Blairgowrie
Bachelor of Science with Honours Sport and Fitness
Carla Gomez, Elgin
Craig Sandilands, St Madoes
Bachelor of Science Sport and Fitness
Jamie Alexander, Powmill
Robert Ducky, Dundee
Callum Joseph Findlay, Perth
Samuel Stephen Illiffe, Inverness
Jaimie Steele, Glenfarg
Zoe Turnbull, Comrie
Hope Margaret Whitelaw, Bridge of Earn
Bachelor of Science Sport and Fitness (with Distinction)
Kirsty Morag MacDuff, Scone
Bachelor of Science Sport and Fitness
Struan Nevin, Penicuik
Michaela Tomanova, Perth
Diploma in Higher Education Aircraft Engineering
Moray Gordon Austin, Largs
Rodger Mitchell, Inverness
Diploma in Higher Education Archaeology
Christina Hislop, Perth
Diploma in Higher Education Child and Youth Studies
Lisa Marie Currie, Blairgowrie
Nicole Deeks, Scone
Rebecca May Nisbet, Perth
Kumudu Deepasikha Somadasa, Stirling
Diploma in Higher Education Environmental Science
Stephen Alistair Milne, Perth
Diploma in Higher Education Health Studies
Michael Robert Mark Prendergast, Dundee
Diploma in Higher Education History
Danielle Allen, Cumbernauld
Bernadette Anne McDaid, Perth
Diploma in Higher Education History and Politics
Emma-Louise Cragg, Stanley
Diploma in Higher Education Music Business
Richard Spellman, Great Ayton
Diploma in Higher Education Person-Centred Counselling and Psychotherapy
Annemarie Lauder, Perth
Hilda Lawrie, Kinnesswood
Asifa Ashraf Nicoll, Aberdour
Naomi Jessica Armstrong Nyamudoka, Comrie
Helen Simpson, Crieff
Diploma in Higher Education Philosophy, Politics and Economics
Louis McNaught, Broughty Ferry
Sarah Schultz, Perth
Diploma in Higher Education Popular Music
Kellie-Anne Buchanan, Dundee
Alan Alexander Carberry, Clackmannan
John Alexander Dunleavey, St. Andrews
Edward Hetherington, Kinross
James Killin, Burntisland
Shannen Donnelly MacDougall, Buckhaven
Liam MacKenzie, Arbroath
Kerr William Masterton, Dundee
Jay James Moir, Inverkeithing
Billy Muir, Liff
Liam Napier, Coaltown Of Wemyss
Courtney Elena Stuart, Dundee
Diploma in Higher Education Psychological Studies
Katherine MacDonald, Oban
Leigh Rennie, Bathgate
Diploma in Higher Education Social Sciences
Nicola Kimberley Simpson, Perth
Benjamin Wright, Callander
Certificate in Higher Education Aircraft Engineering
Georgina MacDonald, Baillieston
Certificate in Higher Education Archaeology and Environmental Studies
Clodagh Eireann Wilson, Darvel
Certificate in Higher Education Archaeology
Daniel Robert Smith, Edinburgh
Jessica Marie Stevens, Prestonpans
Certificate in Higher Education Child and Youth Studies
Susie Elizabeth Oliver, Wormit
Certificate in Higher Education General
Joanna Elizabeth MacDonald, Dundee
Kerry Ann Todhunter, Calvine
Rebecca Witts, Ardishaig
Certificate in Higher Education Health Studies
Betty McCready Brown, Muthill
Certificate in Higher Education Literature
Helen Liblik, Estonia
Rachael Sarah Powell, Tummel Bridge
Certificate in Higher Education Psychological Studies
Jennifer Connelly, Dunfermline
Robert Gilmore Cullen, Perth
Sanna Jayne Fraser, Lerwick
Dominik Golab, Perth
Bethany Jane Hutchison, Fowlis
Zane Kenina, Perth
Grzegorz Nowaczyk, Perth
Certificate in Higher Education Scottish History
Aileen Riches, Blairgowrie
Certificate in Higher Education Social Sciences
Mohona Bhuyan, Denmark
Amber Cullen, Glasgow
Caroleanne Ferguson, Perth
Irene Stephanie Merker, Germany
Lauren Sharp, Stirling
Joanne Stubberfield, Stirling
Katie Swales, Scone
Garry Thomson, Perth
Certificate in Higher Education Sociology and Criminology
Bejna Demir, Dundee
Business, Management, Computing and Leisure
Higher National Diploma Accounting
Justin Stephen Baker, Blairgowrie
Marin Balkanski, Auchterarder
Lucy Beveridge, Perth
Claire Carmichael, Cupar
Rachel Louise Donnelly, Falkland
Atanaska Lozenova Dzhumayova, Perth
Megan Elizabeth Elrick, Perth
Gary Steven Hamilton, Dundee
Sarah Laing, Bankfoot
Laura Joan McKenna, Coupar Angus
Alexander Mitchelmore, Perth
Krasimir Venelinov Sheveliev, Perth
Rebecca Taylor, Perth
Higher National Certificate Accounting
Paulina Adamczyk, Perth
Terri-Anne Carmichael, Perth
Suzanne-Jane Easdon, Perth
John Gibson, Perth
Gabor Heisz, Perth
Anshu Honeyman, Perth
Agnese Irbina, Perth
Andrew MacKinnon Kirkland, Dunning
Tihomir Georgiev Kolev, Perth
Iwona Barbara Kret, Crieff
Erin Marie Mullen, Edinburgh
Karen Louise Paterson, Perth
Eva Ramos Gonzalez, Perth
David Robertson, Perth
Scott Andrew Smith, St Madoes
Higher National Diploma Administration and Information Technology
Sean Blane, Perth
Dawnna Janet Margaret Brown, Perth
Chelsea Cahill, Perth
Nathalene Marie Juliette De Mallevoue, France
Gregor James Haines, Perth
Sarah Tracy Fiona Leitch, Perth
Ewa Nowak, Perth
Matthew Shaw, Perth
Wioletta Wadek, Perth
Higher National Certificate Administration and Information Technology
Laura Jane Anderson, Perth
Rachel Boyle, Airdrie
Stacey Campbell, Perth
Hayley Carstairs, Blairgowrie
Dana Daukste, Rattray
Pauline Deuchars, Perth
Kamil Mateusz Dybek, Crieff
Carol Ann Fitzgerald, Perth
Kelly Fleming, Blairgowrie
Tendayi Lilyosa Gijima, Scone
Samantha Megan Hardie, Bridge of Earn
Nikki Doris Houghton, Perth
Rachel Johnston, Abernethy
Donna Louise Jump, Scone
Zaneta Magdalena Klink, Kingussie
Izabela Lawniczak, Rattray
Claire Marjorie Marshall, Errol
Aleksandra Matsikas, Auchterarder
Kirsty Patricia McLeod, Perth
Linda Miezite, Coupar Angus
Rebecca Millar, Perth
Zoe Moran, Perth
Fiona Pulfrey, Crieff
Rachael Sinclair, Perth
Logan Skelton, Perth
Craig Smith, Perth
Martyn Kevin Jack White, Perth
Malgorzata Zarek, Perth
Alicja Anna Zimmermann, Perth
Higher National Diploma Business
Paulo Cerveira Pinto, Portugal
Christopher Cruickshank, Perth
Dristi D'Cruze, Perth
Hannah Mary Grace Dellanzo, Scone
Pietro Di Paco, Italy
Lindsay Lamont Good, Coupar Angus
Marian Andrzej Janeczek, Perth
Lucia Lichnerova, Perth
Lewis Kieran MacKillop, Auchterarder
Jamie McAllister, Scone
Erin Elizabeth Ronald, Perth
Zuzana Suriakova, Perth
Alexis Jayne Wightman, Dalkeith
Higher National Certificate Business
Ross Alexander Allan, Glenfarg
Rowena Bennett, Aberuthven
Anna Rachael Bloch, Auchterarder
Sean Cannon, Kinross
Jade Janine Craig, Perth
Gleb Alexander Fenwick, Cupar
Johnathan Forbes, Errol
Tatiana Fuckova, Perth
Rebecca Hamiltion Harper, Perth
Philip Harrier, Perth
Matthew Leitham, Perth
Kornelia Janina Lekka-Olbrycht, Perth
Grace Catriona Mansell, Pitlochry
Kazimierz Mazurkiewicz, Perth
Eilidh Caitlin McLauchlan, Alyth
James Robert Mitchell, Guildtown
Teague Murray, Perth
Radoslav Petrzel, Perth
Gregor Iain Wallace Ritchie, Bridge of Earn
Chloe May Ross, Birnam
Charles Thom, Perth
Stewart Thomson, Bridge of Earn
Christina Lilias Burns Webster, Perth
Mariusz Wolski, Perth
Kyle Young, Scone
Higher National Diploma Coaching and Developing Sport
Sean Saunders Gorrie, Perth
Lewis Melloy, Perth
Scott Robertson, Auchtermuchty
Higher National Certificate Coaching and Developing Sport
Alicia Jane Brown, Plean
Fiona Ann Campbell, Stirling
Jordan Mitchell Chiesa, Perth
Andrew William Clark, Strathmiglo
Emily May Dawson, Braco
Rose Mary Dyke, Ceres
Matthew Glass, Scotlandwell
Cameron Steven Hopkin, Lindores
Alan Lee, Aberdalgie
Ewen Allan MacDonald, Abernethy
Goran Perperiev, Bulgaria
Angus James Proudfoot, Strathmiglo
Craig John Proudfoot, Strathmiglo
Shawn Daniel Ramsay, Perth
Cameron Andrew Ritchie, Dundee
Fern Alexander Smith, Meikleour
Joshua Rhys Thatcher, Gleneagles
James Thomson, Perth
Higher National Diploma Computer Science
Sean Breen, Blairgowrie
Calum Chittleborough, Kinross
Ross Cramb, Crieff
David Wyn Ferguson, Perth
Kayleigh Harlow, Perth
Patrycja Kowalinska, Perth
Federica La Marca, Perth
Stuart McDermid, Perth
Bruce Millar, Rattray
Benjamin Morgan, Luncarty
Scott Munsie, Bridge of Earn
Thomas Murray, Larbert
Cameron Alastair O'Brien, Perth
Marcin Olesiak, Perth
Sara Pattinson, Scone
Alexander Joseph Purvis, Birnam
Matthew Charles Radbourne, Dunning
Euan Reid, Abernethy
Scott Robertson, Perth
Benjamin Traill, Perth
Michael Wright, Perth
Higher National Certificate Computing
Lauren Marie Anderson, Perth
Alex Bilsland, Auchterarder
Jack Lewis Bowker, Braco
Kevin Clark, Perth
Fraser Coldwell, Crieff
Paul Laurence Mozo Cruz, Rattray
Cameron Desmond, Perth
Stewart Morris Duncan, Coupar Angus
Angus Fleming, Rattray
Ewan Forsyth, Perth
Hamish Galpin, Auchterarder
Bartosz Gierwatowski, Perth
Robyn Rebecca Gillies, Perth
Euan David Henderson, Comrie
Ian Gordon Duncan Holderness, Perth
Ian Cowan Kettles, Perth
Jordan Thomas Little, Bridge of Earn
Hamish MacDonald, Comrie
Harvey MacKie, Perth
Vasile Maftei, Leven
Sophie Jane Maule, Perth
Ross James McIntosh, Perth
Maksims Mizgins, Perth
Craig Ross Morgan, Perth
Usman Muhammad, Crieff
Krystian Adrian Owczarzak, Bankfoot
Mateusz Jan Pietrasik, Perth
Charles Ian Michael Felisilda Robinson, Blairgowrie
Michael Sidney Robinson, Alyth
Dylan Ronald Rodger, Coupar Angus
Aiden Smart, Perth
Michael Snow, Blairgowrie
Laura Springett, Bridge of Earn
Andrew Stewart, Perth
Haseeb Tariq, Dunfermline
Finlay Mungo Watson-Kerr, Edinburgh
Higher National Diploma Fitness Health and Exercise
George Arnott, Dundee
Valerio Boldreghini, Perth
Patrycja Dwojak, Perth
Jordan Harkins, Johnstone
Stephanie Hewett, Dundee
Heather Lamb, Scone
Jordan Leslie, Dalgety Bay
Claire Martin, Perth
Connor McCumiskey, Glasgow
Stefan Nowak, Perth
Jan Otahal, Perth
Pavlina Pajorova, Perth
Jack Parr, Redgorton
Fergus Alexander Sandison, Blairgowrie
Higher National Certificate Fitness Health and Exercise
Matthew Brodie, Rattray
Jake Dobbie, Kinross
Fryderyk Mateusz Dudek, Perth
Alim Etri, Perth
Fraser Stuart Grant, Auchterarder
Steven Alan Green, Perth
Ben Greenwood, Perth
Michael Eamonn Haddow, Kelty
Anna Higginbottom, Perth
Ethan High, Perth
Amber King, Perth
Monika Joanna Kruk, Fairfield Avenue
Bruce Leckie, St. Fillans
Urszula Patrycja Lenard, Perth
Robyn Kay Lennon, Perth
Kimberley Susan Reekie, Glencarse
Brendan Summers, Crieff
Higher National Diploma Hospitality Management
John Mutinda Barnardo, Perth
Sarah Louise Fahy, Perth
Cheska Garcia, Perth
Alona Kilivnika, Perth
Jade Lafferty, Shotts
Gracious Mutangiri, Edinburgh
Jennifer Wilson, Perth
Higher National Certificate Hospitality
Stephanie Calderwood, Perth
Alberto Cantarero Ruiz, Crieff
Natasha Claxton, Stanley
Yagama Romina Hashani De Silva, Italy
Zoltan Gibusa, Perth
Jennifer Abigail Masson, Markinch
Rachel Mayne, Perth
Anna Maria Muchowska, Dundee
Jack Niven, Stenhousemuir
Gabriela Elisabeta Olar, Perth
Kirsty Sarah Hay Peacock, Crook of Devon
Todorka Rangelova, Perth
Lucy Rose, Crieff
Caitlin Louise Walder, Glenrothes
Mairi Williamson, Perth
Higher National Diploma Professional Cookery
Esvelin Garcia, Rattray
Mateusz Karwacki, Perth
Laura McRobbie, Dundee
Stanislava Marinova Minova, Perth
Lynn Mulholland, Errol
Andzelika Olesiak, Perth
Ewelina Opila, Perth
Higher National Certificate Professional Cookery
Joanne Lacey Aitken, Perth
Arlena Allison Birrell, Kirkcaldy
Jack Enston, Dunfermline
Derek Robert Ferrier, Blairgowrie
David Grant, Perth
Tina Sheila McGovern, Glendevon
James Ross, Auchterarder
Martin James Torbet, Perth
Rhona Margaret Ellen Wilson, Kinross
Higher National Certificate Soft Tissue Therapy
Karen Bruce, Kirriemuir
Przemyslaw Girsa, Denny
Grant Stewart Martin, Forgandenny
Professional Development Award Book-keeping
Jean Roseanne Irene Brown, Strathmiglo
David Halley, Crieff
Lois McNaught, Bridge of Earn
Victoria Elaine Ritchie, Scone
Professional Development Award Personal Training
Aivars Pukitis, Aberfeldy
Professional Development Award Website Design
Dylan Robert Letham Bain, Perth
Ron Johansen, Perth
Ciprian Rata, Perth
Kenny Saunders, Meigle
Danuta Anna Stephen, Forgandenny
Allan Christopher Wilshere, Aberfeldy
Creative Industries
Higher National Diploma Contemporary Art Practice
Amber Elizabeth Bennett, Auchterarder
Amy Elizabeth Butler, Kinloss
Claire Byrne, Bridge of Earn
Kaya-Lana Fraser, Perth
Khristen Jane Madriaga, Rattray
Conor McConville, Dunfermline
Shayna Dee McLean, Crieff
Lucy Mitchell, Perth
Miami Mohsin, Perth
Julia Opila, Perth
Fiona Allison Smith, Perth
Hanna Strombom, Sweden
Higher National Certificate Contemporary Art Practice
Victoria Backhurst, Auchterarder
Eva Becker, Germany
Kaehoa Cunningham, Scone
Alison Howden, Perth
Ellie Jane Jamieson, Perth
Sean McKay, Dumfries
Kelly Fiorina McKechnie, Scone
Miguel Alexander Medina Miller, Dundee
Nkem Okwechime, Broughty Ferry
Laura Catherine Pennycook, Perth
Kayleigh Sneddon, Crieff
Daisy Kathleen Taylor, Ruthvenfield
Anthony Romeo Williamson-Bruscaglia, Perth
Higher National Certificate Music
Shaun Ahmmad, Perth
Margarida Monteiro Barradas, Perth
Finlay Baxter, Cupar
Jack Birnie, Wolfhill
Nathan Blair, Brechin
Joseph Cowie, Perth
Calum Doig, Perth
Thomas James Fyfe Harrison, Upper Largo
Josephine Elizabeth Hawley, Glenrothes
Clare Shauna Houston, Glenrothes
Aiesha Elizabeth Hunter, Kennoway
Dayna-Carole Jamieson, Perth
Janina Kiia Mariella Korkia-Aho, Perth
Naomi Lambert, Kirkcaldy
Ryan Lochrane, Perth
Jai McCann, Bannockburn
Thirza McClean, Glenrothes
Louise McEwan, Kilmarnock
Lia McFie, Dundee
Joshua McGrath, Dunshalt
Jessica McGregor, Dundee
Jamie Kevin Alan McLardy, Kilwinning
Thomas Rowen Moir, Perth
Callum Andrew Moodie, Lundin Links
Blair Nicol, Dundee
Douglas Noble, Coupar Angus
Jonathan Paterson, Innerleithen
Stewart James Paterson, Castle Douglas
Thomas Paterson, Cupar
Jakub Pesek, Czech Republic
James Rodger, Bo'Ness
Cameron Roxburgh, Callander
Farhad Shahrokhi-Moghaddam, Perth
William Adam Shields, Dundee
Rebecca Shillan, Glassingall
Michaela Slapakova, Slovakia
Ross Stewart, Blanefield
Kenneth George Valentine, Forfar
Higher National Certificate Music Business
Alix Duncan Clark, Dundee
Padraig Devlin, Dundee
Stacey Elizabeth Drysdale, Coupar Angus
Brandyn Lee Duthie, Dundee
Lewis Forrest, Dundee
Kaia Raquel Garrity, United States
Ian Hadden, Dundee
Elisha Lessels, Perth
Brandon Low, Markinch
Leo Alexander Daniel McArdle, Dunblane
Blain Mortiboys, Arbroath
Calum John Murdoch, Kingswells
Laima Siauruseviciute, Lithuania
Rory Thomas Charles Taylor, Bankfoot
Caitlin Tolley, Methil
Shannon Louise Waterston, Perth
Alexander Ian Wiebrecht, Germany
Scott Young, Methilhill
Higher National Certificate Musical Theatre
Glen Andrew Alexander, Perth
Sara Caves, Methven
Natalie Jane Damie, Perth
Lewis James Dawson, Falkirk
Melanie Marion Hopkins, Perth
Hannah Ruth Millard, Perth
Mark B W Murphy, Perth
David George Murray, Perth
Shannon Myles, Perth
Drew Robertson, Perth
Amy Elaine Scott, Glenrothes
Anna Whitaker, Crieff
Higher National Certificate Sound Production
Maria Antonopoulou, Greece
Aidan Alexander Black, Fordoun
Hamish Euan McNiven Cook, Dalmeny
Lewis Robert Crichton, Perth
Liam Curtis, Lochgilphead
Scott Donald, Perth
Austyn Drummond, Aberdeen
Mia Eames, Dunblane
Ian Cameron Farquhar, Fochabers
Michele Foley, Perth
Zachary Aaron Frulloni, Italy
Steven Garioch, Perth
Aisling Goodey, Perth
Iona Catherine Grieve, Errol
Blythe Johnston, Blairingone
Ethan Killick, Dundee
Alasdair John William Marnoch, Tong
Joeli Storm McKenzie, Arbroath
Shaun Robert Middleton, Broughty Ferry
Evan Miller, Broughty Ferry
Vaughan Mitchell, Braco
Aaron Alexander Nicoll, Dundee
Ian Nisbet, Auchterarder
Debbie-Anne Ritchie, Portlethen
Gary Christopher Robertson, Perth
Oliver Robertson-Jones, Dunblane
Gleb Semionov, Cowdenbeath
Kyra Shevaig Smith, Penicuik
Finlay Horsburgh Snowdon Smith, Cupar
Connor Craig MacKenzie Watt, Linlithgow
Callum Blair Will, Arbroath
Gregor Wilson, Cupar
Robbie Fergus Wood, Edinburgh
Julen Zaldua, France
Higher National Diploma Technical Theatre and Production Arts
Jack Alexander, Grangemouth
Sarah Buick, Broughty Ferry
Rachel Elizabeth Dalgarno, Kinellar
Rory Nicolson Dunn, Dundee
Erin Francis Huntley, Crieff
Ruth Catherine Stewart, Invergarry
Megan Sarah Thomson, Perth
Higher National Certificate Technical Theatre
Jack William Armour Adam, Aberdeen
Lennan Egan, Dundee
Rebecca Fairlie, Perth
James Colin Johnston, Inverness
William James Hamilton Jones, Milnathort
Jessica McKay, Aboyne
Callum Ian Moray McLeod, Lossiemouth
Iain James Rennie Parkinson, Linlithgow
Lewis Winter Petrie, Dundee
Alexander Tosh, New Alyth
Higher National Diploma Visual Communication
Vanda Carina Melo Alexandre, Portugal
Deborah Hutchison, Perth
Sarah Saunders Matthew, Perth
Andrew McDonald, Perth
Stephanie Milton, Cumbernauld
Lauren Neill, Perth
Alicja Pochron, Perth
Lucy Louise Ross, Auchterarder
Joshua James Stevenson, Blairgowrie
Higher National Certificate Visual Communication
Nicola Baillie, Errol
Abby Marie Bee, Perth
Katie Binkowska, Perth
Madison Campbell, Perth
Rebecca Cuthbertson, Edinburgh
Gregor George, Perth
Matthew Craig Gilmour, Kelty
Rory Glendenning, Ballinluig
Tiwonge Graham, Pitlochry
Camelia Hudema, Perth
Kirsty Elizabeth Jackson, Scone
Ryan Lawson, Perth
Sofia Olearova, Perth
Heidi Carolina Yepes Gonzalez, Perth
Zory Zdravkova, Perth
Engineering, Science and Technology
Higher National Certificate Aircraft Engineering
Ryan Finlay, Edinburgh
Cameron Angus MacIver, North Berwick
Connor McGregor, Perth
Jean Acer Sadian, Perth
Gordon Sellar, Perth
Robert Sibbald, Hawick
Darian Taylor, Broxburn
Higher National Certificate Applied Sciences
Yvonne Louise Bissett, Bridge Of Earn
Naomi Ilea, Perth
Persida Ilea, Perth
Ciara Francesca Maxwell-Whiteley, Brighouse
Piumi Sara Nupe Hewage, Italy
Eilidh Smith, Rattray
Higher National Diploma
Construction Management
Tamara Campbell, Crieff
Daniel Zoltan Kirlay, Perth
Higher National Certificate Construction Management
Scott Anderson, Forgandenny
Stuart Donald Beaton, Ellon
Deniss Bogdanovs, Cardenden
Timothy David Byron, Glenlomond
Steven Chambers, Dundee
Craig John Connor, Perth
Sylvia Elaine Margaret Dunbar, Errol
Boyd Ferguson, Perth
Aaron Douglas Gray, Crieff
Kieran Gordon Hadden, Scone
Valentina Kirilova Hadzhieva, Perth
Paolo Reginald Jo, Perth
Darren James Johnstone, Cupar
Natalie Hazel Kiely, Lossiemouth
Charlie Knox, Luncarty
Ross Leyden, Cowie
John McRitchie, Crossford
Neil Lindsay Porter, Drumnadrochit
John Francis Robertson, Glenrothes
Allan Smith, Dundee
Gary Sturrock, Ballinluig
Pawel Piotr Szulga, Perth
Scott Templeton, Ellon
Alistair Alexander Wright, Comrie
Higher National Diploma Engineering Systems
Oliver Adams, Ballintuim
Brodie Kenneth Allison, Bow of Fife
Ian Neil Davidson, Blairgowrie
David Duffy, Dunshalt
Joshua van Eyk, Perth
Andrew Lamb, Crieff
Liam John Dennis Sinclair Nicholas, Perth
Marc Robert Ogg, Luncarty
Higher National Certificate Engineering Systems
Finlay Clark, Abernethy
Cameron Devine, Perth
Rhys William Dunlop, Glenalmond
Benjamin George Foster, Crieff
Edward Fraser, Comrie
Thomas Andrew Fraser, Grange
Fraser Gillies, Errol
Jakub Grabowski, Comrie
Caitlin Grace Greenan, Broxburn
Stewart Higginbotham, Doune
James David Johnston, Crieff
Lukasz Wojciech Kedzior, Perth
Ritchie Young Sutherland King, Stirling
Andrew Lawson, Glenalmond
Deirdre MacDuff, Crieff
Matthew Pow, Perth
Finnbar Ryan, Bridge of Tilt
Stefan Smoliakov, Perth
Callum Lyon Milton Taylor, Dunning
Grzegorz Zdzislaw Zegarlicki, Perth
Professional Development Award Carpentry and Joinery
Ben Brodie, Bankfoot
Liam Doris, Auchterarder
Dean Craig Henderson, Perth
Jamie McGregor McInally, Gilmerton
Craig Andrew McRae, Perth
Lee Roberts, Gilmerton
Bryn Lewys Warburton, Comrie
Health, Education and Social Sciences
Higher National Diploma Beauty Therapy
Mellaine Armitage, Methven
Lauren Blakeborough, Pitlochry
Claire Louise Cameron, Perth
Natasha Christie, Perth
Shelley Clark, Perth
Nicole Davie, Perth
Deeonne Davena Donavan, Perth
Alex Equi, Perth
Kimberley Ewan, Bankfoot
Marianne Ferguson, Perth
Kim Forsyth, Dunkeld
Sylwia Holc, Perth
Hannah Louise Lister, Perth
Claire MacLean, Kinross
Kaila McIntyre, Perth
Caitlin Millar, Rattray
Rebecca Fiona Moore, Perth
Gillian Neave, Perth
Nicola Nicoll, Perth
Ralitsa Mihaylova Palagacheva, Coupar Angus
Megan Grace Pirie, Dyrmen
Victoria Olivia Prior, Dunblane
Ashleigh Robinson, Balbeggie
Lucy Moraig Stewart, Scone
Nikki Lallani Ferguson Stirton, Perth
Ashlea Taylor, Luncarty
Valerie Wailly, Blackford
Higher National Certificate Beauty Therapy
Robyn Bicocchi, Perth
Barbora Blaskova, Falkirk
Mhairi Brankin, Tayport
Michelle De Oliveira Lisboa, Perth
Agnieszka Deja, Crieff
Lynn Ann Gibson, Alyth
Nikita Amy Graham, Rattray
Christie Hutt, Kinross
Dace Ilmere, Perth
Shannon Kerr, Methven
Kerri Lawson, Broughty Ferry
Cara Lean, Perth
Morven Kirsty MacKinnon, Auchterarder
Malgorzata Malachowska, Perth
Kelsie McGregor, Blairingone
Emily Alexandra Park McGuire, Kinross
Kirsty McKeith-Low, Almondbank
Maria Cristina Montilla, Crieff
Courtney Moore, Perth
Christy Jeannie Portsmith, Dundee
Zahra Rashid, Perth
Sharon Swash, Errol
Amy Townsley, Bridge of Earn
Yonilyn Ortega Welsh, Crieff
Kirsty Georgina Margaret Wilson, Perth
Dongchun Zhao, Perth
Higher National Certificate Care and Administrative Practice
Seonaid Alexander, Powmill
Pamela C Anderson, Perth
Donna Campbell, Perth
Rebekah Mary Hunter, Crieff
Megan Chloe MacKay, Perth
Kirsty Miller, Perth
Sally Grace Jane Sclater, Perth
Caitlin Scougall, Coupar Angus
Tamara Smyth, Lochgilphead
Marina Telesnikova, Perth
Clare Webster, Perth
Higher National Certificate Childhood Practice
Louise Jane Aitken, Blairgowrie
Mark Ballingall, Perth
Miriam Elizabeth Bland, Perth
Karen Lisa Cameron, Perth
Chloe Robyn Chalmers, Scone
Rheona Louise Cross, Errol
Morven Davidson, Kirriemuir
Jaye Alexina Fenton, Dundee
Jennifer Megan Gairns, Braco
Reece Robert Gray, Coupar Angus
Abbey Jo Hutchison, Woodside
Kelly Lamond, Coupar Angus
Caitlyn Patricia Shannon MacGillivray, Auchterarder
Kirsty Mary Magee, Perth
Leah McBride, Perth
Chelsea McDonald, Perth
Caitlin McDougall, Crieff
Johanna Louise McFadzean, Dunfermline
Toni Louise McKinlay, Pitlochry
Jenna Catherine McRorie, Crieff
Jodie Amber Millican, Crook of Devon
Louise Proctor, Perth
Susan Smith, St. Madoes
Sydney Alexandra Sreenan, Cambusbarron
Carol Stewart, Pitlochry
Sylvia Stewart, Dunkeld
Laurie Strachan, Longforgan
Natalie Beth Thomas, Coupar Angus
Paige Todd, Perth
Courtney Ward, Perth
Jessica Meg White, Muckhart
Hugh Stewart Wilson, Rumbling Bridge
Agnieszka Wojciechowska, Perth
Higher National Certificate Social Sciences
Sibel Abdula, Perth
Michael Addley, Crieff
Connor Angood, Helmsdale
Ciara Kay Baillie, Blairgowrie
Frances Barbara Burns, Perth
Theresa Campbell, Oban
Jade Christie, Scone
Lewis Andrew Crichton, Kincardine
Karen Dobbie, Errol
Angela Duncan, Perth
Beth Freya Gilbert, Stornoway
Madison Gowans, Newport-on-Tay
Matthew Kenneth Gray, Perth
Kirsty Mary Anne Hampton, Tullibody
Jo Hartley, Perth
Shona Harvey, Doune
Marta Hass, Perth
Brandon Lee King, Callander
Nicole Langdon, Bankfoot
Ceitidh Lavin, Greenloaning
Louise MacIntyre, Perth
Rebecca Jayne MacKay, Kinross
Matthew Alasdair MacLeod, Perth
Hannah McCarthy, Crieff
Kirsty McEachen, Perth
Conor James Thomas McEwan, Bankfoot
Jack Daniel McInnes, Connel
Fiona Lindsay McLaren, Cambusbarron
Holly Brenna McNeil, Perth
Vanessa Yvonne Memia, Perth
Brady Muir, Annan
Chloe Patricia Murphy, Abernethy
Alexandria Nolte, Stanley
Hollie Patterson, Perth
Morgan Alexander Rennie, Kirkcaldy
Nicole Rhodes, Coaltown of Wemyss
Stephanie Angela Scott, Auchterarder
Ronan A Simpson, Laggan
Beth Rhiannon Sinclair, Lybster
Mili Smith, Guildtown
Robbie Finlay Huw Taylor, Ardeonaig
Bridie Tulloch, Perth
Higher National Certificate Social Services
Laura Jan Marie Alexander, Meigle
Kylie Birrell, Perth
Rebecca Dickinson, Crieff
Caitlin Feasey, Blairgowrie
Andrew Gordon Kay Findlay, Rattray
Holly Kate Galletly, Perth
Arrianne Louise Gill, Burrelton
Rachael Louise Hodge, Scone
Hannah Lavender, Perth
Neve McDougall, Perth
Hazel McFarlane, Doune
Sinead McGregor, Longforgan
Lia Moffat, Perth
Hannah Charlotte Smith, Dunblane
Professional Development Award Health and Social Care: Administration of Medication
Tina Clark, Dundee
Claire Kirk, Murthly
Jessie McGowan, Auchterarder
Victoria Catherine Arrol Mitchell, Kirriemuir
Gina Oligario, Blairgowrie
Professional Development Award
Health and Social Care Supervision
June Vida Baxter, Coupar Angus
Kirsty Brown, Abernethy
Julieta Cruz, Rattray
Dorothy Downie, Blairgowrie
John William Gorman Hughes, Arbroath
Pavitdeep Kaur, Perth
Angela MacKay, Perth
Colleen Malone, Rattray
Molly McGlashan, Perth
Jacqueline Ann Shields, Elie
Professional Development Award Innovations in Hair Design
Kathleen Black, Blair Atholl
Nykaela Jo Christie, Mossbank
Allanis Erskine, Alyth
Kerry Smith, Perth
Samantha Jane Wallace, Pitlochry
Professional Development Award Mental Health Peer Support
Grace Isabel Halliday, Perth
Amanda Jane McCabe, Perth
Andrew Rockett, Perth
Carole Margaret Simpson, Alyth
Professional Development Award Promoting Excellence in Dementia Skilled Practice
Leigh Ann Doy, Comrie