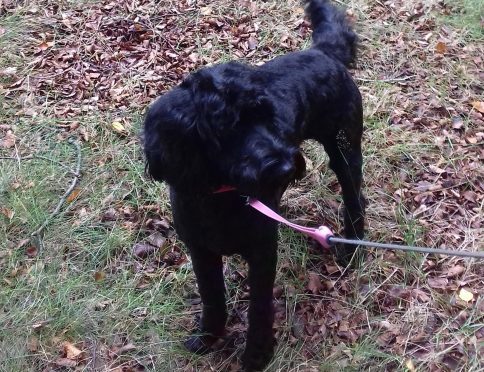 A dog owner has spoken of her relief at being reunited with her pet after two days on the run.
Cockapoo Lola escaped from the boot of Helen Christie's car as she visited friends in Perth on Saturday.
The two year old animal spent the next 48 hours running in a loop in the Craigie area of the city, avoiding all efforts to recapture her.
She was eventually spotted at Perth railway station and taken into the care of staff.
Helen, who lives in Murroes on the outskirts of Dundee, said Lola suffered a minor injury to her paw but was otherwise unscathed by her adventure.
She said: "I was visiting some friends and unfortunately she bolted out of the boot of the car when my friend opened it.
"We trailed across Perth all of Saturday and went back out on Sunday. There was so many sightings of her but when people tried to get to her she was off like a streak of lightening.
"I was just about out of my mind. The most worrying thing is she wasn't familiar with the area.
"She was seen all over Craigie – on Needless Road, Cavendish Avenue, at the bus station and at the swimming pool.  We think she was going in a big circle looking for me.
"She must have been exhausted by the Monday morning, when a lady found her at the railway station and took her into the customer service area and we drove to get her.
"She was remarkably well considering she was missing for almost 48 hours. It's amazing – she seems to be quite unscathed considering what could have happened to her."
Lola's disappearance was publicised on the Missing Pets, Perth and Kinross Scotland Facebook page.
Katie McCandleless, who runs the page, posted: "A massive thank you to everyone who helped search for Lola! I know loads of people shared her appeal and spent hours walking the streets looking for her and it's very much appreciated by Lola's Mum and myself.
"Thank you again everyone for helping bring another missing pet home."