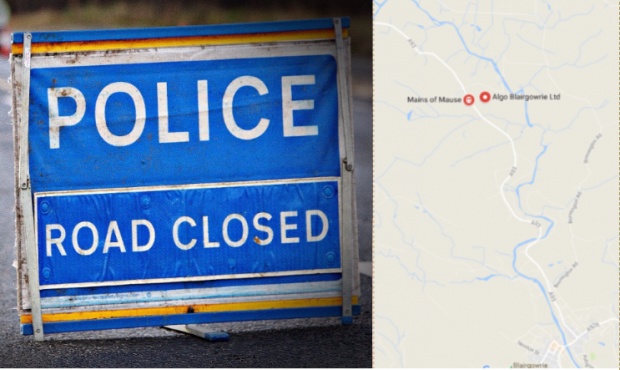 A heroic mechanic who saved a man's life after he suffered a serious leg injury in a horrific crash in Blairgowrie has described the moment he sprang into action.
Tam Grehan, 48, was driving on the A93 near the Mains of Mause cottage on Thursday when he came across a motorcyclist who had been in a serious crash.
Mr Grehan revealed how he applied pressure to the man's injuries to slow down the bleeding and save his life.
He said: "I just came up the road in my van and I saw a bike was lying on the right hand side.
"There was a guy lying there and his mate was trying to drag him off the road. I could see straight away that he had lost his leg.
"He was bleeding really badly. I had a jacket in my van so I pulled it out and put it over him and just did what I could to help.
"It felt like an eternity waiting for the ambulance to arrive. I was definitely glad to hear the sirens. I don't think I've ever been so relieved."
The motorcyclist is understood to be recovering in Ninewells Hospital after having part of his leg amputated but Mr Grehan said the 31-year-old had been in touch to say thank you.
He said: "I got a phone call from him to say thanks and let me know he was okay. He said I'd saved his life but I just did my best and did what I could to help."
RTC A93 at Mains of Mause Farm, Blairgowrie. Road closed. Police in attendance. Diversions in place.

— Perth&KinrossCouncil (@PerthandKinross) October 12, 2017
A local farmer, who asked not to be named, began directing traffic after arriving at the scene of the crash and said the motorcyclist owed his life to Mr Grehan.
He said: "I heard the air ambulance arrive and opened the gates so the paramedics could get access.
"By the time I arrived, the boy was already being seen to. I've no doubt Tam saved his  life. He was first on the scene and really, I take my hat off to him.
"If it hadn't have been for Tam, the boy wouldn't be here – it's as simple as that."
A spokeswoman for Police Scotland confirmed officers were sent to the scene shortly before 4.50pm on Thursday.
The road remained closed for several hours.