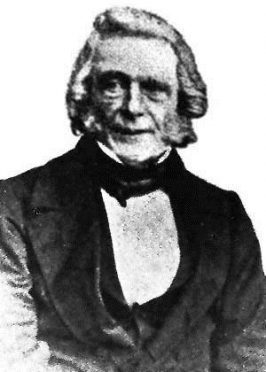 A Carse of Gowrie man who predicted the failure of the original Tay rail bridge – and may even have beaten Charles Darwin to his world-changing conclusions – has been remembered, exactly 227 years to the day after he was born.
Interest in the life and work of Patrick Matthew, who was born on October 20, 1790, has been on the rise in recent years.
Supporters believe he discovered the process of natural selection at his orchard long before Darwin and say a reassessment of his legacy is long overdue.
To mark his birthday, campaigners presented a tree to a local couple who won a competition based on a new trail through the Carse countryside which takes visitors around the places where he came up with some of his most visionary ideas.
Matthew, who is buried in Errol Graveyard, also had an interest in engineering and declared the plan for the Tay rail bridge was doomed to failure – a prediction that came  catastrophically true in 1879.
He insisted the bridge should have been built further up the Tay but he was ignored and five years after his death it fell down in a great storm, plunging a train and passengers into the river and killing 75 people.
Fiona Ross, chairwoman of the Carse of Gowrie Sustainability Group, said Matthew might have changed the course of history if he had been taken more seriously in his lifetime.
"He campaigned vociferously against the bridge, writing to the papers and Gladstone," she said.
To highlight his achievements a Patrick Matthew Memorial Weekend, which included tours, talks and lectures, was held recently and was attended by his descendants from America, Holland and Germany.
It was part of a project funded by the Heritage Lottery, which includes the Patrick Matthew trail.
Visitors to the trail, which takes in relevant places in St Madoes, the Megginch estate, Inchture and Invergowrie, were invited to answer questions and the winners, Fiona and Ron Wheatley from St Madoes, were presented with a heritage apple tree called Lass o' Gowrie.
It is an apt prize, since Matthew created the largest Carse of Gowrie orchard on record, stretching to 10,000 trees. It was through his tree cultivation that he discovered what he coined "the natural process of selection" and published it in 1831,  28 years before Darwin's The Origins of Species.