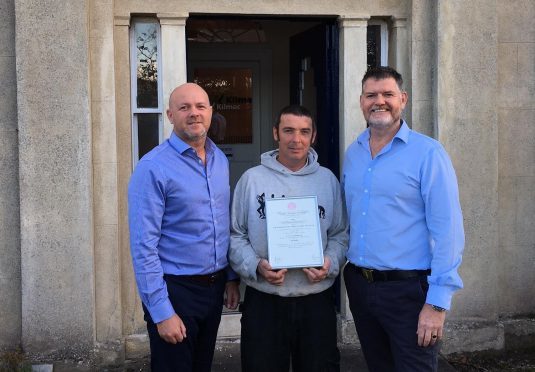 A Perth construction worker has been honoured by the Royal Humane Society for saving the life of a workmate.
Neil Reilly, 44, Stronsay Court, has been presented with one of the country's top national life saving honours, a Royal Humane Society Resuscitation Certificate.
It was in recognition of his quick-thinking on December 21 last year when 43-year-old Stanley man Geordie McNaughton collapsed at the Tulloch Primary School building site.
After Neil and colleagues Jason Edward and James Wilson moved their stricken colleague to a flat surface they realised he had stopped breathing.
Neil, who is one of many Kilmac employees who have been put through their First Aid paces, quickly began administering cardiac pulmonary resuscitation (CPR) and kept up the procedure for 15 minutes until an ambulance arrived on the scene.
Geordie survived his brush with death and has returned to light duties on a part-time basis.
A spokesman for the Royal Humane Society said: "Put simply, Neil was the right person in the right place at the right time.
"Time is of the essence in situations like this and he immediately went into action when he realised that George wasn't breathing and began administering CPR. When it comes to workmates I don't think you can do better than one who saves your life.
"This incident is one of many which emphasise the value of as many people as possible making themselves familiar with resuscitation techniques and employers training their staff in first aid. No-one can tell when such knowledge could make the difference between life and death."
Neil received his certificate from Kilmac directors Athole McDonald and Richard Kilcullen.
He said: "I am just glad I could help Geordie. It was worrying but the training kicked in and I'm glad I was sent on that three-day course by the company."
The roots of the Royal Humane Society stretch back more than two centuries. The Queen is its patron and its president is Princess Alexandra and it is seen as the premier national body for honouring bravery in the saving of human life.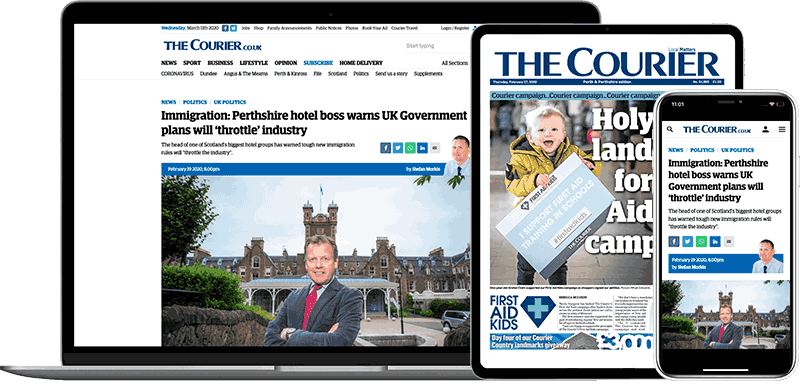 Help support quality local journalism … become a digital subscriber to The Courier
For as little as £5.99 a month you can access all of our content, including Premium articles.
Subscribe