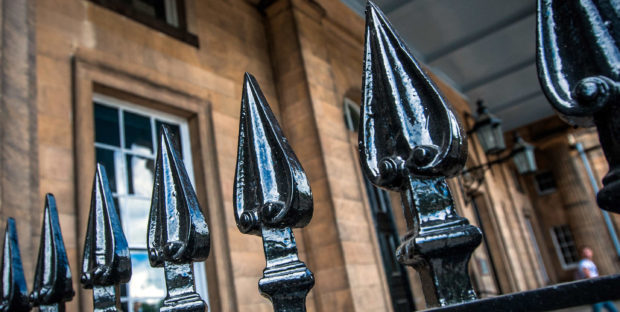 A member of a sophisticated fraud gang who stuck an iPad to a cashpoint to film bank customers' PIN details was snared by police after an international manhunt.
Alexandru Bizau used the Apple tablet and a card reader at an ATM in Blairgowrie.
He was tracked down by police four years ago, shortly after the device was recovered and was due to go on trial alongside two other suspected gang members.
But the Romanian vanished before the hearing could begin and Police Scotland issued a European warrant for his arrest.
He was eventually found serving time in an Irish prison. Authorities agreed to bring him back to Scotland to face fraud charges when he completed his sentence.
The 33-year-old appeared from custody at Perth Sheriff Court on Tuesday and admitted 10 criminal charges.
Sheriff William Wood heard how Bizau went on a spending spree with stolen debit cards in Auchterarder and Arbroath.
Fiscal depute John Malpass said the iPad was found by a customer at the ATM beside the Co-op store in Perth Street, Blairgowrie in July 2013.
He said: "A witness went into the shop to inform the manager. The iPad, which was used to record video, and the card reader, were later linked to Mr Bizau following a forensic examination."
The court heard that days later, Bizau stole a bank card from the same ATM. He then used it to withdraw £500 of cash and buy more than £600 worth of goods from local wine specialist Ellie's Cellar.
The owner said his card had been retained at an ATM, but was later told by his bank that extra transactions had been made.
Mr Malpass said the card's owner made his own investigations, and questioned staff at Ellie's Cellar.
"The shop assistant remembered the transaction because it was such a large scale," he told the court.
CCTV from the shop was reviewed and Bizau was seen buying the items.
Mr Malpass said that weeks later, an ATM at Arbroath was "compromised" and a cash card was taken by "persons unknown".
"Later, this card was used to obtain £700 in cash from an ATM at the nearby Co-op," he said.
CCTV from the shop showed Bizau entering a silver Toyota and driving off.
The court heard that days later he used another stolen card to withdraw £100 from the Clydesdale Bank in Auchterarder, before buying £1,065 worth of goods from a local Spar and Lloyd's Pharmacy.
He was caught on CCTV at each location, seen acting with others.
Mr Malpass said: "Police placed a lookout request throughout Scotland as it was suspected that the accused and others were travelling to rural locations and targeting ATMs attached to Co-operative stores."
On September 16 – shortly after the Auchterarder incidents – the Toyota was stopped by police in Callandar.
"A search of the vehicle uncovered stolen property relating to other crimes of a similar nature," Mr Malpass said.
The court heard that European arrest warrants had been issued for two other suspected gang members.
Sheriff Wood told Bizau: "This was a sophisticated operation which was carried out over a number of months."
He said he was considering a custodial sentence. Bizau, described on court papers as a prisoner at HMP Perth, will learn his fate on Wednesday, December 13.