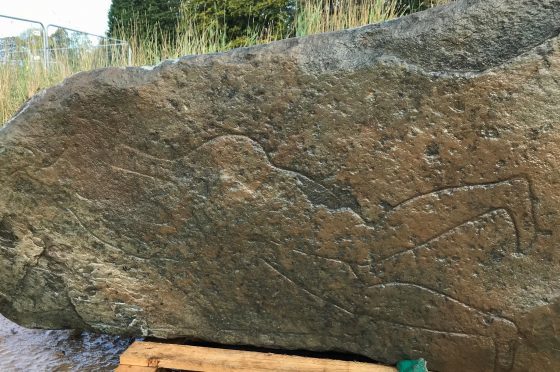 A rare Pictish stone carving of a man has been found during a multi-million pound roadworks' project in Perth.
The exciting archaeological find temporarily stopped work on the £35 million A9/A85 project and the stone was identified by Mark Hall, of Perth Museum and Art Gallery, as displaying a particular kind of Pictish carving not previously seen in the area.
Described as a "significant" find, the stone shows a figure walking right to left, holding a spear in his right hand. The weapon is believed to be typical of spears of the mid-first millennium AD.
The figure appears to be holding a club or a staff in his left hand and is wearing a cloak and shoes. He also has a very pronounced hair style, with a shaven front scalp.
The figure's face is obscured by wear to the stone but archaeologists believe he had a large nose.
No Pictish archaeological sites are known in the immediate vicinity but archaeological experts believe the stone suggests the presence of a powerful noble locally.
The stone, which was found in an undisclosed location during the A9/A85 work, is currently in safe keeping, awaiting a suitable place at a museum to be chosen in the next few weeks.
A spokesperson for Perth and Kinross Council said: "The fearsome figure probably served to warn travellers and visitors that they were approaching his residence or territory.
"The study of the carving and what it can reveal about life in Pictish Scotland will continue. The Scottish Treasure Trove has been notified and the carving will be allocated to a museum in due course.
"After an inspection of the find spot, no further archaeological works were considered necessary and the roadworks have resumed."
The A9/A85 scheme is the first phase of the Perth Transport Futures Project which began on site in October 2016, and is due to be completed in March 2019. This includes work for the sprawling Bertha Park project.
Councillor Ian Campbell, leader of Perth and Kinross Council, said: "I am led to believe Pictish symbol stones come in many shapes and sizes, and date broadly to the sixth to eighth centuries AD.
"I understand very little is known about the purpose of Pictish stones and the real meaning of the symbols they carry. In terms of their function, theories include their serving as grave markers or memorials to Pictish nobles, or their standing as territorial markers.
"I look forward to hearing what the experts conclude from their examination of this clearly fascinating stone."
David Strachan, of Perth and Kinross Heritage Trust, added: "I would like to take this opportunity to thank the finders of the carving for drawing it to our attention.
"This is a really significant find as there are very few such stones known in Scotland. It's a signal of the importance of the area in Pictish times."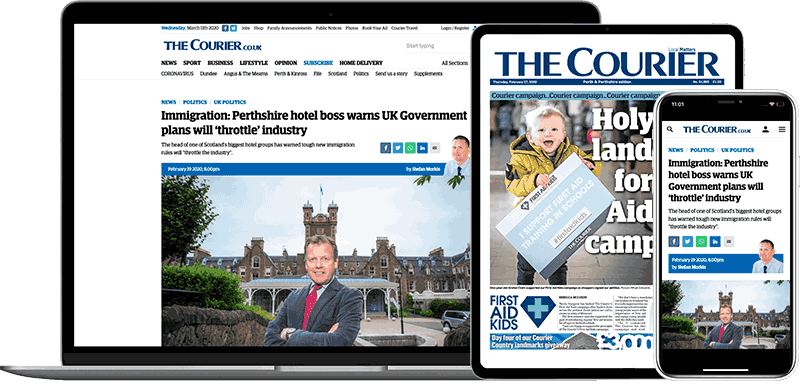 Help support quality local journalism … become a digital subscriber to The Courier
For as little as £5.99 a month you can access all of our content, including Premium articles.
Subscribe