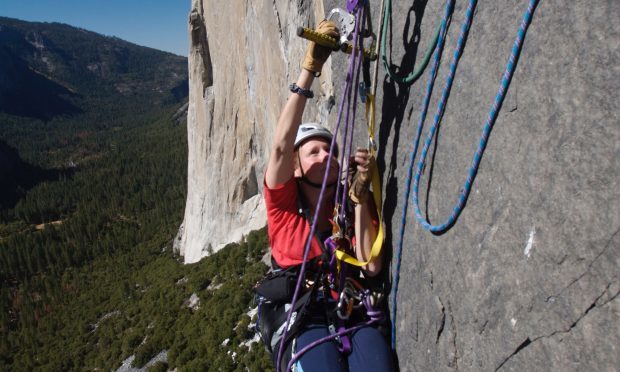 An inspirational adventurer and Paralympic champion has been honoured by a top educational charity.
The Perth-based Royal Scottish Geographical Society has presented one of its highest accolades to athlete Karen Darke MBE.
The 46-year-old, who won gold in handcycling at the Rio 2016 games, visited the Fair City to receiving the prestigious Mungo Park Medal, in recognition of "outstanding contribution to geographical knowledge through exploration or adventure in potentially hazardous physical or social environments".
The prize is named in honour of Mungo Park, a Scottish explorer famed for his expeditions to West Africa.
Previous winners include Thor Heyerdahl, who masterminded the transoceanic Kon-Tiki expedition, war zone journalists Katie Adie and John Simpson and, most recently in 2010, Ed Stafford who walked the entire length of the Amazon.
Karen was left paralysed from the neck down after climbing accident in the 1990s but she has refused to let her condition slow her down, completing gruelling endurance challenges in kayaking, cycling, climbing and skiing in landscapes as diverse as the ice sheets of Greenland, the mounts of the Himalayas and the cliffs of Yosemite National Park.
She was made an MBE in the 2017 New Year's Honours List.
Mike Robertson, chief executive of the RSGS said: "Karen is one of the most deserving recipients of the Mungo Park Medal in our history.
"There is no doubt that Karen is an inspiration and role model to us all, consistently demonstrating the power of perseverance, positive thinking and self-belief in achieving our potential and overcoming whatever personal obstacles we may face."
Karen said receiving the medal was "a real honour."
"It's particularly special as my very inspiring PhD supervisor Professor Chalmers Clapperton was awarded it 20 years ago," she said. "My contribution to geographical knowledge is nothing in comparison, but I hope that my thirst for exploration of the world and sharing what I learn has brought something back to the people of Scotland."
Karen, who is originally from Halifax, studied geology at the University of Aberdeen, She is now a full-time athlete with the British Para-Cycling Team.