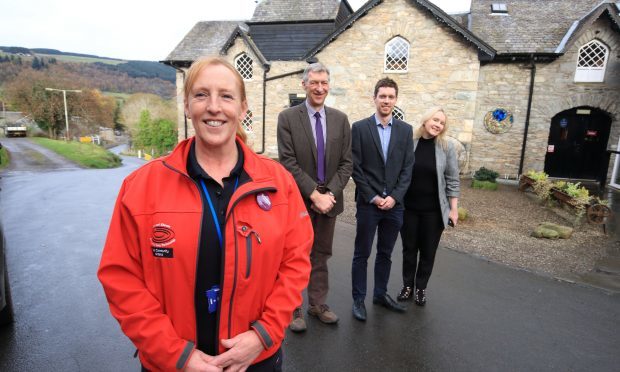 A community warden in a Highland Perthshire town will help plug the gap following the closure of a local tourism office.
VisitScotland revealed plans to shut its information centre in Aberfeldy as part of a national shake-up.
The national tourism body said two out of three visitors now access information online, while footfall to its offices has dropped 58% in the past decade.
Now the group is working with Perth and Kinross Council on a scheme which could help soften the blow.
The town's community warden Norma Carr, based at the fire station, is being trained to answer questions from tourists to the area.
The move was suggested by SNP councillor Mike Williamson. "Part of the role of the safer community warden is to serve the people who live and work in and visit Aberfeldy," he said. "The training the warden will receive from VisitScotland will enhance the visitor experience in Aberfeldy."
Neil Christison, regional partnerships executive for VisitScotland, said: "The creation of the safer community warden role in Aberfeldy is a real asset to the local community, providing support in a range of different capacities, including information provision."
He said: "Our research shows us that visitors are switching to wanting their information at a time and place that suits them, whether online, face-to-face or via mobile information units.
"Many local businesses have friendly, knowledgeable staff who already assist with visitor enquiries and this is why we have created our VisitScotland Information Partner (VIP) programme which now has over 1,500 members including more than 100 in Perthshire.
"In Aberfeldy, the community warden will become an important part of our VIP network, a recognisable face within the town."
The VisitScotland centre in 
Aberfeldy is due to close permanently by the end of March 2018, while centres at Dunkeld and Blairgowrie will cease trading by the end of March 2019. Visitor hubs 
will remain in Perth and Pitlochry.
Across Scotland, the number of information offices will be reduced over the next two years from 65 to 26.
VisitScotland said all affected employees would be offered a 
redundancy package or a chance of redeployment elsewhere.
Ms Carr's post is jointly funded by the council and the Scottish Fire and Rescue Service.
She is part of a new emergency response unit which opened at the fire station about a year ago. It became the new base for police after officers were moved out of their ageing station.