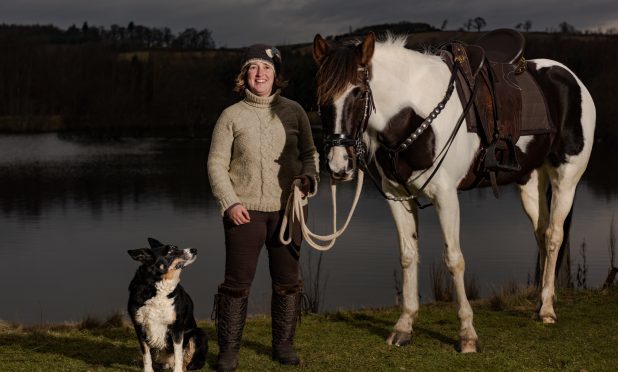 The head of a lifeline charity for disabled children has sensationally quit, alleging serious concerns about animal welfare and child safety.
Karen Inkster announced with "overwhelming sadness" she was standing down as chairwoman of Blairgowrie's Riding for the Disabled Association.
In an astonishing social media post, she alleged another member of the group had ignored safety rules, on one occasion chasing a pony with a crop causing its young rider to fall off.
She went on to claim that another member called for a horse to be put to sleep, because it was no longer able to work.
Ms Inkster said the "final straw" came when a trustee reported the group to a national office for pony neglect in a row over a lame horse.
Bosses at the charity's head office have defended the group, saying they had "complete confidence" in their recent decisions.
In a lengthy Facebook post, Ms Inkster wrote: "It is with overwhelming sadness that I have stood down as chair, and resigned fully, from the Blairgowrie Riding for the Disabled."
She claimed that the committee has "for many months now, had serious concerns about pony welfare and safety of children" under the care of one member.
It was alleged the volunteer – who was not named – had ridden RDA ponies, despite being unsuitable to do so.
"She has neglected loan pony agreements and chased a pony with a crop during a lesson, causing a rider to fall off," she said. "She has also ignored basic safety policies where children are concerned."
Ms Inkster went on to describe a row over a "lame" pony, where she fought against calls to have it shoed.
She said another member "tried to convince the committee to have one of the ponies put to sleep due to it no longer being able to work. The pony is in very good health, with no ailments other than sweet itch, like eczema in humans."
She added: "Putting a healthy horse down simply because it could no longer be ridden is morally wrong in my opinion."
Ms Inkster said: "I have given blood, sweat and tears to the RDA. I have been an absolute advocate and have raised over £5,000 for them.
"But I cannot stand by and condone the treatment of the horses in their care. I also have serious reservations about safety standards during riding lessons."
It is understood four committee members have resigned in the last two weeks, although not necessary in protest.
A charity spokesman responded to Ms Inkster's claims, stating: "Blairgowrie RDA is an active and important part of RDA's network of groups in Scotland. As such, we expect them to follow the highest standards of equine welfare."
She said: "RDA UK has been in regular contact with Blairgowrie RDA during the recent discussions about the best treatment plan for their horses. We have complete confidence in the actions taken by the current committee with regard to equine welfare, and they have our full support in following the advice of veterinary professionals."