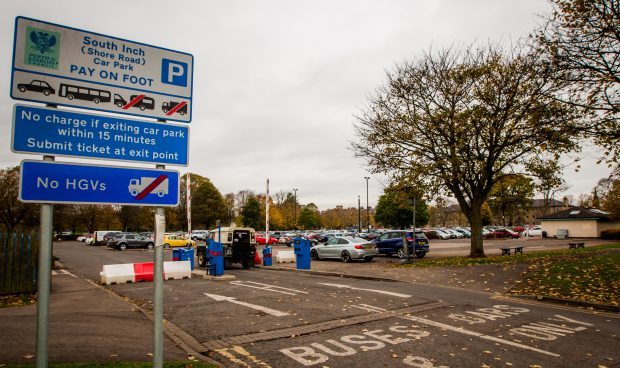 Free Saturday parking could be introduced across Perth and Kinross in the run-up to Christmas.
Councillors are being asked to approve proposals which will allow shoppers to park without charge at all local authority-run car parks from December 2 to 30.
Perth Traders Association believes the move could boost the retail sector.
Previously, the local authority had offered only limited free parking on certain afternoons from 2pm in the build-up to Christmas.
In a report to be considered by councillors, Barbara Renton, Perth and Kinross Council's director of environment, said: "As a result of change to shopping patterns, the historical situation of Saturdays in the lead up to Christmas being amongst the busiest shopping days of the year.. is now no longer the case.
"The change to park free on Saturdays is to promote the retail experience, and also generate a place for people to come and spend time in cafes and restaurants.
"The offer of free parking is, therefore, intended to create an overall experience which is absent when simply shopping online. It is also aimed at promoting Perth, and the towns in the area as a destination of choice through this promotion."
Councillor Colin Stewart, convenor of Perth and Kinross Council's environment, enterprise and infrastructure committee, said: "For a number of years the council has offered visitors to Perth and the surrounding towns free parking in the festive season.
"This year, in direct response to a request from local traders, we're looking to focus that offer to free parking on Saturdays throughout December.
"While parking charges in Perth are very reasonable in comparison to our nearest cities and retail centres, free Saturday parking provides an added incentive to residents and visitors, to encourage them to shop local this Christmas."
If approved, the council expects to lose around £25,000 of income. On-street parking is excluded from the scheme.
The matter will be discussed at the council's environment, enterprise and infrastructure committee on Wednesday.