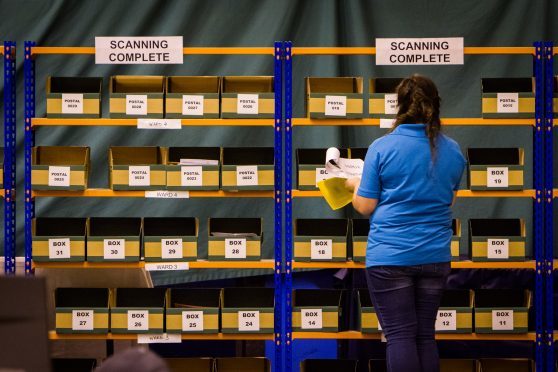 A former police officer, an award-winning businesswoman and an ex-teacher are among those vying for votes in an all-female Perth by-election.
Five women, including the wives to two current councillors, have been on the campaign trial ahead of this month's Perth City South vote.
The by-election, on November 23, was called after Tory Michael Jamieson stepped down following his arrest for alleged possession of child abuse images.
All major political parties have fielded candidates for the 14,000 population ward.
According to the Liberal Democratss, the by-election has become a two-horse race between them and the SNP, with the Conservatives "trailing" behind.
Candidate Liz Barrett and her team have been out, knocking on more than 5,500 doors. "We are campaigning all out to win," she said. "And the response on the doorstep has been amazing."
She said she has already been campaigning on issues raised by local residents, and was involved in the launch of a petition to the Scottish Government calling for funding to replace ageing Perth High School.
"Our pupils and teachers need a new school building which is fit for purpose and provides the best environment for learning and teaching," she said. "I am committed to working to achieve that goal."
She added: "I've been doing pavement patrols and street surgeries with councillor Willie Wilson, and more and more local residents are saying that we need another hardworking councillor to get things done."
Conservative hopeful Audrey Coates has been on the campaign trail with her councillor husband Henry.
"I was born locally and live within the ward so am very aware of the concerns of local residents," she said.
"I am very grateful for the warm reception that I have received on the doors and having met with a lot of residents and neighbours I feel sure that we can win this seat for the Conservative party."
She added: "Many people have shared with me their concern for the future of PRI, the condition of the roads and pavements, worries about local Stagecoach bus services – which I have already started to enquire about the proposed changes – the need for a new High School, and the upkeep of our green spaces, trees and footpaths.
"I have stressed to the residents that I am here to listen and help"
Former teacher Tricia Duncan was backed by Labour leadership candidate MSP Richard Leonard as she went door-to-door "from the Glens of Craigie to the western edge".
She said: "It would be a privilege to work in my home community, as I am passionate about making our community an even better place to live and work."
Tricia said health and hospitals, as well as cuts to local services, were among the primary concerns of local people.
She has been strongly involved in the campaign to retain services at Perth Royal Infirmary and Murray Royal Hospital. "I am clear that it does not benefit the people of Perth and Kinross to have emergency medical services move to Ninewells Hospital, and general acute psychiatric services move to Carseview in Dundee.
"It doesn't have to be this way, patients and staff deserve better."
Former police officer Pauline Leitch, who is the SNP's candidate, said she has had some "valuable conversations" with residents, going door-to-door day and night.
"While voters are complaining to me about the negativity of other campaigns, I have ensure my message is based around my positive vision for sustainable investment in this ward," she said. "Principally the replacement of Perth High School and the refurbishing of Beechgrove Care Home.
"People are shocked that this very popular home is under threat of closure by the Conservatives and Lib Dems running the council."
She has pledged to "work tirelessly" for locals, if elected. "For me, being a councillor represents a full-time responsibility, not a part-time hobby."
Former SNP councillor Elspeth MacLachlan is this time round flying the flag for the Scottish Green Party.
"This is the first time the Perth Greens have canvassed in this ward," she said. "My team has been out regularly with comedian Bruce Fummey, who has been a great asset.
"The issues brought up during this campaign have been many and varied. Dual fuel cars are becoming more common in this ward, and great interest has been expressed in the Scottish Green campaign to increase the number of electric charging points.
"The Scottish Green plan to lower the default speed limit in urban areas has proved a very popular topic in busy streets such as Glasgow Road. And I am keenly aware of the parental concerns around schools, where it is not just the speed of the traffic but the pollution breathed in by children that is being brought up on the doorsteps.
"It is ridiculous that a city as beautiful as Perth should continually make it into the top ten most polluted streets in Scotland."
Denise Baylak, who is standing as an independent, could not be reached for comment.
She previously stood for Ukip in the Almond and Earn by-election. Ms Baykal gained a BSc in biology from St Andrews University, before attaining an LLB in Scots Law from Dundee. She has also worked as a volunteer with Perth Women's Aid.