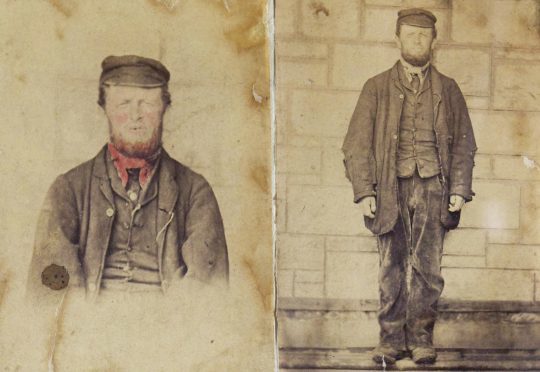 As a one-time whaler and then vagrant who sang on the streets for money, George Chalmers of Fraserburgh might have faded from memory had he not visited Perthshire in December 1869.
A brutal and bloody murder and a date with the hangman in the country's first ever private execution have ensured his notoriety endures almost a century and a half later.
His story is one of a number to feature in the Rogues Gallery: Faces of Crime exhibition being staged by National Records of Scotland.
It offers an insight into Scotland's criminal past and pairs some of the earliest police "mug shots" with extracts from trial records.
Chalmers is one of the most notorious of those featured as his crimes threw a nationwide spotlight upon the small community of Braco.
Chalmers was found guilty of bludgeoning Tollbooth keeper John Miller to death in his home on December 21, 1869.
A set of "vagrants clothes" were left at the scene, with the killer assumed to have stolen Mr Miller's much finer outfit.
Tweed trousers, boots, a single-breasted vest and shooting coat and a silver lever pocket watch were all reported stolen, together with 20 shillings.
The 46-year-old bachelor was a popular man who was said to have been sitting down to a meal of bread and cheese when an attacker rushed through his unlocked front door and hit in one the head with a crowbar.
Chalmers is then said to have hit Mr Miller a further two times with the weapon before stripping him and leaving him to die slowly and in great pain.
He was found the following day by friends and his sister, who discovered him on his back in a pool of blood.
Local vagrants were rounded up but prison guards at Alloa recognised the clothing left behind as belonging to Chalmers, who had been released days earlier.
The killing shocked the community and caused outrage, with a generous reward of £50 offered for information leading to Chalmers arrest.
It was thought the reward might "stimulate the police to greater exertions and might also lead to vagrants giving information".
A reward poster described him as "a native of Aberdeenshire who carried out casual farm work and was known for falling foul of the law".
His mug shot was taken around Perthshire – the police having helpfully coloured in his beard and cheeks so as to help potential witnesses better recognise him.
The efforts proved successful as witnesses recognised his stoop, stammer and red beard and he was arrested on May 25, 1870.
As the authorities sought to strengthen the case against him, Chalmers was paraded through towns and villages in his stolen clothes to see if people recognised him.
Family members reported that he'd had a troubled adult life and had alcohol problems, but also claimed he had mental health problems as a result of "sunstroke and brain fever".
A defence of insanity was rejected by the authorities.
Chalmers maintained his innocence until the end but was hanged at 8.08am on October 4, 1870, at Perth Prison, his body obscured from view by a screen.
It was the first private execution to take place in Scotland – the House of Commons having decided the public events were "degrading" and led to "scandalous and revolting scenes", with a committee criticising the "lawlessness and brutality" of the crowds that gathered to view them.
Chalmers was buried in the prison grounds in an unmarked grave.
His details – and those of other criminals – were discovered within a series of photograph albums in National Records of Scotland's archives.
The Faces of Crime exhibition runs at the General Register House in Edinburgh's Princes Street until December 1.