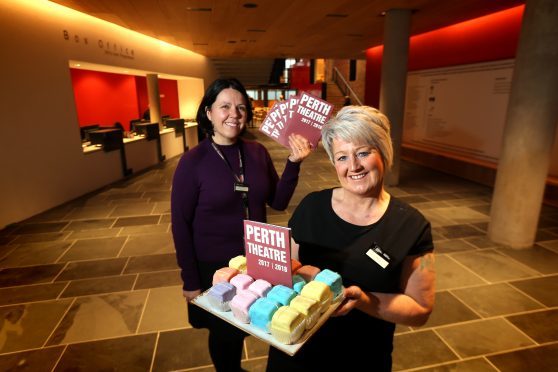 The curtain has been raised on historic Perth Theatre after a momentous £16.6 million makeover.
The iconic venue was hailed as a "huge asset" for the Fair City as it opened it doors to the public for the first time in nearly four years.
We're live at the opening of Perth Theatre. The venue is relaunching after a £16.6m make-over.

Posted by TheCourier.co.uk on Monday, 13 November 2017
Theatre bosses welcomed the first wave of a curious customers through the brand new Mill Street entrance.
Visitors are being invited to view the new box office, cafe, bar and shop, with tours planned of the Edwardian auditorium which has been restored to its former glory.
The 500-seat hall will relaunch officially next month with this year's pantomime Aladdin.
A new 200-capacity studio theatre, named after legendary director Joan Knight, has also been built, as well as community rooms for youth theatre groups.
Gwilym Gibbons, chief executive of Horsecross Arts, the creative organisation behind the theatre and Perth Concert Hall said: "This is an incredibly exciting moment.
"The Perth Theatre transformation has secured the future of one of Scotland's most historic and culturally significant landmarks for many generations to enjoy."
He said: "I think its an extraordinary building.  It feels like a very friendly space, and that's exactly what we wanted.
"It's sometimes hard, when its in the midst of construction, to see beyond that, but I think this has really surpassed our expectations."
Artistic director Lu Kemp added: "Perth Theatre used to be called the People's Theatre Perth. We've redeveloped and restored it, we need local people to re-inhabit it and to bring it back to life.
"We look forward to welcoming everybody and hope they will return this extraordinary building to its former glory  – a busy, warm place used and enjoyed by everyone."
Perth City North councillor Harry Coates (Conservative), who is on the Horsecross executive committee, added: "Its absolutely incredible.
"The cafe, bar, auditorium – the whole feel of the place – has been completely transformed. It is a huge asset for Perth and I would encourage everyone to come along and check it out."
The venue will host an open house event on Saturday, November 18, with a range of activities including story telling sessions, tours and a pop-up shop, as well as music from the Horsecross Glee choir. A giant visitor book will be available for signing.
Aladdin begins its run on Saturday, December 9.
Perth Theatre time line
1899 – George Alexander, famous for his work with Oscar Wilde, lays the foundation stone.
1900 – Designed by Dundee architect William Alexander, Perth Theatre opens its doors
1909 – Founding lessee JH Savile buys the theatre outright
1935 – Perth Theatre Company, the first of its kind in Scotland, is established by Marjorie Dence and David Steuart
1939 – The theatre hosts Scotland's first ever Scottish Theatre Festival, including a new play by acclaimed writer James Bridie
1940 – During World War Two, devoted actors live and work as a commune to enable Perth Theatre's survival
1945 – Perth Theatre Company celebrates its 10th anniversary with a special collection of performances, including Hamlet with John Laurie in the lead role
1959 – Perth Playgoers Club is founded, so that Perth Theatre fans can raise cash for productions
1960-61 – Donald Sutherland and Peter Penry-Jones appear alongside each other
1966 – Perth Youth Theatre is established
1968-93 – Joan Knight, known as the first lady of Scottish Theatre, masterminds Perth Theatre's ongoing success
1972 – Perth hosts its first Festival of the Arts
1987 – Ewan McGregor begins his acting career at the theatre. He continues to be a project ambassador of Perth Theatre's capital campaign
2001 – A time capsule from Perth Theatre's grand opening in 1899 is discovered in the theatre's foundations
2005 – Horsecross Arts launches Perth Concert Hall and takes over the running of Perth Theatre
2013 – Paranormal investigators are brought in to check out spooky sightings
2014 – The theatre closes for renovation after last family pantomime, Cinderella
2016 – Extension is demolished to make way for new Mill Street entrance