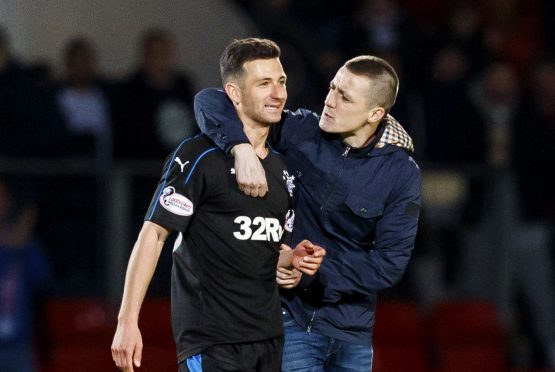 A Rangers fan who left his heroes "alarmed and annoyed" after he staged a one-man pitch invasion to congratulate them on a 3-0 victory has been jailed.
Junior Redmond has also been banned from following his side – and from entering any football ground in the UK – after the incident at McDiarmid Park in October.
The intoxicated 25-year-old had just watched his side defeat ten-man St Johnstone and leapt over hoardings to show his appreciation for the players' efforts.
He shook hands and hugged as many as eight members of the visiting team before finally being hustled from the pitch by stewards.
They were less than impressed with his actions and Perth Sheriff Court heard the Glasgow side's players had been scarcely more welcoming of his drunken antics.
Solicitor Pauline Cullerton said: "The final score was 3-0 to Rangers and Mr Redmond was happy that his team had won.
"He wanted to celebrate the victory and made the rather stupid decision to approach several players of the team he supports. There was no malice in his actions. It was simply the result of having consumed alcohol before the match and, in his own words, being rather drunk."
He was reported to police within the ground who discovered he owed £130 in unpaid fines.
Friend and fellow fan Ryan Galloway was summoned from the emptying stands and was able to help his friend pay the sum, allowing them to be sent on their way.
They were most of the way to their bus, however, when the officers were ordered by superiors to track Redmond down once again and arrest him for encroaching onto the pitch.
That eventually saw Redmond restrained and handcuffed.  Galloway was also arrested for acting aggressively towards the police as he called upon them to let his friend go.
Redmond, 25, of Dunragit Street in Glasgow, admitted committing a breach of the peace at McDiarmid Park on October 13 this year by running onto the field, approaching and touching several professional footballers on the body and then shouting and swearing at stewards and  police officers.
Galloway, 32, of Ark Lane in Glasgow, pleaded guilty to behaving in a threatening and abusive manner and acting aggressively towards police officers.
Sheriff Lindsay Foulis told Redmond: "In a lot of cases, as far as the person running onto the pitch is concerned, there is no malice involved.
"The intention is to celebrate with their heroes. The problem is that their heroes don't particularly want to be embraced by someone who is under the influence.
"Perhaps more important is the impact someone running onto the pitch can have on opposing fans. There is the potential for trouble."
Sheriff Foulis sentenced Redmond to six months in prison and imposed a Football Banning Order, preventing him from attending matches in the UK for 30 months.
The sheriff said Galloway's offence had "little or nothing to do with a football match" so he avoided a banning order and was ordered to carry out 200 hours of unpaid work.
A crowd of more than 6,800 watched Rangers triumph during the October match thanks to two goals from Carlos Pena and a third from Graham Dorrans.
St Johnstone had Steven Anderson sent off in the second half.