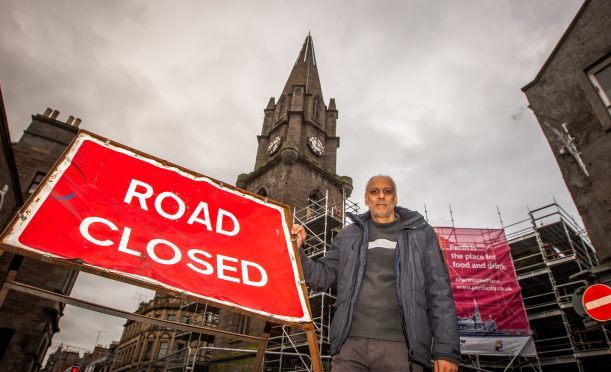 A Perth shop owner has warned he may be forced out of business as trade plummets due to a major road closure.
Mohammed Ali, 52, who runs Tekno World in the city's old High Street, says takings have fallen by 60% since the route was closed to allow for a £2 million re-development of the dilapidated St Paul's Church.
Perth and Kinross Council has warned it will remain shut until September next year while work continues on creating an open space at the St Paul's site.
Mr Ali said he feared his business, which repairs mobile phones and sells computer games and toys, would not survive until then.
"I've never known our business to be so bad – our takings are down by around 60% since the road has been closed," he said.
"Things are so bad that we may have to consider closing in the next six months.
"We have had no help at all financially from the council.
"The road closed earlier this year and now we hear it will stay shut for almost another year. What makes it worse is that they aren't doing any work at St Paul's Church just now so why not open it up on a temporary basis?"
He said three nearby shops had already closed in recent months, adding: "We could be next."
Fellow traders also reported a slump in business.
David Gill, who runs Perth City Kilts, said his takings were down and agreed the road closure was damaging the area.
"The fact that the council took away the bus stop here has had an impact," he said.
"We get customers coming in waves now – there isn't a constant flow of people. The road closure has affected the profile of the shop and I don't understand why the council can't re-open the road as they aren't doing any work just now at St Paul's Church."
Karen Christie, owner of Fun Junction Toy Shop in old High Street, said business was down, but she was more philosophical about the long-term outlook.
"Takings are down but not as much as I first thought they would be," she said.
"It's not great news knowing the road will be closed until September next year and footfall is down, mainly due to the bus stop being taken away. However, the open square at St Paul's Church will be nice in the long run."
John Buntin, who runs PD Malloch which specialises in fishing tackle, guns and country clothing, said it was difficult to measure the effect.
"I can't really say if takings have gone down because of the road closure," he said.
"People know where we are so they still come in to town."
Perth and Kinross Council was asked to comment but did not respond yesterday.