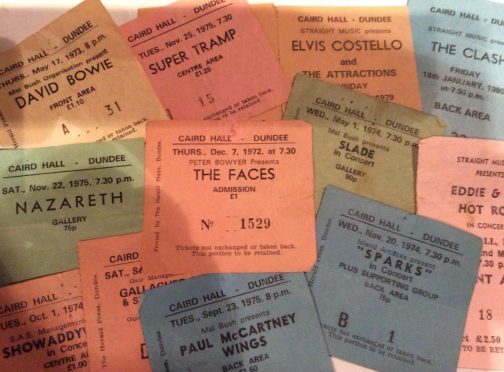 Some memories really do last a lifetime with the passing of time failing to erase the excitement of what made them special in the first place.
An article in The Courier about Rod Stewart last week helped bring one of those vivid snapshot recollections back to the surface — my first pop concert at the Caird Hall.
In an era when the world's biggest stars graced the Dundee stage year in year out, as a 13-year-old I was among the crowd who turned out 45 years ago this month for the opening night of a national tour by The Faces.
Oblivious to the band's reputation as rock's newest bad boys my mother, who had never attended anything more riotous than a string quartet, naively gave me the £1 for the ticket and happily waved me off for a quiet evening's musical entertainment.
Luckily she never discovered that my most enduring memory of that night wasn't the music but the unbridled chaos of such an event at the time.
From the moment the 27-year-old Rod Stewart swaggered onto the stage the crowd surged forward, climbing on to the seats which collapsed beneath them, reducing the first few rows to matchwood.
Bruised and deafened I survived the night, clutching my ticket and programme which I still have.
And so my far from gentle introduction to the heady world of the rock concert had been made, a pleasure which has provided many memorable markers for periods throughout my life.
Over my teenage years I attended the Caird Hall dozens of times to see an eclectic mixture of acts from the good (David Bowie), the bad (Showaddywaddy) to the legendary (Joy Division).
All memorable in their own way, even The Dooleys!