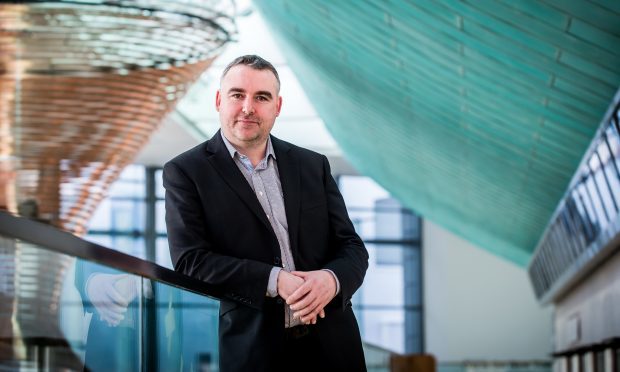 The man tasked with delivering the £16.6 million transformation of Perth Theatre is moving on to new challenges, it has emerged.
Gwilym Gibbons is stepping down after three years at the helm of Horsecross Arts.
He helped spearhead the high profile redevelopment of the historic Fair City venue, which re-launched at the weekend with the Christmas panto.
Mr Gibbons will move to Dumfries and Galloway next year, where he will become chief executive of the Crichton Trust, a charity set up to promote local buildings and landmarks.
"It has been a privilege to work with such a dedicated and talented team of staff and board members at Horsecross Arts," he said. "All of whom have demonstrated huge passion for and belief in the value of the arts.
"We live in uncertain financial, social and environmental times.
"I believe that Horsecross Arts, with its team of people combined with the very special Perth Concert Hall and extraordinary and much loved Perth Theatre, is well placed to play a vital role in supporting the economic resilience and growth of Perth and Kinross."
He added: "That said, Horsecross Arts doesn't just drive significant economic benefits to Perth and Kinross, but it provides a much needed gathering and meeting place for people, their family, friends and communities; places for shared experience which support reflection on who we are and what we need to do individually and collectively to effect positive change in the face of everything the world is throwing at us.
"All combined, of course, with a fair helping of escapism and fun."
Mr Gibbon said: "I leave for this new challenge with sadness, but also with excitement, both personally, and for all the work that Horsecross Arts will undertake in the future."
Horsecross Arts chair Magnus Linklater paid tribute: "Gwilym has been instrumental in helping deliver our brilliant new theatre within budget and on schedule.
"He has successfully piloted Horsecross Arts through a challenging financial period, and leaves it well-placed for the future. We are grateful for all he has done for the arts in Perth, and wish him well in his new post."
Mr Gibbons will stay on until late February, before taking up his new post at the Crichton Trust in April.
Horsecross Arts are putting plans in place to secure a replacement.