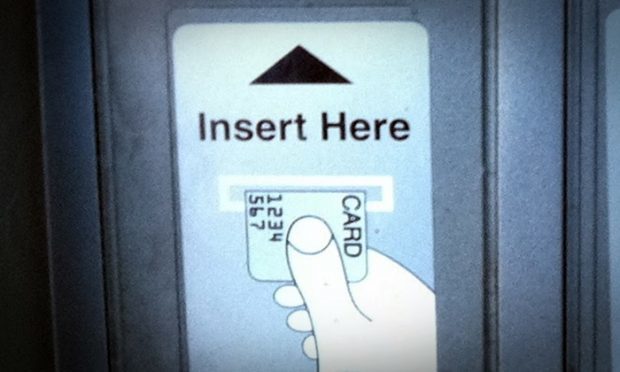 A fraudster who fitted an iPad to a cashpoint to film bank customer's PIN details has been jailed for 18 months.
Alexandru Bizau was part of a "sophisticated" organised crime gang who targeted a busy ATM in Blairgowrie.
The 33-year-old was tracked down by detectives four years ago, shortly after the tablet and a card reader were recovered from the cash machine. He was due to stand trial alongside two others, but he vanished before court proceedings could begin. A European warrant was issued for his arrested.
Romanian Bizau was eventually found, serving time at a prison in Ireland.
He was brought back to Scotland to be sentenced for the cash machine offence and a string of other crimes.
Perth Sheriff Court heard how Bizau had gone on a spending spree with stolen cards in Auchterarder and Arbroath.
Sheriff William Wood told him: "You are clearly highly skilled, but it is a shame that you have chosen to use these skills for organised crime. These offences will have caused misery for your victims.
"These crimes were sophisticated, complex and well planned and they took place over a number of weeks and months.
"In these circumstances, only a custodial sentence is appropriate."
Defence agent Stephen Dryden told the court that Bizau had been, at the time of the offences, drinking, gambling and taking drugs.
Behind bars in Ireland, Bizau had tried to improve himself with courses in literature and English.
Mr Dryden said: "Despite seeking work, he hasn't found employment at Perth Prison and that has been very difficult for him."
Bizau, described as a prisoner at HMP Perth, is now keen to "become a productive member of society for himself and his family in Romania", Mr Dryden said.
The iPad was found stuck to the ATM at Blairgowrie's Perth Road Co-op in July 2013.
The Apple tablet was examined by forensic experts and traced back to Bizau.
Days later, he stole a bank card from the same ATM and used it to withdraw £500 and buy more than £600 worth of goods from wine specialist Ellie's Cellar.
Weeks later, an ATM at Arbroath was "compromised" and a card was taken, the court heard.
This card was used to withdraw £700 from a local shop. Another stolen card was used by Bizau to take out £100 from a Clydesdale Bank in Auchterarder, before buying £1,065 worth of goods.
He was caught on CCTV at each location, seen acting with others.