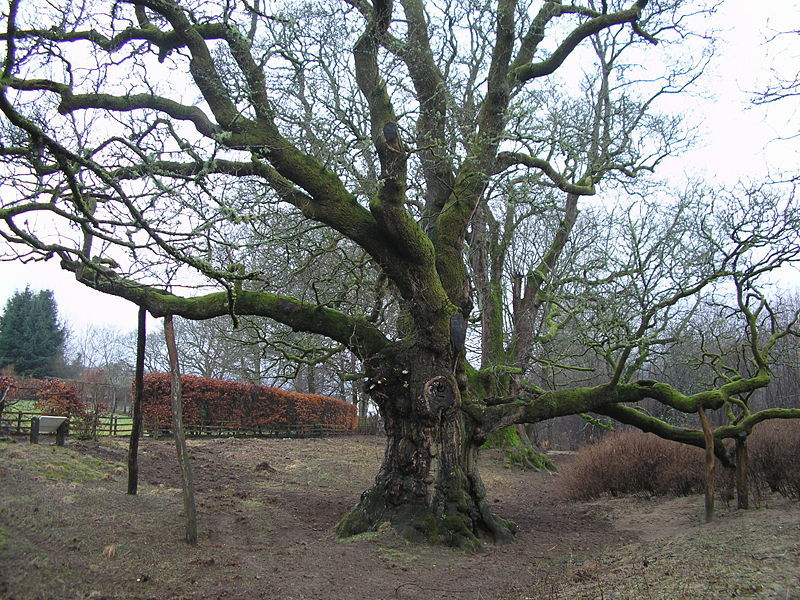 The Royal Shakespeare Company has been forced to withdraw its support for a campaign to save one of Perthshire's most famous trees.
The eminent Stratford-Upon-Avon-based theatre group earlier this week urged fans to check out the ambitious £100,000 appeal to preserve the Birnam Oak.
The tree is one of the only survivors from the ancient Perthshire forest immortalised by William Shakespeare in Macbeth.
Local conservationists mounted 
a campaign to safeguard its long-term future.
The Perth and Kinross Countryside Trust said that, although the mighty oak is stable in the short-term, substantial work is needed to ensure its long-term future.
The Royal Shakespeare Company posted about the campaign on its website, as part of promotion for its upcoming production of Macbeth starring Christopher Ecclestone.
Under the heading "Saving Macbeth's Great Wood", the webpage stated: "Just two of the oldest trees remain from the wood that Shakespeare wrote about in his Scottish tragedy, Macbeth.
"Believed to be over 500 years old, the Birnam Oak stands close to the south bank of the River Tay in Birnam, Perthshire. Although it is too young to have been seen by Shakespeare's doomed king, it would have been a mature tree by the late 1500s when the playwright is thought to have travelled to the area with his company of actors."
The online story, which contained links to the Countryside Trust's appeal page, was also posted to the company's 450,000 followers on Twitter.
However, the RSC has now been forced to delete the tweet and remove the post from its website. A spokeswoman told the Courier that the online content was put up "in error", stressing that as a charity they were unable to show support for a trust which is raising money.
Website visitors searching for the Birnam Oak story were later greeted with the message: "No Page! How did that happen? We are indeed an ass-head, and a coxcomb, and a knave, a thin-faced knave, a gull!"
It is not clear if the short-lived backing had much impact on the ambitious appeal, which was yesterday sitting just above the £12,500 mark.
The next phase of the rescue campaign will involve getting a structural engineer to design new tree props, to hold up the sprawling branches.
A spokeswoman for the Perth and Kinross Countryside Trust said: "The 500-year-old Birnam Oak is the last remnant of the Birnam Wood made famous in Macbeth and is in serious need of help if it's to live for hundreds of years more."
She added: "We have managed to undertake emergency tree surgery to stabilise it from splitting, but it still requires a lot of work to design and replace the props supporting its heavy lower branches, relieve the soil compaction around its roots, and protect it from soil erosion cause by flooding of the River Tay.
"We've already managed to raise over £12,500 of our £100,00 goal through this appeal and thank everyone for their incredible support in helping to protect this ancient tree."