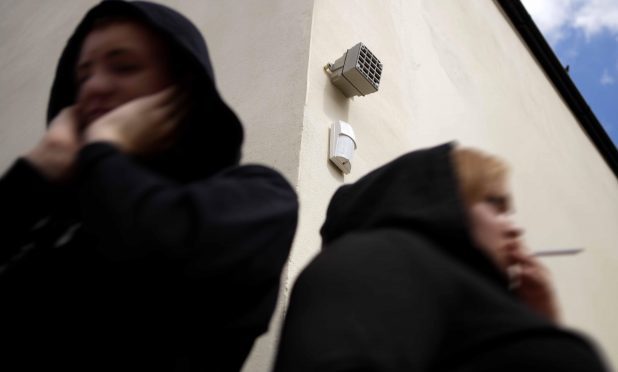 Council chiefs are under mounting pressure to remove "cruel and callous" mosquito alarms from schools across Perth and Kinross.
Members of the Scottish Youth Parliament are calling for the devices, which emit an annoying high-pitched whining noise that only under-25s can hear, to be banned.
The local authority has revealed it has eight mosquito boxes attached to school buildings, but has declined to say where they are. It is understood one was fitted at Luncarty Primary.
They are used to prevent youngsters hanging about at schools after dark and cut down on antisocial behaviour and vandalism.
A spokeswoman said the devices are now under review.
Many other Scottish councils have already removed their boxes. Last week, Fife councillors unanimously voted to get rid of them.
Robert McCall, a member of the youth parliament for Perthshire North, wrote to Perth and Kinross Council demanding all mosquitoes should be taken down.
"I am personally shocked that they are used in our schools, as they are inherently discriminatory and cruel," he said.
"I do not believe there is any circumstance under which these devices are a proportionate response.
"These devices send the message that young people are not welcome and further cements the negative stereotypes of young people."
Mr McCall said he had approached the council's education director Sheena Devlin. "She has assured me she is considering the use of such devices," he said.
Fellow youth parliamentarian Sam Waite said: "Mosquito devices are cruel and callous and have no place in Scotland. They discriminate against young people and ignore the premise of individual accountability."
He added: "It is very disappointing that Perth and Kinross still has active mosquito devices. We are lagging behind other local authority areas and this should be rectified as soon as possible."
Luca Delpippo, who also represents Perthshire North, said: "I think they are unfairly discriminatory and perpetuate the negative idea of all young people being 'vandals'.
"It would be a step in the right direction to remove these devices completely, especially in schools."
Fraser Macdonald, a youth parliament member for Perthshire South and Kinross, added: "Discrimination against someone on the basis of age is illegal under the Equality Act 2010, therefore any use of these devices is illegal, regardless of whether or not they are in a private shop, or a park.
"Furthermore, there is no solid evidence  that these devices actually combat anti-social behaviour. They only lead to resentment and annoyance, which is more likely to cause the sort of behaviour they are trying to deter."
A local authority spokeswoman said: "The council's property services team are aware of eight devices which have been installed on school premises to deter vandalism and anti-social behaviour out of hours, discouraging access onto flat roofs. Their continued use is currently being reviewed."