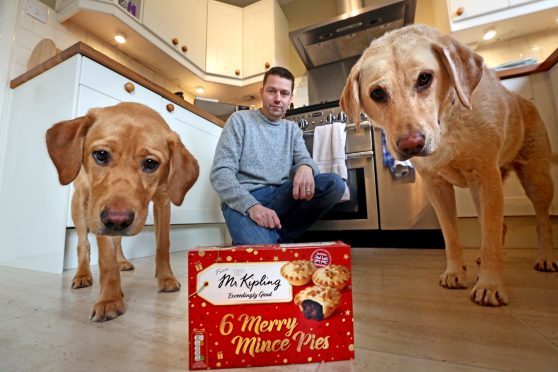 A pair of greedy Labradors were rushed to a vet after a plate of mince pies was scoffed.
Barnaby Dunning and his wife returned from Christmas shopping on Saturday to find an empty plate on the kitchen floor.
Unable to determine whether six-year-old Rosie or six-month-old Rowan was the culprit, and knowing that raisins are potentially toxic for dogs, Barbara took them to the out of hours service at Tay Valley vets in Perth.
They were given an injection to make them sick and it was revealed the puppy had snaffled all 10 of the festive treats.
The episode left Barnaby almost £300 out of pocket and he is now warning other dog owners to be aware of the dangers raisins and grapes pose to pets.
He said: "The older dog is a bit arthritic so we thought it would be unlikely she would be up on the sideboard, but she's probably got more of an appetite for things she shouldn't have, so we thought that if the plate had been knocked onto the floor Rosie would have had the lion's share.
"It's all covered under insurance, we hope, but the cost of the entire episode was £270 – imagine how many mince pies you could buy for that."
Only a small number of dogs are affected by raisin and grape toxicity, but it is impossible to tell which ones until after they have become ill. The reaction results in renal failure, which can be fatal.
Rozie Hay, of Tay Valley Vets, said: "Raisins can be toxic to some dogs – but you have no way of knowing which ones.
"That means you have to treat every dog the same way as it can lead to fatal kidney damage. The owners didn't know which one had eaten the mince pies so we had to make them both sick."