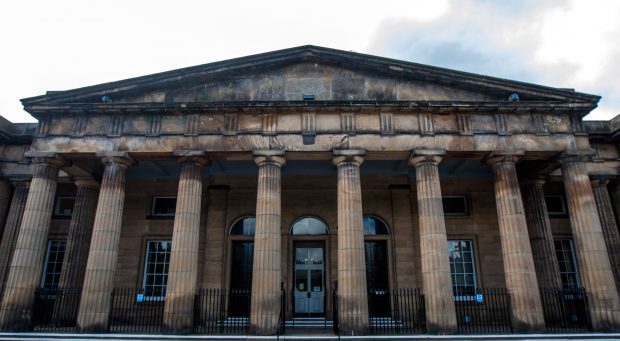 A binge-drinking domestic abuser who used a former girlfriend as "a punch bag" has been jailed for 16 months.
Paul McCafferty's victim was discovered nearly unconscious on the floor of a Falkirk hotel by staff who had rushed to her aid.
She had been beaten by the 41-year-old and was bleeding from her mouth, with her head and face covered in large lumps.
It was the second time in a matter of weeks McCafferty had used his fists to brutally punish his partner for imagined slights. He admitted his jealousy had got the better of him and his excessive drinking had further fuelled his "outbursts".
Perth Sheriff Court heard McCafferty, of South Street, Perth had a history of abusing partners and had four previous convictions for physical and verbal attacks.
The latest incidents saw him assault his partner at an address in Perth on August 27 after a heavy drinking session. After a brief argument, he punched the woman in the back in the head and as she fled from kitchen to living room, he pushed her over and through a coffee table.
A second incident took place in a Falkirk hotel on November 4 where McCafferty launched a brutal attack on the woman who was unable to defend herself.
Depute Fiscal Claire Kennedy said: "Mr McCafferty grabbed the complainer's hair and pulled her head downwards. He then began to punch her repeatedly on the head.
"The accused then let go of her hair and pushed her onto the bed before grabbing her by the back of the neck and forcing her face down.
"She began to shout for help and was heard by an employee at the hotel bar. Members of staff entered the room and found the complainer lying on the floor, bleeding from her mouth.
"Her injuries included two large lumps on her head, a lump above her right eye, a bruise below her left eye and a deep cut and bruising to her bottom lip."
Solicitor Pauline Cullerton said her client had previous convictions for domestic abuse and long-standing issues with binge drinking.
She said those issues had been exacerbated by his insecurity and jealousy and in the case of the two latest offences by the death of a friend.
Sheriff Lindsay Foulis said: "No matter your issues, it is a sorry shame that your partner was treated as a punchbag.
"Your behaviour has been appalling. The remedy lies with you. You are way past social work involvement. Custody is the only appropriate disposal."