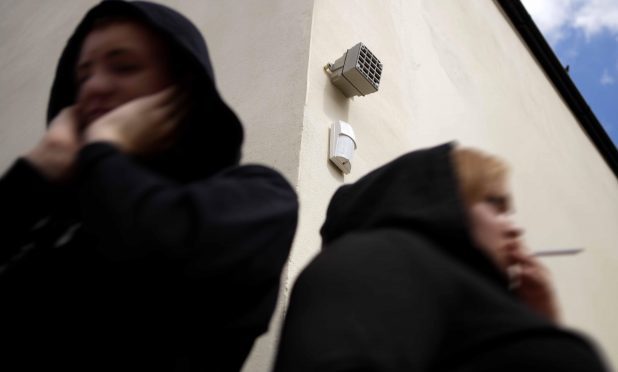 High-frequency "mosquito" alarms, used to disperse loitering teenage gangs, will be removed from schools across Perth and Kinross.
Council bosses have agreed to axe the controversial sonic devices following pressure from young politicians.
Members of the Scottish Youth Parliament argued the boxes, which emit an annoying beeping noise only audible to under-25s, were discriminatory and contravened children's rights.
Earlier this month, Perth and Kinross Council confirmed it had eight devices at schools, but declined to say where they were. It is understood one was fitted at Luncarty Primary after complaints about teenagers hanging around the building after dark.
Just days after the youth parliament's campaign was highlighted by The Courier, Perth and Kinross Council has assured that the mosquito boxes will be scrapped.
A spokesman said: "I can confirm the council has decided to remove all 'mosquito' devices from school buildings in the area following a review."
The news was welcomed by campaigners.
Fraser Macdonald, a youth parliament member for Perthshire South, said: "This is definitely welcome news, it is the first step to getting rid of all of these devices, and the Scottish Youth Parliament is very pleased that the council have committed to doing this.
"With that being said, these devices are still in use in other areas such as train stations, high streets and in some shops. Of course we understand that the council does not have control over the privately placed devices, but a statement from the council condemning all use of them would greatly benefit our cause."
He added: "The Scottish Youth Parliament hopes that all the mosquito devices are removed from every public space, including shops, not just schools. I would also ask anyone who hears or learns of these devices being used to contact myself, or the Scottish Youth Parliament, in order for us to lobby people to get them removed.
"Once again, these devices are a direct violation of the United Nations Convention on the Rights of the Child, and categorically discriminate against young and disabled people, whenever they are used. Due to this, and a myriad of other reasons, the Scottish Youth Parliament believe that they should be removed, and the use of them criminalised."
Robert McCall, a member of the youth parliament for Perthshire North, added: "I am of course very pleased that the council is removing these devices.
"It clearly shows the councils commitment to upholding fair and proportionate responses, and sets a tone for the Year of Young People that young people are welcome and valued in their communities."
Labour councillor for Carse of Gowrie Alisdair Bailey also welcomed the move. "I would like to thank the members of the Scottish Youth Parliament whose diligent research brought the matter to my attention," he said.
"It is a prime example of the positive effect that giving 16 and 17-year-olds the vote has had on the decisions that affect their lives."
How mosquitos work
Mosquito devices, usually found attached to roofs and protected by a wire mesh, works at a frequency of 16.5khz which by the age of 25, most people have lost the ability to hear.
That's because the hairs in the ears that resonate with lower frequencies die off as you get older.
The device is turned on and off manually or by remote control, but can also work on a timer.