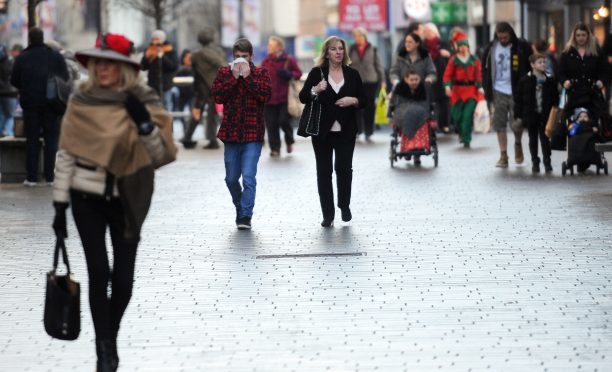 Shops and businesses are predicting a "bumper" weekend for Christmas shopping in Perth city centre.
The general feeling among retailers and restaurateurs is positive prior with many stating they anticipate droves of customers flooding through their doors on Christmas Eve.
Dawn Fuge, 46, who owns Precious Sparkle, opposite Perth Concert Hall, and is the co-chair of the Perth Traders Association, said the "general consensus" of pubs, restaurants and shops in the city centre was a mood of optimism.
"I'm sure this weekend will be busy with Christmas shoppers – I have been up and down the High Street and definitely feel things are back on the up here," she said.
"Lots of positive things have been happening in Perth lately, including the development of Perth Theatre, and it just feels great."
She continued: "We're getting lots of people shopping locally which is great and I'm sure this will continue into the New Year. We've had people travelling up from Dundee who have told us they feel the shops in Perth are great."
Veronica Franssen, 53, section manager at Marks and Spencer in Perth's High Street, said she expects sales to "peak" this weekend.
"We've almost sold out of our Christmas products and today we began our collections for Christmas turkeys. Our food hall has been very busy today and we are expecting lots of people shopping here on Sunday."
Matt Dexter, 41, manager of Sante, a wine bar and restaurant in St John's Place, said bookings were "very good" for the weekend.
"It's been a tough year and this is my first Christmas here in charge," he said.
"However, we're expecting a busy weekend and its great news being open on Sunday. Business should be good."
Beales Perth department store in St John Street, which opened in the city at the beginning of November, was filled with Christmas shoppers on Friday.
A spokesperson for Beales said: "The Perth store has exceeded our expectations and we expect the last few days and our sale to continue to exceed our hopes. We have a number of extra special sale buys just for Perth to celebrate our first Christmas."
Diane Brown, owner of delicatessen shop Provender Brown in Perth's George Street, said they will open on Sunday and stated she expects trade to be brisk.
"The number of customers coming in is on a par with this time last year and it's looking good for the weekend," she said.
A spokesperson for Perth and Kinross Council confirmed their free parking in council-run off-street car parks will continue this weekend.
She added: "There's lots of choice for shoppers looking for that last-minute Christmas gift, from well-known High Street names to our diverse independent retail sector, as well as plenty of food and drink options to refuel with."