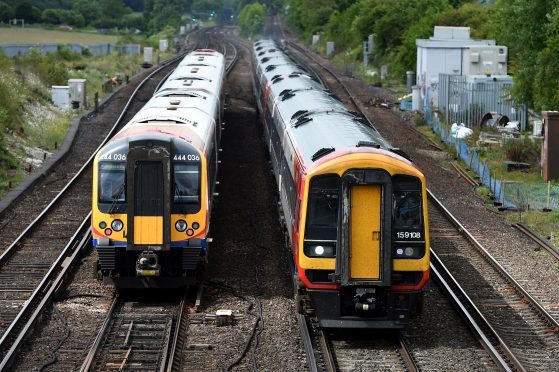 A Perthshire politician has written to Scotland's Transport Minister to call for a feasibility study into a direct rail link between Perth and Edinburgh.
Liz Smith, Scottish Conservative MSP for Mid-Scotland and Fife, claims the prospect of re-opening the direct link between the two cities via Kinross has gained momentum with several organisations backing the move.
She states that both Transform Scotland and the Royal Scottish Geographical Society have both made public their desire to see the feasibility study undertaken.
The politician says she has been contacted by many constituents who believe a direct link would improve journey times — Ms Smith claims a direct link between Perth and Edinburgh would improve journey times by around 35 minutes, in addition to reducing times to Dundee and Aberdeen.
She began the campaign three years ago when she circulated an opinion survey in communities south of Perth on the impact of a direct link and stated the response was "overwhelmingly positive."
In her letter to Transport Scotland and Humza Yousaf, Ms Smith outlines the case for a direct link between the Fair City and the Capital and calls on the Transport Minister to give a scoping study the green light.
She said: "It's frustrating to think that it was faster to get to Perth from Edinburgh in the age of steam than it is today — this is not progress by anyone's yardstick."
She continued: "In order for Perth and surrounding communities to fully realise their potential then fast and efficient public transport links are necessary. The Scottish Government has just had its capital budget increased and putting a direct rail link on the books would be a project that could create a substantial return on investment.
"The Scottish Government must commit to a feasibility study."
Mike Robinson, chief executive of RSGS, has stated the radical proposal would result in enormous economic benefits. He has a keen interest in sustainable travel, and as a member of the ScotRail stakeholder advisory group and Perth City Development Board, has the ear of the people who can help push for action.
"A direct rail link from Edinburgh to Perth via Kinross could shave 35 minutes off travel time," he commented.
"It would unlock public transport for the whole of the north of Scotland and would literally transform train travel north of the capital."
A Scottish Government spokesperson said they are committed to delivering the "largest transport investment" programme that the country has ever seen.
"Over £20 billion has been invested in transport infrastructure and services, including major projects that have benefitted Fife.
"We are currently undertaking a collaborative review of the national transport strategy, which will set priorities for the transport system we want in Scotland for the next 20 years," she said.