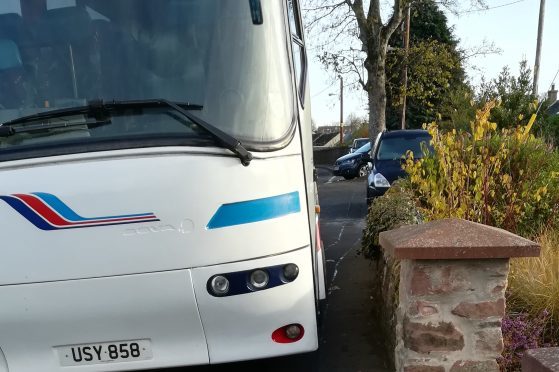 Problem parking has become a blight on a Carse of Gowrie community, forcing pedestrians to brave busy roads to walk the streets of their village.
The issues have tested the patience of residents in St Madoes, who have demanded that drivers show greater respect for their safety.
Pavement parking is at its height on days when the village's football pitch is in use, with many routes being blocked to walkers – and parents, the elderly and disabled in particular.
Some pedestrians have reported that they have no other option than to walk on busy roads when the area is particularly busy.
Local politicians have been called-upon to intervene and help persuade some of those responsible to show more consideration for the community.
Perthshire North SNP MSP John Swinney said he had already spoken to some bus companies and had secured promises to act more responsibly.
Mr Swinney said: "Pavement parking is a real inconvenience to pedestrians and I am concerned by some of the stories that I have heard from constituents in St Madoes.
"The football pitch in the village is very well used and none of my constituents who have made contact with me want to see its use curtailed, or parents of children penalised for parking their car.
"What they do want to see is more considerate parking around the area that will allow all pedestrians safe, and obstruction free, use of the pavements."
Perth and Kinross Council has been asked to look into the matter, while the local community policing team may be tasked to ensure no road users are inconvenienced by problem parking.
One coach company has already been in touch with Mr Swinney to promise its drivers will in future "make more appropriate arrangements for parking".
SNP Carse of Gowrie Councillor Beth Pover said she hopes the steps being taken will help alleviate some of the issues.
"I have had a number of people in the village express concerns about pavement parking and this is something that I know the community council has been looking into," she said.
"I am pleased that some action will be taken to prevent problems caused by inconsiderate parking, in the future.
"It is important that residents, and visitors to the village, can safely use the pavements without being forced on to the road."