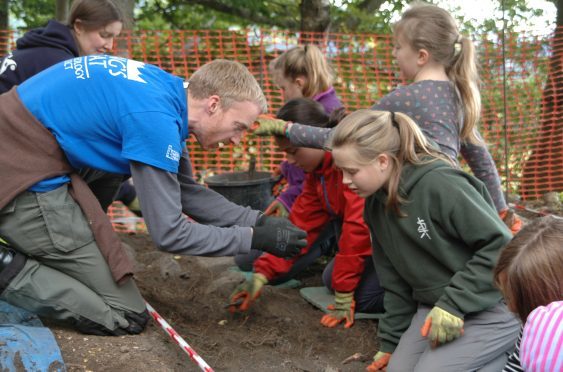 Compelling evidence that a Perthshire hill fort could have been the power base of the local Pictish ruling elite is growing.
Recent excavations at the King's Seat which overlooks the River Tay at Dunkeld — the first season of a three-year project — unearthed "hugely important" evidence of Pictish metal working.
Interesting slot features found cut into the rock have also excited the archaeologists and point to the site's importance.
"Comparisons can be drawn between the holes drilled into the rock on King's Seat and St Fillan's Chair on Dundurn near Loch Earn, where a wide ledge has been sculpted from an outcrop to form a sort of rock seat," said Cath McIver of AOC Archaeology Ltd.
"The lead archaeologist working on Dundurn theorised that this 'seat' could be an inauguration seat for the rulers of Strathearn. These features at King's Seat could have served a similar purpose."
Metal working waste, crucible fragments and stone moulds which indicate that precious metal working was taking place on the site point toward the early Pictish period (c.600-900 AD), though radio carbon results are awaited to confirm this.
Another important find was a cache of small rounded stones which was found near the large rocky outcrop on the summit which may have been collected for using as slingshots.
More than 70 volunteers and local school pupils joined Perth and Kinross Heritage Trust, Dunkeld and Birnam Historical Society and professional archaeologists from AOC Archaeology Ltd in the first excavations.
Archaeologist Andy Heald from AOC Archaeology Ltd is in little doubt of the site's position as a producer of presitige metalwork.
"Considered together, the material culture recovered from King's Seat is hugely important and clearly indicates in situ activity on the site," he said.
"While it seems obvious to the modern archaeologist that some sort of elite would have controlled, if not occupied, hill fort sites it is still rare for such sites to produce such a wealth of evidence."
The team will be back digging at King's Seat in September next year.
To find out more about the project, the discoveries from this year's dig, or volunteering go to the Perth and Kinross Heritage Trust website.