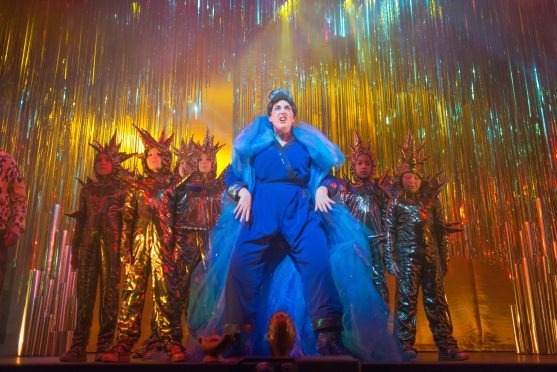 Perth Theatre is preparing to stage its first ever "relaxed performance" to allow families with autistic children to see hit shows.
On Thursday January 4, a stripped-back matinee showing of the hit pantomime Aladdin will usher in a new era for the famous stage.
It has been heavily modified for people with autism, learning disabilities and sensory or communication needs to ensure Perth Theatre is as inclusive as possible.
The initiative has been launched in partnership with Perth Autism Support and has seen cast, crew and theatre staff all undertake special training to ensure the pilot is a success.
Many aspects of a standard theatre experience can cause difficulties for children on the autistic spectrum, from busy foyers, unexpected lights, bangs and smoke and even applause.
It can also be stressful for parents and carers who know that children may become upset and unsettled and have to leave mid-way through a performance.
During the relaxed performance, steps will be taken to change the theatre environment and the panto itself.
That begins before the performance even starts, with the theatre website offering a step-by-step guide to everything that will happen on the day.
The auditorium will open earlier to enable the audience to become comfortable with the space and the actors will come on stage early to introduce themselves as individuals and show the audience their costumes.
Pyrotechnics will also be removed from the show so there are no surprise bangs or loud noises, sound elements will be lowered and lighting will be adapted so it is not so strong.
For anyone overwhelmed during the performance, a "chill out" area will be provided, with the performance screened in that area so no-one has to miss out.
Relaxed performances began to be introduced in the West End some years ago, but their incorporation into many Scottish Theatres has been slower.
The plan at Perth is for such performances to become a standard part of the schedule for many major in-house productions.
Perth Theatre's Creative Learning Coordinator for Drama, Lauren Oakes, said: "This will be first relaxed performance to take place at Perth.
"We are trialling this with a view to making more of our in-house performances relaxed, in order to make the theatre as accessible as possible.
"There is real demand for this.
"At Perth Theatre we run Scotland's first youth theatre group for young people on the autistic spectrum, in conjunction with PAS.
"This is about turning a visit to the theatre into a really positive experience for everyone rather than something that could cause stress.
"We will be very keen to hear feedback from families as this will be a real learning experience for us all on the day."
Perth Autism Support chief executive officer Angie Ferguson said the relaxed performance was an exciting prospect for everyone associated with the charity.
"This will open up the theatre to a whole new audience and I am delighted to see the theatre so engaged with this idea," she said.
"PAS already runs a youth theatre company with Horsecross and the difference participation can make to young people's confidence and their social isolation is amazing.
"We hope that by enabling more and more children to attend the theatre, there may be more young people keen to try performing themselves and gain the same benefits."
For more information on the relaxed performance and ticket information, visit the box office or email laurenoakes@horsecross.co.uk.