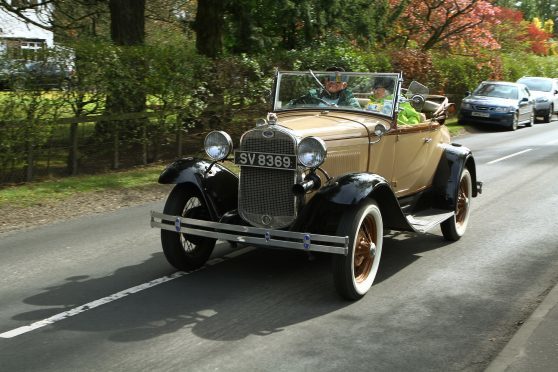 Perth's picturesque waterfront will be the backdrop to a major classic car event which is expected to draw motoring enthusiasts from around the country.
Tay Street will be closed between Perth Bridge and Queen's Bridge on Saturday April 21 as part of the Perthshire Classic Car Festival 2018.
Around 150 of the UK's best classic cars will be leaving from Scone Palace to make their way towards the centre of Perth.
The cars will then be on public display on Tay Street before returning to Scone.
At the palace there will be a display of hundreds of other iconic and rare racing cars, motorcycles, vintage buses with other attractions including military bands and an air display.
On Sunday April 22 as part of the festival there will be Drive It Day which will involve a 100 mile-plus tour of some of the area's finest scenery leaving from Blairgowrie.
The Rotary Club of Blairgowrie, who are behind the the whole festival , organised a drive it day in April this year when more than 70 cars took part, raising £17,500 for the Children's Hospices Across Scotland (CHAS) and Cancer Research UK.
This year the rotary club is supporting three causes – Cancer Research UK, Alzheimer Scotland and the Rotary Foundation.
One of the driving forces behind the expanded event is Colin Stewart of Blairgowrie Rotary Club.
"This is a very, very exciting event, and one of the most prestigious classic car gatherings in the UK," said Mr Stewart.
"Drive It Day dates back to April 1900, when 64 cars left London for a 1,000-mile return run to northern Scotland to prove the reliability of the then 'new' motor car.
"These days, around 40,000 cars across the UK commemorate that anniversary and the Blairgowrie run is already full, with four cars even coming from London to take part.
"We estimate that around 5,000 people could attend the event at Scone Palace.
"We are encouraging everyone to come along and join us for what should be a fantastic series of events over the weekend."
Business is backing the event with Errol-based Morris Leslie Car Auctions and Graham Environmental Services of Blairgowrie among the sponsors.
For more information go to www.blairgowrieclassiccartour