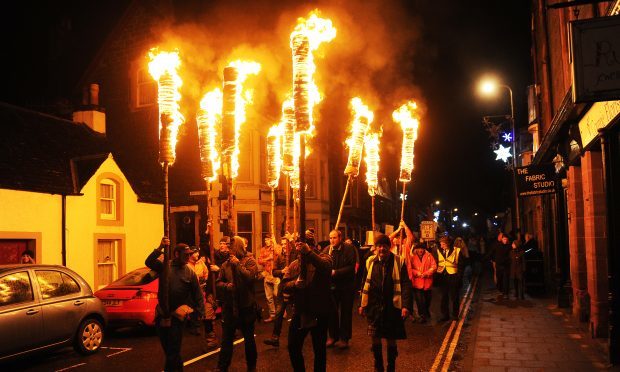 A Perthshire community welcomed 2018 with an out-of-this-world guest.
Major Tim Peake was amongst the crowds who gathered at midnight for the spectacular Comrie Flambeux.
The inspirational astronaut, who spent his last Hogmanay on the International Space Station, was visiting family in the area. His wife Rebecca grew up in Comrie and the couple have said it is one of their favourite places on Earth.
Major Peake spent his evening chatting with locals and posing for pictures. Last year, he phoned his wife from space to wish her a happy new year. She was at the parade at the time and passed the phone around the crowds.
The Flambeaux, which involved a dazzling torchlight procession, is one of the oldest New Year traditions in Scotland. It is unclear how and when it began, but it is believed to be based on an ancient, pre-Christian ritual.
The event kicked off, as always, with a fancy dress contest. Donald Trump was amongst the stand-out entrants, and there was also a masked protest against recent RBS closures.
Crowds also gathered for a night of live music and entertainment at Crieff. The party was organised by the local community council.
On New Year's Day, there was the welcome return of the Pitlochry street party.
The event, which attracts thousands of visitors to the town, was cancelled last year after a devastating blaze at the Fisher's Hotel.
This year's bash featured a ceilidh, children's entertainment and a procession by the Vale of Atholl Pipe Band.
Graham Holmes, of the organising committee, said: "The street party started in 2000 and people had such a good time, we have kept it going since.
"It has only been cancelled twice, once in 2010 because of the weather and then last year after the hotel fire."
He said: "Usually the hotels in Pitlochry are booked up many months in advance."
Elsewhere, revellers blew away the cobwebs with a bracing fun run through the streets of Blairgowrie.
And some hardy souls took the plunge at Kenmore, where the Taymouth Marina offered guests the Loch Slide Challenge.
People lined up to zip down the 20ft slide into the freezing Loch Tay.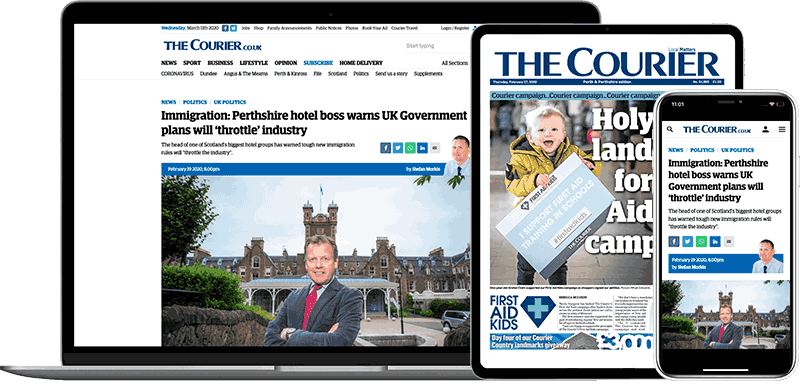 Help support quality local journalism … become a digital subscriber to The Courier
For as little as £5.99 a month you can access all of our content, including Premium articles.
Subscribe