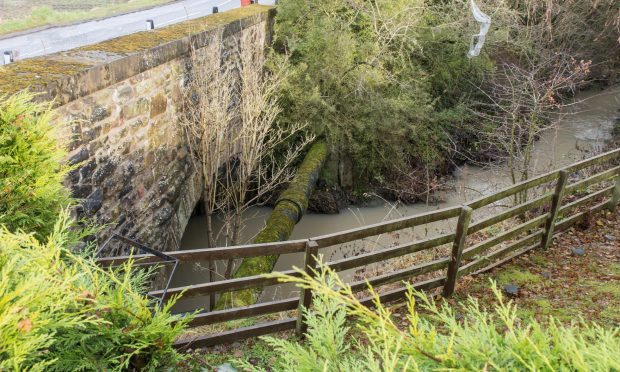 The man killed in a horrific fall at a Perthshire river has been named by police.
David Templeton, 59, from Montrose, died after plunging into freezing waters at Pow of Grange, near Errol on December 29.
The tragedy prompted a major rescue effort by locals.
Mr Templeton is believed to have been floating face-down in the river for about half-an-hour before he was found by searchers using torches.
A local councillor has now warned people to stay away from the river after heavy rainfall, when the current is at its fiercest.
A Police Scotland spokesman confirmed Mr Templeton's identity on Wednesday. He added: "There are no suspicious circumstances, but as with all deaths of this nature, a report has been sent to the procurator fiscal."
Mr Templeton lived on his own at Ferry Street, Montrose. Neighbours said he moved in to the block about 15 years ago.
Neil Smith, who owns the William Nicoll motor accessories business in Ferry Street said the community had been shocked to learn the victim lived locally.
"It's quite a close knit community and I know most of the people who live around here, but I didn't know this man at all," he said.
"It is so sad that he died in such tragic circumstances so I feel for his friends and family at this sad time."
Another man, 34-year-old Bryan Wrycza also went into the water, but escaped unharmed with help from rescuers Eddie Hunt and Stuart McKay.
The pair had stepped off a bus moments before landing in the waist-height water.
It is understood one of the men had needed a toilet break and had asked the driver for a quick stop.
Mr Wrycza, from Dundee, said he tried to pull Mr Templeton out of the water and onto the embankment. "I tried to save him, but I couldn't," he said.
Mr Hunt and Mr McKay were joined by another man, Simon Simpson, during the rescue.
On Wednesday, local councillor Angus Forbes inspected the scene of the accident.
"My thoughts really are with the family and friends of Mr Templeton who died in the incident at Grange before Christmas," he said. "To lose anyone is hard enough but at Christmas time I know it's even harder."
The Conservative councillor added: "These drainage channels run very fast after heavy rain and if we can take anything positive from this tragic incident I hope it is that people should stay well away from them.
"I know this bridge well, it's one of many that cross drainage channels on the Lower Carse Road, the Bridge structure is owned by Perth and Kinross Council, but the land on each side is privately owned."
Mr Forbes added: "It's reassuring to know that local people were willing to risk their own lives to try and save him by jumping into the river and pulling him out, they should be very proud of their actions and it demonstrates that the community spirit is alive and well in The Carse of Gowrie.
"I am very grateful to the people who tried in vain to rescue and resuscitate Mr Templeton."