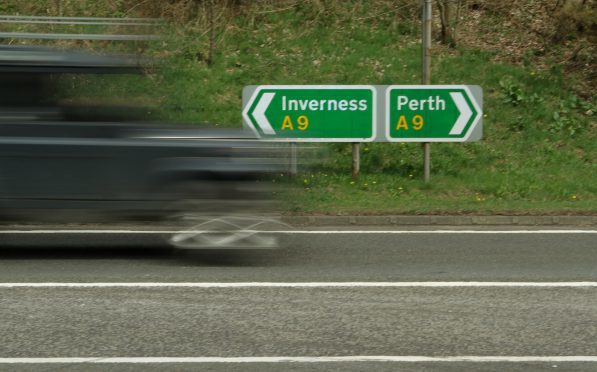 A new group has been set up to suggest suitable routes and road designs for the £3 billion A9 Perth to Inverness dualling project.
The A9 Co-Creative, a partnership between the Birnam to Ballinluig A9 Community Group and Transport Scotland, will be hosting three days of public events and workshops.
These events are aimed at encouraging local residents to discuss and submit design ideas on the dualling of the A9 from Birnam to the Tay Crossing.
The A9 Co-Creative believes that local knowledge will "help shape"road design, "maximise" local benefits and minimise any associated impacts.
This 'co-creative process' will run until June, and those involved are tasked with coming up with a preferred road design that meets the needs of both the local community and Transport Scotland.
The A9 Co-Creative is encouraging the community to attend the events. The public meetings will take place at Birnam Arts and Conference Centre on January 18, from 4pm until 8pm and on January 20, from 10am until 2pm at the same venue.
There will also be a meeting held at Birnam Arts and Conference Centre on January 29,  from 7pm until 9pm.
Alasdair Wylie, co-ordinator of the Birnam to Ballinluig A9 Community Group, said the "huge" infrastructure project will have a lasting impact on the people, environment and cultural heritage of this "very special area."
"By working together with Transport Scotland, we are ensuring the community's voice is heard throughout the process," he said.
"This co-creative approach has never been done before, and it is a unique opportunity for local people to continue to be involved and have their say."
Jo Blewett, Transport Scotland's A9 Dualling programme manager, commented: "The Pass of Birnam to Tay Crossing section of the A9 is the most challenging stretch from an engineering perspective of the route to be dualled with its close proximity to the Highland Mainline railway and the villages of Dunkeld and Birnam.
"Transport Scotland has agreed to work with the local community on a co-creative process to consider route options for this over six mile part of the route.
"Work has been on-going with the community for some time to prepare for the process which will get under way this month with a series of community events also involving Transport Scotland and our design consultants.
"I would encourage anyone with an interest in this dualling project to come along to the planned events and have their say."
Any resident that can't attend the events can visit www.A9Co-Creative.scot where they can submit their ideas online.
Meanwhile, Transport Scotland held a public exhibition on Wednesday to look at draft orders and an environmental statement for the Pitlochry to Killiecrankie stretch of the A9 dualling project. The event took place at Pitlochry Town Hall.
The venue will hold another public meeting on Thursday.