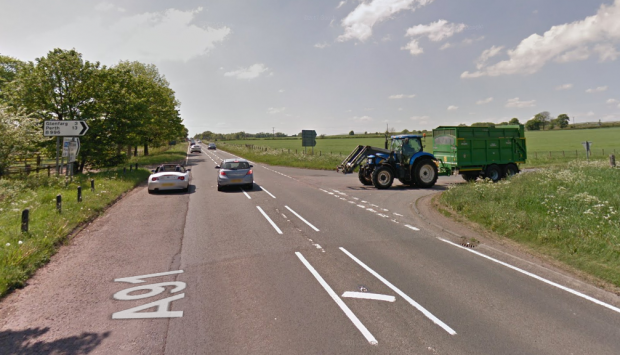 A biker who was hurled 40ft in the air and left severely injured after a motorist pulled into his path at a junction has said he forgives her.
Paul Herd suffered a broken pelvis, vertebrae and leg after Fiona Jeffrey sideswiped him as he was returning home to St Andrews on his new Ducatti.
The 41-year-old police she had failed to notice Mr Herd until he was "right into" her.
Despite causing Mr Herd serious injury, Jeffrey escaped a driving ban after admitting driving without due care an attention on October 19 last year.
The motorcycle, which Mr Herd had bought just four months earlier, was rendered a write off.
Mr Herd, who has been unable to return to work in the offshore industry, hit out at Jeffrey's sentence, saying she should have been disqualified for causing a crash which could have cost him his life.
He said:  "I was very lucky – I flew 40ft through the air and landed in a ditch. I was unconscious.
"I think she got off quite lightly to be honest, because she could have killed me. She should have got a ban.
"At the end of the day she's made a mistake – she didn't mean to do it. We all make mistakes – it's just that some have worse consequences than others.
"I would forgive her."
Depute fiscal Carol Whyte told Perth Sheriff Court: "At 5.50pm Mr Herd was driving towards Gateside. There was two other vehicles on the road but there was no vehicle in front of him and he had his daytime running lights activated.
"The accused came up the B996 from Mawcarse and stopped at the give way line but then pulled straight out into the path of Mr Herd, which resulted in him striking the accused's vehicle.
"Mr Herd was thrown from his motorcycle, coming to rest about 20 metres from the point of impact."
She added that when charged by police Jeffrey said: "I looked to the right and there was a car approaching. He was slowing down and indicating to turn left.
"To me the road was clear so I pulled out to turn right. I must have been halfway across the road and the bike was just there – that was the first time I saw him, when he was right into me."
Solicitor Billy Somerville, defending, urged Sheriff Lindsay Foulis not to impose a ban as Jeffrey as she lives in a rural area.
He said: "It seems the reason she may not have seen him was he was in front of the other car.
"She is married but unfortunately her husband has taken unwell recently and is unable to work. This means she is working two jobs.
"She needs her licence because of where they stay and working two jobs. She also needs to take her children to school as they are not on a bus route and her husband is unable to do so."
Jeffrey admitted driving without due care and attention on the A91 Milnathort to Gateside road, near the Mawcarse junction, by failing to give way to Mr Jeffrey as she pulled out from a side road, causing him injury when she collided with him.
Sentencing Jeffrey, of Glenlomond, Sheriff Foulis said: "Motorcycles are there on the road and a small misjudgement can have serious consequences."
He handed her seven penalty points and fined £600.