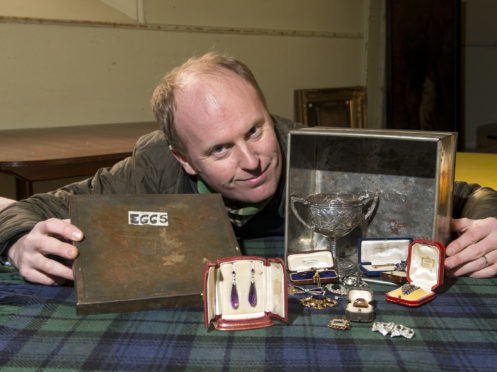 A Perthshire family were stunned to be told that their "box of tat" contained jewellery worth more than £20,000.
Auctioneer Nick Burns made the discovery on a home valuation visit.
"I went to view some bits and pieces at a property in Perthshire," said Mr Burns.
"Once we had gone round the principal things, an old metal egg box was produced. A member of the family said it had always been referred to as the 'box of tat'."
Wondering what he would find, Mr Burns sifted through the contents and discovered a treasure trove of jewellery, including two stunning pieces by the top maker Cartier, a pair of diamond and amethyst earrings in their original box and a ruby and diamond brooch, again in its box.
"It was not what I expected to find in a box in a 'box of tat', it was quite a discovery," said Mr Burns.
"The family were delighted and amazed."
He estimates that the Cartier pieces date from the 1920s to the 1950s and has valued the earrings at £4,000 to £6,000 and the brooch at £2,000 to £3,000.
The box contained more diamond, ruby and amethyst jewellery, as well as less valuable "run of the mill" items, adding up to somewhere between £15,000 and £25,000.
It appeared that over the years the family had lost sight of the quality of some of the items in their ownership. They will now be sold at Lindsay Burns' Perth auction house on April 24/25.
Mr Burns said it was the kind of discovery he lives for.
Just last year he found a bottle of rum "languishing" in a garage which sold for £8,500 while a Persian carpet folded up in a Perthshire shed fetched £10,500.
"There are things out there," he said.
"I would urge people who have an inkling that they have items that have potential value to get in touch."