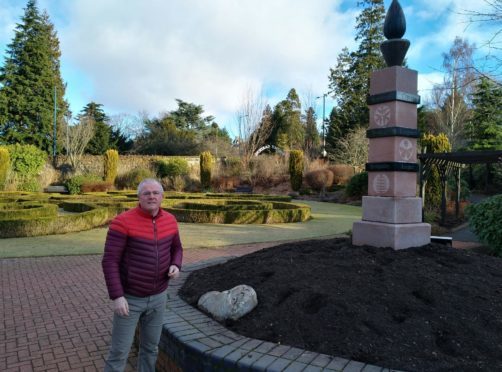 Perth's police chief is alarmed at the reaction of some parents who he accuses of having a 'couldn't care less' attitude when it comes to their children causing anti-social behaviour.
Chief Inspector Ian Scott, area commander for Perth and Kinross, revealed officers are still concerned at youths — understood to be around 30 in number — gathering in the South Inch, Perth, and then carrying out various crimes in the surrounding area.
The vast array of recent crimes to have been noted include greenhouses being smashed on Moncreiffe Island, six cars being vandalised in Brompton Terrace, Kinnoull, Perth, graffiti being sprayed in Tay Street and Greyfriars Cemetery, and damage to flower beds at the city's Rodney Gardens.
It's understood some of the culprits have been visiting the Perth Riverside Light Nights event at Norie-Miller Walk prior to carrying out acts of vandalism or anti-social behaviour.
Mr Scott said a police community team were patrolling the area at the weekend and they have been working in tandem with council wardens in a bid to clamp down on the rise in youth disturbance.
"We're trying to stop the youths drinking alcohol in and around the city centre," he said.
"They're sourcing the alcohol either themselves or through third party agents."
However, he feels more parental control is required in order to eliminate the problem before it escalates.
"You take three or four of the youths home and their parents are supportive and understand the risks their kids are taking in relation to alcohol but you get another couple of parents who couldn't really care less," he added.
"That is kind of painful as we hope parents will try to support us in trying to reduce the numbers in the group who are congregating in the South Inch."
He continued: "I must point out it's not just a Perth city thing, some of the youths are coming into the town from other villages in Perth and Kinross.
"I don't like to criminalise all young people and make out they are up to mischief all the time, but there is a group there (South Inch) who have been causing damage and have been unruly.
"We've been trying to educate the children but with limited success. We need parents to help us find out where their children are and ask their kids to avoid going down to the South Inch to congregate.
"The numbers gathering there do go up and down. If you give them a telling the vast majority will go away but then some return later.
"It is a challenge and you don't want it rising from 30 to 300."
Councillor Peter Barrett, a Liberal Democrat representative for the Perth City ward, has been liaising with police and residents to inspect recent damage carried out by some of the youths.
"There are a number of groups of young people getting drunk and causing damage," he said.
"It's been happening right next to the Light Night event.
"These kids must be going home drunk or smelling of smoke and parents need to look out for the state that their sons and daughters are in or they will soon be picking them up from the police station."
A council spokesperson confirmed their safer communities wardens had been "engaging" with some of the youths, and that stewards working at the Light Night event have been asked to report any incidents to the police.