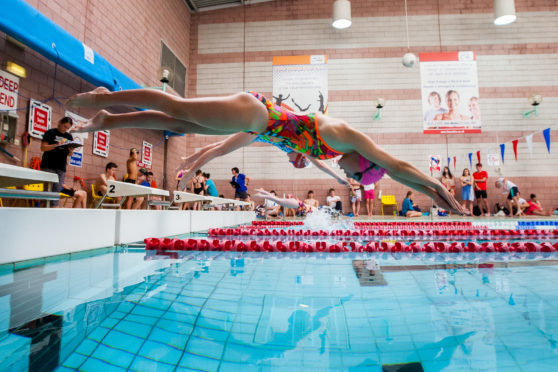 Scores of teaching posts could be axed as council bosses scramble to make savings of more than £40 million over the next three years.
Crossing patrollers could also be completely axed.
Perth and Kinross Council has revealed a range of money-saving options for its 2018-19 budget.
Council leader Ian Campbell, who died earlier this month while preparing for next week's talks, warned that it would be the "most challenging" budget the local authority had ever faced.
The proposals include a range of swingeing cuts to education and environmental services.
If approved, more than 60 full-time teachers could be lost.
Around 100 more council staff could also face the chop, including dozens of street cleaning and ground maintenance staff.
The budget options have been compiled by council officers, but councillors will get a final say on what proposals go forward at their meeting on Thursday.
The local authority could save more than £1 million with a reduction of 23.3 full-time-equivalent (FTE) secondary school posts. This would mean reverting to maximum class sizes for English and Maths in S1 and S2.
Council officers warn "fewer teachers in school would mean a reduction in personal support for pupils" leading to "larger classes and potentially more discipline issues arising in and out of schools".
The authority is also considering cutting more than 26 FTE posts in primary schools, meaning more teaching time for headteachers. This would save an extra £1.2m.
A further 12 teachers in inclusion services, who provide support for the "most vulnerable young people", could also be cut saving £523,000.
There are also plans to do away with school crossing patrollers completely. In a report to councillors, officers point out "it is the parents' responsibility to get their children to and from school and council staff will continue to work with parents in respect of safe school travel planning."
Loss-making breakfast clubs are also under threat.
Another option, to save £60,000, is ending primary school swimming lessons. The proposal has already been criticised by the council's lifelong learning convener Caroline Shiers.
The Conservative councillor said: "The provision of primary swimming lessons is not a statutory requirement on local authorities however our administration is keen to ensure that the provision of lessons is maintained.
"We have ensured that the budget for this, which is mostly made up of the costs of transporting pupils to their nearest swimming pool, is protected."
There are also plans to increase charges for instrumental music service tuition. If approved, the charges could rocket from just over £245 to £817 per pupil, almost certainly freezing out young people from deprived areas.
Under threat recycling centres could be kept open
Council officers have recommended shutting down seven of the region's nine recycling centres.
The move, which would close down tips at Aberfeldy, Auchterarder, Bankfoot, Blairgowrie, Crieff, Kinross and Pitlochry, would save more than £410,000 and result in the loss of around 12 jobs.
It is proposed that the sites are replaced with recycling points and only centres at Inveralmond and Friarton would survive.
However, the scheme already faces resistance from the Tory-led administration.
Councillor Colin Stewart, convener of the environment and infrastructure committee, said: "Perth and Kinross obviously covers a large rural area, and we in the administration simply felt that the closure of local recycling centres outside Perth City was an unpalatable option.
"We didn't want to ask people to face the choice between using basic recycling points or driving to what would be the two remaining centres."
According to council papers, an option to charge people to use the rubbish tips was also considered, but ruled out after legal advice.
Meanwhile, around £55,000 could be saved from the winter maintenance budget by axing out-of-hours treatment on footpaths.
This would mean pavements, outwith Perth city centre, would not be gritted before school times. Council officers have warned this will lead to a rise in accident rates and complaints.
There are also proposals to increase parking charges by 10% across the region, making an extra £100,000.
Council officials note "charges have not increased since 2012. This provides investment and maintenance funding for car parks."
Elsewhere in the papers, there are proposals to raise the cost of the already controversial garden waste bin tax.
From April, residents will have to pay £25 a year to have their garden waste collected. Officers suggest raising this to £30 in 2019, saving an estimated £180,000.