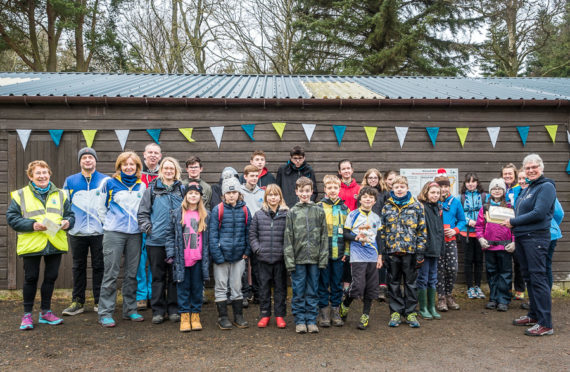 A new initiative should ensure an influx of active visitors making the most of a Tayside beauty spot.
Representatives from local youth groups gathered on Kinnoull Hill in Perth to try their hand at orienteering as the final stage of a joint project between Tay Landscape Partnership and local orienteering club Tayside Orienteers.
Those taking part were the first to orienteer on the newly refurbished permanent course, a facility which it is hoped will encourage more people to explore the area in a new way and gain increased confidence in their navigation skills.
The project has also seen the production of a new orienteering map of the area.
The permanent orienteering course consists of "controls", special markers located around the forest which can be found by following a choice of routes on maps that can be downloaded free of charge or purchased for a small fee from Perth shops.
The redesign of the course takes into account recent advances in technology and incorporates codes that can be scanned with Smartphones so that orienteers can upload their results to a website and compare them against those of others who have logged their course.
The "start" and "finish" points and the new map and codes are located on the Forestry Commission Scotland shed near the Jubilee car park.
Ruth Bowbeer, learning and interpretation project officer with Tay Landscape Partnership said the initiative will enable more people to take advantage of what Kinnoull Hill has to offer.
"Collaborating with Tayside Orienteers on this exciting project has enabled the club to upgrade the course facilities which are open for people of all ages and abilities to use, at the same time they will enjoy the beautiful setting at Kinnoull Hill," she said.
"In training youth leaders to take young people out orienteering these young people will learn new skills and in turn also be exploring the local landscape with purpose — this marries well with Tay Landscape Partnership's objectives."
The course is used for national and regional competitions, league events and training activities and Tayside Orienteers celebrated their 30th anniversary recently with an event for more than 160 orienteers who used the new map.