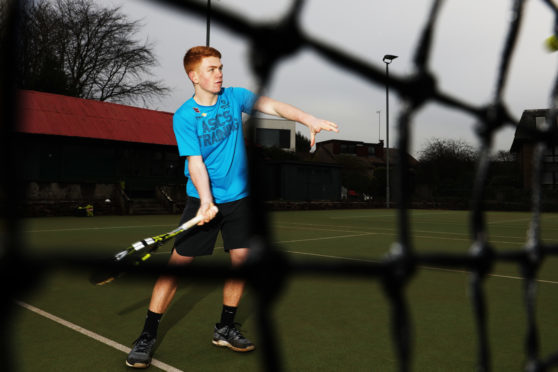 A teenage tennis ace from Tayside is in line for stardom after being offered the chance to join a prestigious academy in Sweden.
Harris Academy school pupil Jed Alexander, 17, will jet out to join the Good to Great tennis school, run by former world number two Magnus Norman, and professionals Nicklas Kulti and Mikael Tillström.
The school is one of the most renowned in youth tennis with Norman having also coached three-time Grand Slam winner Stan Wawrinka from 2013 to 2017.
Jed, from Inchture is now crowdfunding to take his place on the course after impressing coaches over the course of a weekend in September.
He said: "It was a bit of a shock to get the call as it had been a while since I went over to play in Sweden.
"It was amazing getting the news a few weeks ago though. They said they really liked my game.
"To get the chance to be trained by someone who has coached Stan Wawrinka and has played at the highest level himself is just incredible."
Despite having not received any formal coaching and no structure or support from the Lawn Tennis Association or Tennis Scotland, Jed still managed to reach No1 in Scotland while competing in the Boys 14-and-under age group.
He has also won the Boys 14-and-under Scottish Junior Indoor Championship at the start of 2015.
The Stockholm course will begin at the start of March, leaving just a few weeks for Jed to organise flights and accommodation for his time in Sweden.
The £1200 tuition for the four to six week course is already covered but he desperately needs £2000 to cover the cost of the trip.
An online fundraiser started by his older sister Jessica has at the time of writing raised close to half of this amount.
Jed added: "There's not much time to raise the money and get organised as I only found out a few weeks ago.
"I've been busy training all day every day at West End Tennis Club with the school giving me time off so they've been a great help.
"I have been playing non-stop since I was about six years old so I've always loved the game. I believe I can make it all the way to the top.
"I don't want to be the next Andy Murray though, I want to be the first Jed Alexander.
"There's a lot of work still to do but the course is a great platform to become a professional."
To donate to Jed's fundraiser, click here.