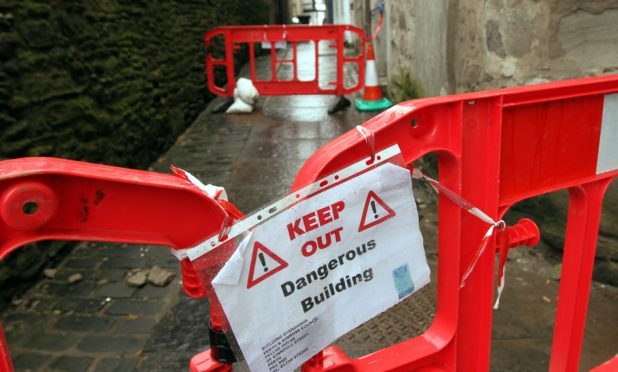 A Perth city centre thoroughfare has been locked down following fears about the state of a crumbling tenement block.
Locals raised the alarm after stonework fell from the top of flats at the well-trodden vennel between George Street and Bridge Street.
Perth and Kinross Council has blocked off the lane – known as Albert Close – with red barriers and "Dangerous Building" notices. Officers have been working to track down the building's owners.
The block is next to a section of Perth's old city wall, said to be one of the last surviving medieval features.
A council spokesman said: "We received a report of falling masonry from the building on Albert Close.
"Council officers inspected the building and the decision was made to close the thoroughfare, due to the potential risk of further falling masonry."
He said: "Dangerous building notices will be issued to all owners in the block."
Although the vennel has been closed off, residents have been allowed to stay in the block.
One tenant said: "I didn't see what happened, the first I knew was when someone from the council came round to ask who our landlord was."
He said: "We've noticed that the vibrations caused by passing traffic have got heavier. You can really feel the whole building shake when larger vehicles go passed.
"It never used to be like that."
The lane is a busy shortcut between shops on George Street and Perth Concert Hall.
The red barriers have had to be secured to walls on either side, because people kept trying to walk through.
Concerns about ageing city centre buildings came to the fore last year after a 25-year-old woman was injured when the ground floor of her Atholl Street block caved in under her feet.
While it was on the market, the former McEwens department store building on St John Street was also sealed off because of falling stonework.
In September, cash incentives were offered to property owners to help them bring dangerous and dilapidated buildings up to scratch.
Perth and Kinross Council drew up a list of disused buildings in need of repair. It included the old Love's Auction House and old toll houses in West Bridge Street and Dundee Road.