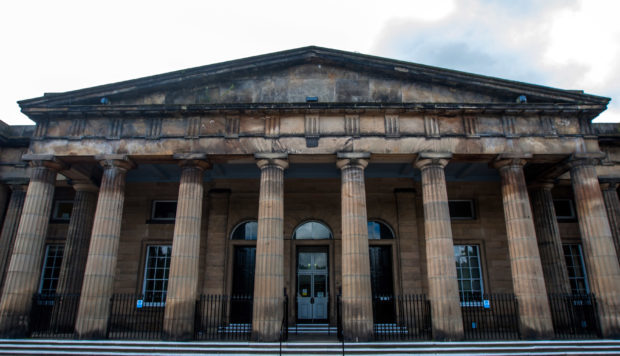 A dental nurse has told of her terror after the car she was travelling in had a smoke bomb thrown into it.
Cody Wotherspoon was a rear seat passenger in the vehicle when gas engineer Callum Torbet deliberately hurled the flare through an open window from a neighbouring taxi.
The car filled with smoke "within seconds", forcing driver David Cargill to blindly bring it to a halt.
Torbet admitted throwing the device from the taxi, but maintained he had thrown it away in a panic when it had gone off and that it was a coincidence that it had landed in another vehicle.
Ms Wotherspoon said she and some friends had been at a beer festival earlier in the day, but she had only had two drinks.
She said she noticed Torbet in the front seat of the taxi as they drove along Perth's Atholl Street and saw him hush the others in his vehicle in the moments before he threw the bomb.
She said: "I thought it was a lit cigarette at first. It came through the window and landed at my feet.
"I bent down to it and could feel it was warm next to my feet. As the car pulled off it went off. We couldn't see the road and we couldn't breathe.
"I was terrified. We were on the main road and as we turned onto the side road we couldn't see. We could have hit something.
"I don't think it was accidental – he had been staring at our driver all the way down the street."
Torbet, 23, told the court he had been celebrating a friend's birthday and had had "quite a lot" to drink.
He said: "I was sitting in the front seat and something was in my lap. I was mucking about with it and the bottom came off and it started to smoke.
"I panicked and threw it out the window. At the time I didn't know what it was, I just wanted to get it out of the car."
Torbet had previously pled guilty to recklessly igniting a smoke bomb and throwing it through the open window of Mr Cargill's vehicle, putting the four occupants in danger of injury, on Perth's Atholl Street on May 6 last year.
Sheriff William Wood said he did not believe Torbet's actions were accidental and warned him that he had considered a prison sentence for the offence.
He ordered Torbet, of Newhouse Place, Perth, to carry out 180 hours of unpaid work and placed him on a nine-month supervision order.