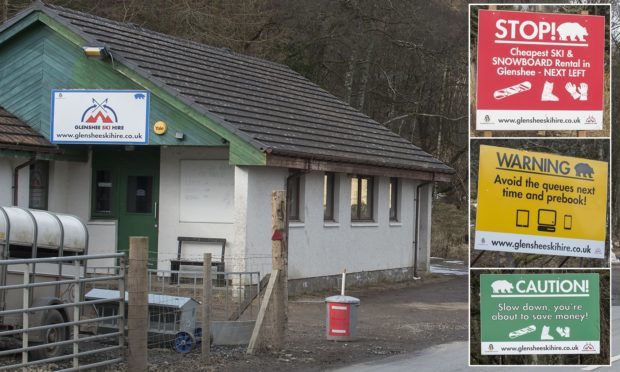 Three billboards have sparked a row near Scotland's biggest ski resort.
The hoardings, which appeared on the road to Glenshee, warn drivers: "Caution, slow down – you're about to save money".
The green, red and yellow signs are adverts for the Glenshee Ski and Snowboard hire outlet on the A93 at Bridge of Cally.
But council bosses claim they have gone up without proper permission and have slapped management with an enforcement order, demanding the signs come down within five days or face a hefty penalty.
Now shop boss David Dalrymple is fighting to keep the billboards and has appealed to the Scottish Government to overturn the order.
Mr Dalrymple declined to speak about the case, but in paperwork lodged with the government's appeals division he said he originally though the demand was a hoax.
"The initial notice was handed to me by a local farmer who lives almost three miles away," he said. "I initially believed it to be fraudulent, but on contacting the council they confirmed it was a live enforcement.
"But as I had not been given any notice, nor had I signed for the paperwork, I believed the notice to be invalid."
Mr Dalrymple said: "My ski and snowboard hire has signage in three different places, well back from the road."
He said that other nearby businesses had put up "random signs" at the roadside, but they had not come to the attention of council officers.
"All seem to contravene the legislation," he claimed. "But it is only my signs which have led to an enforcement (notice) and I believe this to be directly linked to the fact that I have no local 'contacts' and no personal connection to either the council or the enforcement officer who lives locally."
Mr Dalrymple added: "I am baffled as to why I am the only local business to suffer at the hands of the council. If many other businesses are legally displaying signage, my business should be extended the same courtesy."
In his appeal application, Mr Dalrymple has named five nearby companies which also advertise using road signs.
The local authority said that the three signs had been displayed without "the express consent of the council".
Scottish ministers are likely to rule on the appeal in the coming weeks.