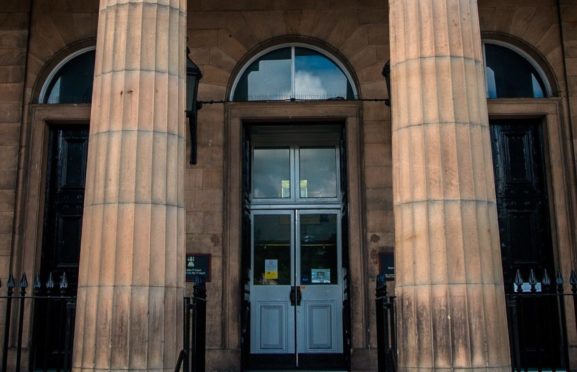 A man who told police officers he would get the SAS to shoot them, attempted to kick a supermarket worker and threatened a woman working in a Perth bookmakers with violence was given a community disposal at court.
Perth Sheriff Court heard that Jason Murray, 47, of High Street, Perth, had gone into the bookmakers claiming he had won money.
Depute Fiscal Michael Sweeney said: "The accused had thought he had a successful win but was told this wasn't so. He told the female employee the firm had changed the rules and began shouting and swearing at her."
The court heard that Murray told the woman he was a psychiatric patient and hadn't taken his medication.
The depute fiscal told the court about another incident which saw Murray shout and swear at staff working in Morrisons in Perth.
"The accused told staff he would 'take them all' in a fight," Mr Sweeney added.
"A female employee started to phone the police and Murray threatened her. He then followed the woman as she tried to get away from him."
The court heard that another supermarket worker intervened but the accused moved towards him and attempted to kick the man in the neck, pushed him in the chest and punched him in the face.
Mr Sweeney said the accused continued to shout and swear and, as a result, the doors of the store were locked.
"The accused punched, kicked and headbutted doors," Mr Sweeney said.
"Around 10 minutes later, police arrived and the accused was found outside in a nearby playpark. He told officers he would be 'rolling around with them' and claimed he would get the SAS to shoot them."
The court was told that Murray said he would "hunt" the officers down and shoot them and commit a sex act on them in an alleyway.
Solicitor Paul Ralph, defending, said his client was "sickened" by listening to what he had done.
"My client's behaviour spirals downwards when he doesn't take his medication," he said.
Murray admitted that he shouted, swore, acted aggressively and uttered threats of violence towards a woman who was working in Ladbrokes, South Methven Street, Perth, on September 21 last year.
He also admitted that on December 4 last year at Morrisons, Caledonian Road, Perth, he shouted, swore, threatened staff with violence, punched, kicked and headbutted doors, and assaulted an employee by attempting to kick him, pushed him and punched the man on his head.
Murray pled guilty to a further charge that on the same date he shouted, swore and threatened police officers with violence and sexual violence.
Sentencing Murray, Sheriff William Wood told him his behaviour was "out of control" for the period of offending.
Murray was ordered to undergo supervision and mental health treatment as part of a 12 month community payback order, banned from entering Morrisons and ordered to remain in his home between 8pm and 8am each day.