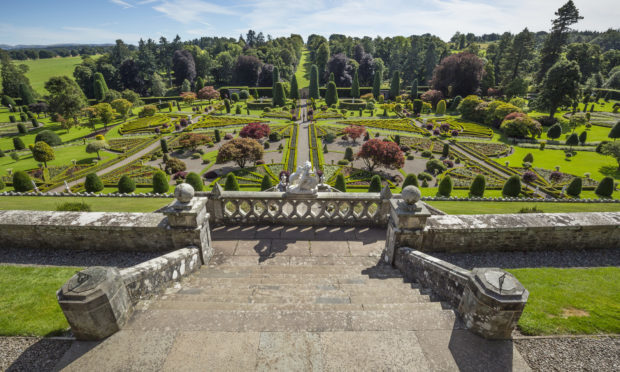 A new movie map connects landmark Scottish locations with this year's Oscar contenders.
The guide, produced by tourism bosses at VisitScotland, revives Hollywood's six-degrees-of-separation theory to find local connections with nominees including Meryl Streep, Daniel Day-Lewis and Frances McDormand.
The Six Degrees challenge, popularised by actor Kevin Bacon, suggests that everyone in the world can be connected to each other in six steps or fewer.
VisitScotland hopes its new trail will boost film tourism by encouraging fans to come up with their own links.
Best Actress nominee Sally Hawkins has been linked to Drummond Castle Gardens in Crieff, via Nicole Kidman, Meryl Streep, Emily Blunt and Ewan McGregor.
McGregor, who is from Crieff, starred alongside Liam Neeson in Star Wars: The Phantom Menace, who starred with Jessica Lange in Rob Roy which was filmed at Drummond Castle.
The castle and its spectacular gardens were also used in hit TV show Outlander.
It is the only Tayside location on the map, which also connects Denzel Washington with Portsoy in Aberdeenshire, Saorse Ronan with Rosslyn Chapel and Gary Oldman with Castle Stalker, Argyle, which featured in Monty Python and the Holy Grail.
Scotland's onscreen presence has grown significantly in recent years, with film and TV productions spending £69.4 million in Scotland in 2016.
A recent survey found that a fifth of visitors were influenced to come to Scotland after seeing it on the big or small screen.
Jenni Steele, Film and Creative Industries Manager at VisitScotland, said: "Film tourism is booming in Scotland. With James Bond, Transformers and the Avengers — some of the world's biggest film franchises — choosing to film here, the country's celluloid connections are as strong as ever.
"Our Six Degrees of Scotland offers a fun way to reveal those movie connections and we hope it will inspire many more jet-setters to make connections of their own."