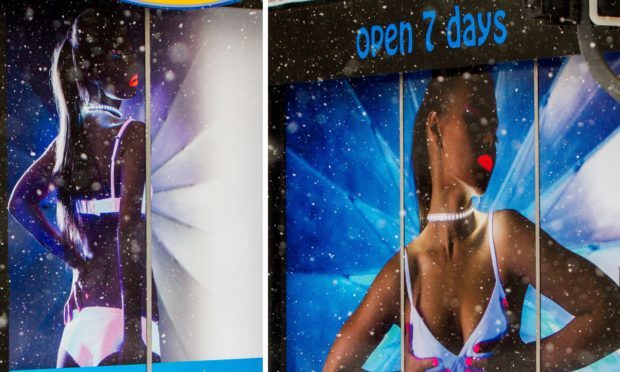 Council bosses are considering enforcement action against an "overtly sexual" display at a Perth tanning salon.
The eye-catching images at the city's Sun Shack features a tanned woman in a bikini, clutching her breasts.
Local Lib Dem councillor Peter Barrett said he has received complaints about the Princes Street shop front, which he claims are "offensive and overtly sexual."
Now salon bosses may have to remove the images after Perth and Kinross Council ruled they were put up in a conservation zone without proper permission.
A spokesman said: "We can confirm that the signage does not have the necessary advertisement consent and we are contacting the business on the matter.
"We will consider serving an enforcement notice if the matter remains unresolved."
Sun Shack, which has salons across Scotland bearing similar images, has not responded to requests for comment.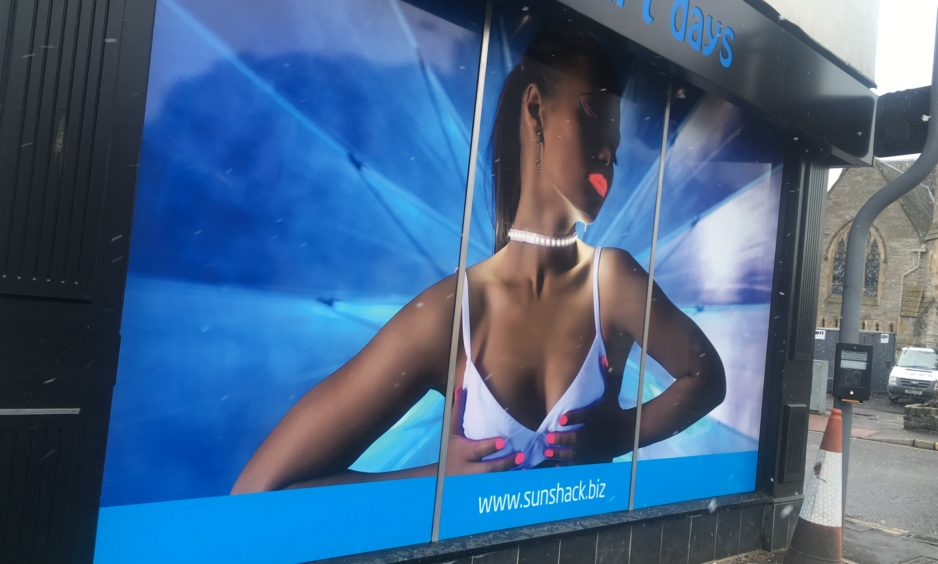 Mr Barrett said: "Local residents and people working in the city centre have complained to me about the size and content of the images.
"These images are offensive and overtly sexual. In one pose, the woman is pictured from the front pressing her breasts together.
"In others, she has her arched back to the camera presenting her bottom to the street."
He said: "St John the Baptist church and Greyfriars burial ground are viewed to the south and the tacky and offensive nature of the Sun Shack advertisements detract from both and impair the amenity of the local area."
Until recently, the shop was a kitchen showroom. Sun Shack owners received planning consent for a "change of use" of the building but did not get permission to make external changes.
Mr Barrett said: "I am concerned the displays constitute unauthorised development in the conservation area. I hope it will be removed without delay."
Although the council can take action on any unauthorised changes, it would be up to the Advertising Standards Authority to investigate the content of the images.
The organisation has so far not comment on the Perth store.
An Ann Summers store in Perth was closed down following complaints over saucy window displays.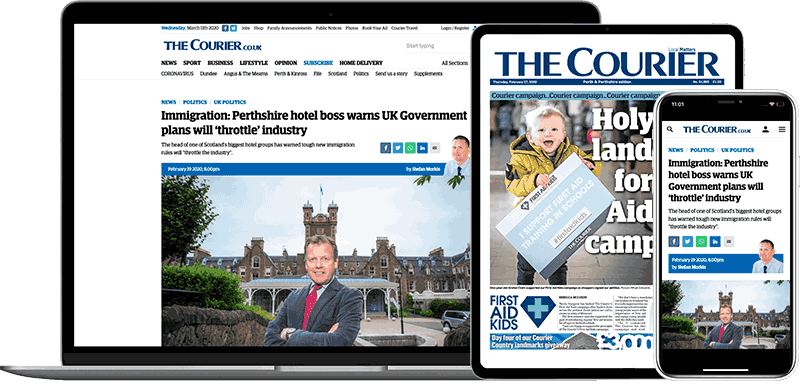 Help support quality local journalism … become a digital subscriber to The Courier
For as little as £5.99 a month you can access all of our content, including Premium articles.
Subscribe